Dog Finds Out He Can Climb Onto Roof — And Decides He's Never Coming Down
"He was standing there above me, tongue out and wagging his tail ... He makes so many people happy that we didn't want to take that away."
Shortly after Justin Lindenmuth and his wife moved to their new home in Austin, Texas, five years ago, the couple started hearing noises coming from the roof, almost as if someone was running around on it.
"I was in the front of the house and heard loud rumbling," Lindenmuth told The Dodo. "I thought it had to be something like a raccoon because squirrels don't make that kind of noise."
Lindenmuth went outside to investigate — and was met with the face of someone surprisingly familiar: his golden retriever, Huck.
Justin Lindenmuth
"He was standing there above me, tongue out and wagging his tail," Lindenmuth said.
Since the roof slopes down at the back of the house, Huck had jumped up in one swift motion to get a better look at his new neighborhood. He came back down the same way soon after — but he loved being up there so much that he kept going back up time and time again.
Huck sitting on the roof as his cat brother looks out the window below

| Justin Lindenmuth
After about a month of Huck perching atop the roof, concerned neighbors and passersby began to constantly check in with the family to make sure he was OK up there.
"We had people knocking on our door multiple times a day asking if we knew there was a dog on our roof," Lindenmuth said. "Of course we know! He isn't very quiet."
 
The view of Huck on the roof from inside the house

| Justin Lindenmuth
Since Huck only goes up on the roof when his family is home, they had to create a sign to post in their yard that assures people that the dog is safe and loves being up there.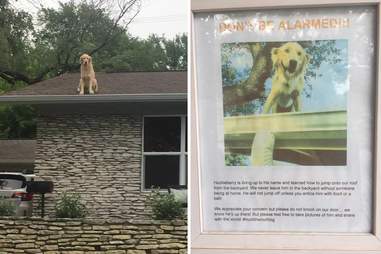 Justin Lindenmuth
"When the weather is nice, he'll be up there for hours," Lindenmuth said. "During the summer, it gets pretty hot so he's only up there early in the morning for a little while. I think there's a nice breeze."
After five years of seeing Huck peeking down at them, the neighbors are used to the high-flying pooch by now — and he loves the attention.
Justin Lindenmuth
"He's like just about every golden, where he needs constant attention, so when he sees a walker or jogger, he barks at them until they look over," Lindenmuth said. "Our neighbors know him now so they will wave at him. New people usually see the sign and take pictures."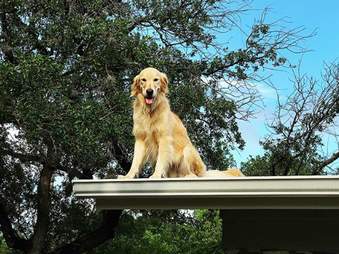 Justin Lindenmuth
He's become so much of a local celebrity, in fact, that Lindenmuth designed custom Huck T-shirts last year to sell as a fundraiser for Austin Pets Alive. After Hurricane Harvey hit the area in late August, the family was able to donate the proceeds to help shelter-displaced pets.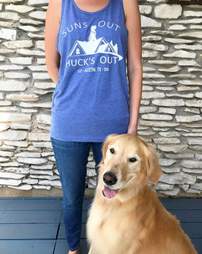 Huck posing with someone wearing his custom T-shirt

| Justin Lindenmuth
After going viral last year, even people from out of town have driven by just to spot Huck hanging out in his favorite place.
"We actually had a neighbor drive up looking for him saying 'My 90-year-old mother is in town and I told her about Huck — could you get him on the roof?'" Lindenmuth said. "We did and she told us we had made her week."
Recently, the family built an addition onto their house that would have taken away Huck's roof access. But knowing how much their pup loves it up there, they built a little ramp so he can still climb up from a different side of the house.
Huck is quite pleased with their decision.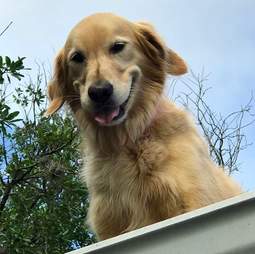 Justin Lindenmuth
"It was a no-brainer," Lindenmuth said. "It will be much easier on his hips with the ramp — and he makes so many people happy that we didn't want to take that away. We're doing our best to keep Austin weird."