This Texas Family Has 14 Rescue Dogs — So They Had To Stay When The Hurricane Hit
"I could not think of being separated from my dogs. We had to do whatever it took to survive here."
Lisa First and her husband Jesse Cadena have so many rescue dogs — 14 at the moment, though there are often fosters, too — they refer to their home as Camp Chaos.
"They are all Houston street dogs and each of them has a story," First tells The Dodo. "They are a very special bunch of misfits that are always welcoming foster dogs into their home. We have a lot of fun every day."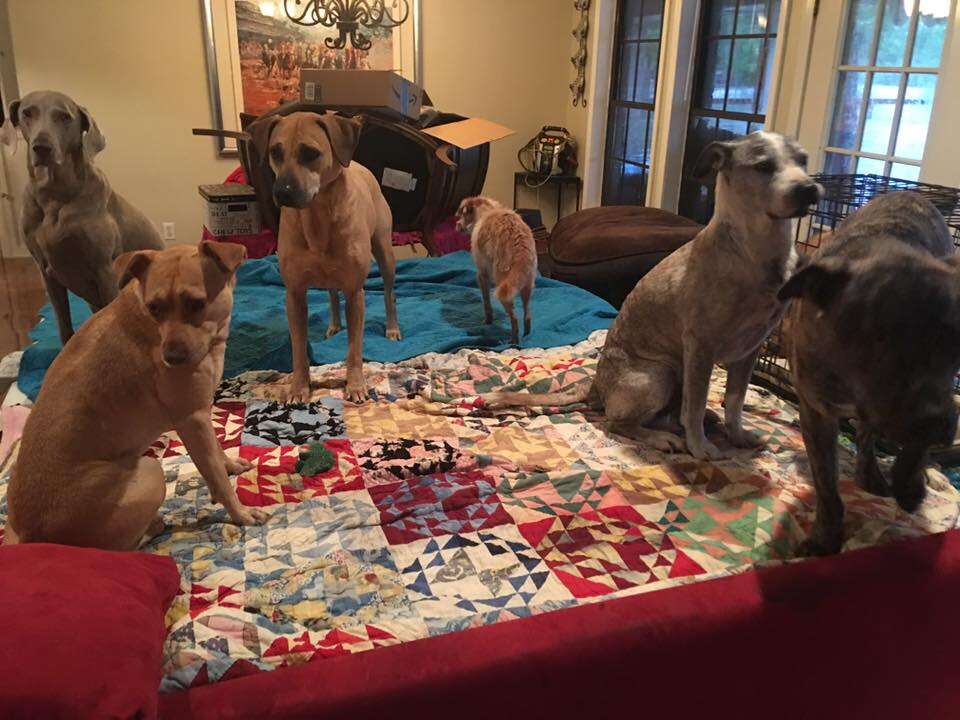 During normal times, there's a lot of playing with tennis balls and going out to the pond for swims.
Only usually it's because swimming is what they want to do — not because they have no other choice.
The family lives in Galveston County, Texas, and were hit hard by Hurricane Harvey beginning on Friday afternoon.
By 2 a.m. on Sunday, First says, her street was completely underwater. Camp Chaos was also heading in that direction, with water rising inside the house.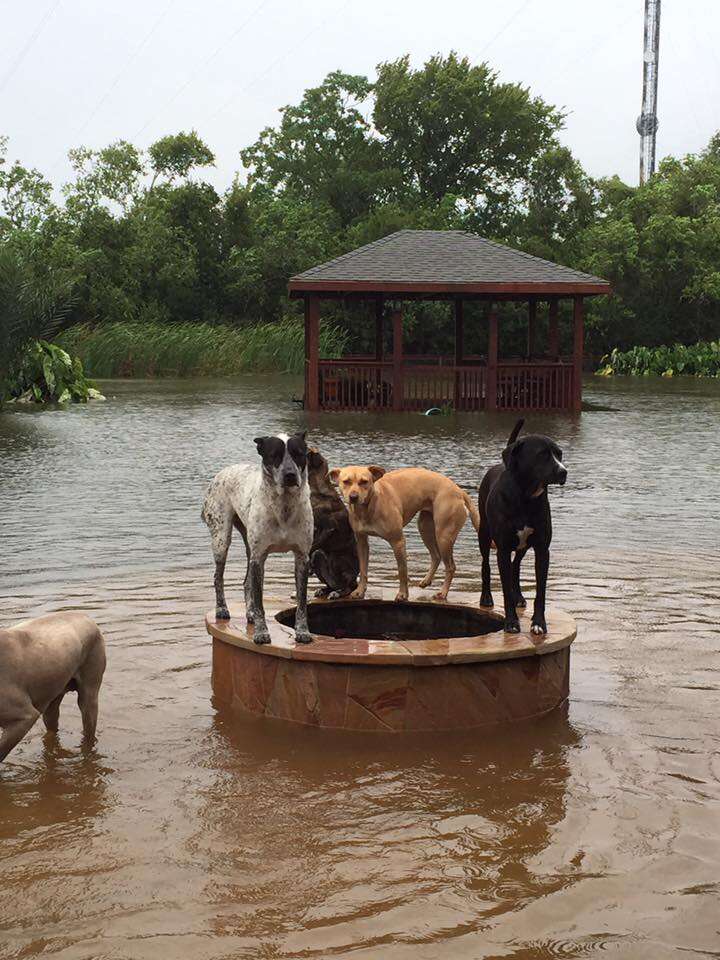 "The only places that were dry were our beds and the tables. We slept all together on the bed and couches," First says.
For about three days, the family was trapped, occupied with keeping themselves and their dogs safe, and trying to preserve their most precious personal effects.
This meant doing things like kayaking in their yard — normally grassy, not a body of water — looking for pieces of a broken propane tank, with dogs propped on the rear of the vessel.
Luckily, they'd prepared well, and had enough food and water to get through.
Plus neighbors whose homes weren't flooded made big hearty meals like macaroni and cheese, "and walked them over in chest high water so we could have a hot meal," First says. "We are so lucky."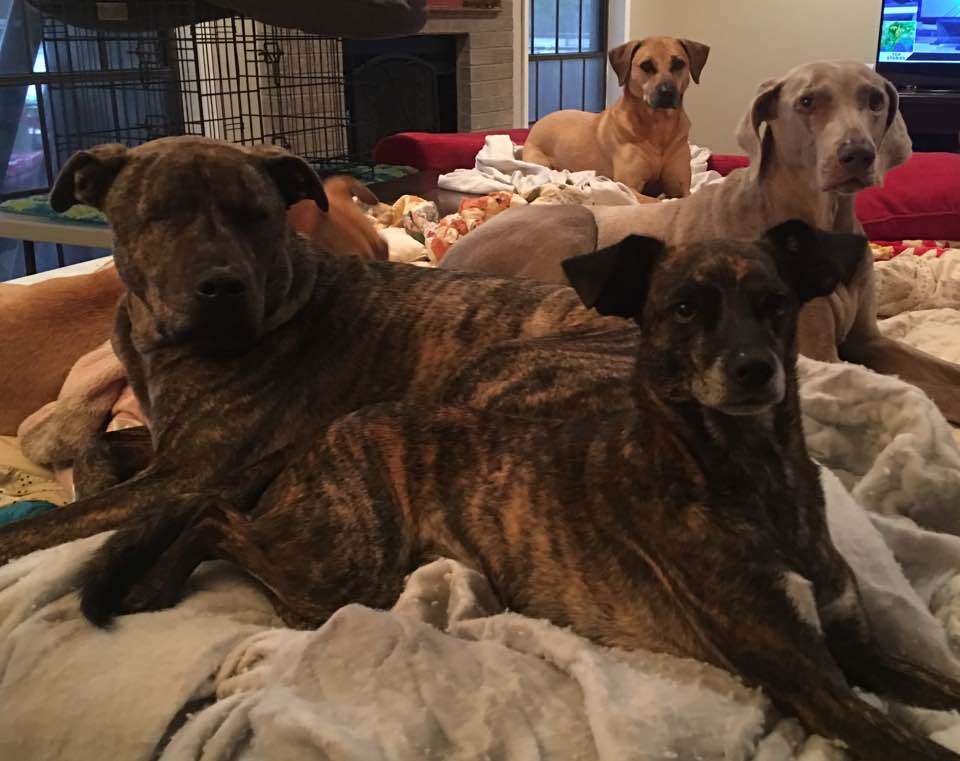 Eleven of the dogs held up just fine, throughout. One, an 18-year-old named Hot Dog, whom First rescued from a dumpster when he was just a tiny pup, carried his favorite ball while wading around the house — as if nothing strange was going on at all.
That was comforting, since "in the worst of times it's the smallest things that matter," First says.
But it was a rough period, for all the terrible reasons you would expect and for some you might not.
First and her husband take in a lot of dogs who've had very hard lives. That includes their fosters and their permanent dogs. Most eventually settle nicely into their new lives as spoiled pets.
One, Professor Pinto, is now an education ambassador with the group Barrio Dogs — he works with kids in some of Houston's poorest neighborhoods, helping teach them about animal care and safety, and participating in a reading program. First says proudly that he is "a rock star everywhere he goes."
Three of the dogs, however, have remained extremely fearful. "They just live within our yard and walls and are so happy" normally, First says — but the water and changes to their routines set them on edge.
"They were so terrified," First says.
People kept telling First to evacuate, but she didn't feel that was a realistic option even though the situation grew more and more dire.
Finding a place to go with 14 dogs at any time would be hard. In the flood, with three of the dogs going through emotional trauma — that seemed impossible. There was no chance First and her husband were leaving without them.
"I could not think of being separated from my dogs. We had to do whatever it took to survive here," she says. "I don't think of my pets as disposable — my pets are part of me. My entire life revolves around them."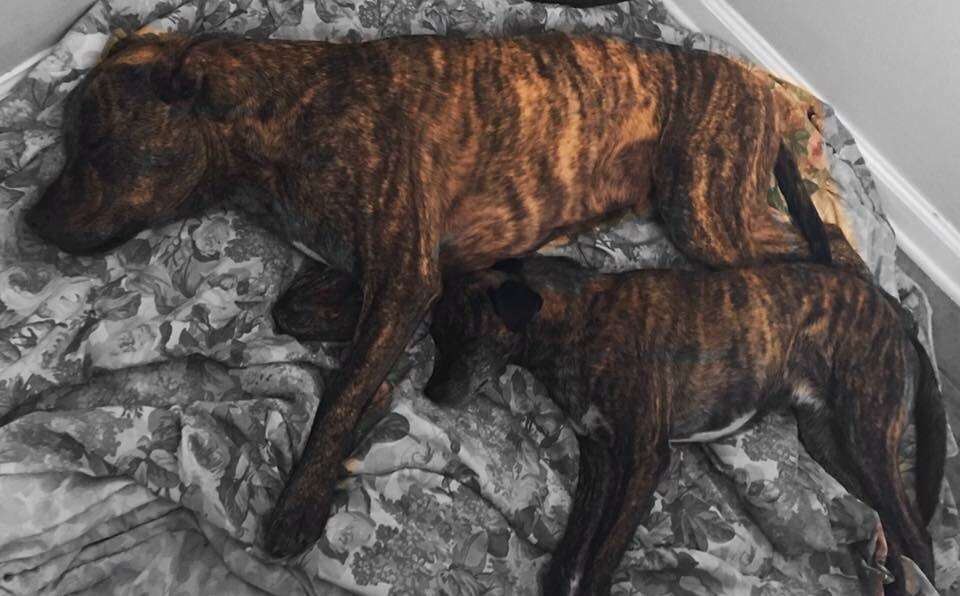 First knows for her family, it could have been so much worse, in so many ways. Just one in particular, is that she and her husband had been fostering another special needs dog up until Wednesday of last week.
That dog would have been a wreck in the floods, but got adopted, just in time, by a wonderful family in Boston.
"Thank God. He would have been so terrified," First says. "Funny how things work."
Early Wednesday morning, the rain broke. The floods began to subside.
Things are not back to normal, and likely will not be for a very long time. But First and her husband have begun throwing out their wet things. They've started preparing for what's next.
For the first time in days, First could see some grass again; you no longer needed a boat to get around the yard of Camp Chaos.
First and the dogs got to go outside and walk, not swim. Being able to do that felt like hitting the lottery, she says. Even the three terrified dogs started seeming like themselves again.
"They know this isn't their normal routine," she says. "But they are happy."