Shelter Can't Keep Up With All The People Dropping Off Pets
"There is a 2-and-a-half-hour wait today to surrender an animal ... That is how many animals we are receiving!"
On Tuesday, the wait to surrender a pet at the Harris County Animal Shelter in Houston, Texas, was two and a half hours long.
People sat on plastic chairs, their dogs tethered to leashes or stuffed in carrying cases and crates. This line stretched out the door and through the parking lot, dogs panting in the hot summer sun.
"There is a 2 1/2 hr wait today to surrender an animal at Harris County Animal Shelter. That is how many animals we are receiving!" the shelter wrote on Facebook. "If people can't wait or don't want to wait they tying them up to a tree and leaving or abandoning them in a box in our parking lot."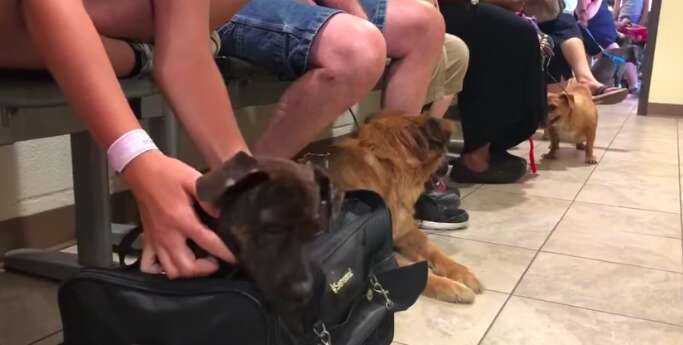 The shelter has approximately 530 animals in its care — mostly dogs — while its maximum capacity is supposed to be capped around 200.
"We currently have been hovering around 500 animals at any given time since the beginning of summer," Kerry McKeel, spokesperson for the shelter, told The Dodo. "It is a capacity crisis for Harris County Animal Shelter."
A justification shelter workers have heard time and again from the owners abandoning their animals is the simple inconvenience of pet ownership.
"The most common reasons we have received are tied to lifestyle changes — moving, landlord will not allow, can no longer afford," McKeel said. "Some people also simply say that they no longer want the pet or that they found the pet."
Despite the influx of strays and surrenders, the shelter is determined to keep its 90 percent lifesaving rate — even if that means housing five to six animals in every kennel.
As a municipal shelter, the facility is required to take in every animal who comes through its doors, regardless of temperament, breed or health condition, notes McKeel. And in the summertime, it is not uncommon for the shelter to receive hundreds of animals per week.
"Summer is traditionally our busiest intake season, partially due to the year-round breeding season in Texas," McKeel said. "We receive a lot of unwanted litters of puppies and kittens."
Every day, staffers witness heartbreaking goodbyes within the shelter doors as animals are dragged in against their will, clearly confused and distressed.
"This man drug SIX dogs into the shelter with his 10-year-old son, surrendering them because they were 'moving,'" Urgent Shelter Pets Houston wrote in a Facebook post. "All of which could have been avoided had their dog likely been spayed/neutered from the beginning."
You can see the upsetting scene play out here:
Employees of the shelter got a brief reprieve on Wednesday when the shelter was closed for owner surrenders, but that won't last long.
"We anticipate that tomorrow will be another high-intake day since we were closed for intake today and since we will be going into a holiday week next week," McKeel said.
The shelter is asking the local community to help by considering adopting a dog or cat in need or becoming a foster parent. Simply hosting a homeless animal for two to three weeks helps to free up kennel space and save lives.
Lastly, McKeel encourages pet owners to be diligent about keeping their dogs on a leash or at home to prevent them from winding up on the streets. "More than half of the animals at the shelter are strays," McKeel said. "Less than 10 percent have identification (tags or microchip) preventing the ability for the shelter with a way to reunite lost pets with owners."
To help these abandoned animals find homes, you can
make a donation to support the shelter
. Houston and Harris County residents who can help by temporarily opening their homes to an animal in need can email foster@phs.hctx.net or stop by the shelter.