Homeless Man Thought His Beloved Dog Was Lost Forever
People surprised him with the greatest gift 💕
A homeless man was just completely overwhelmed with kindness, thanks to so many people who were determined to help him.
For a whole week, Lee — who is 24 and lives on the streets of Leeds, England — thought he truly lost everything in the world.
On January 15, an argument broke out under the bridge near where he and his beloved 2-year-old dog, Crystal, were sleeping. Suddenly, hearing the arguing, Crystal got scared and ran off.
Lee was devastated.
He looked everywhere, but it soon became clear that he would need help. A local organization, Helping Hands, got involved in the search, and soon hundreds of people all over the country were putting up lost dog posters and praying for Crystal's safe return. Lee started to become afraid that Crystal had been stolen. Each moment that passed with no word about the dog was agonizing.
Then, week after Crystal went missing, Lee got his miracle.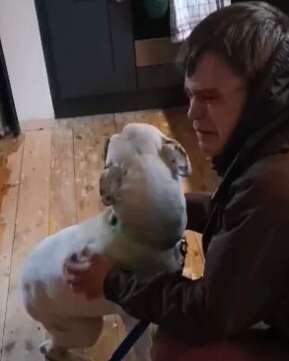 After just a few reported sightings of Crystal here and there, a farmer reported that he saw the dog — and managed to catch her.
"The whole event was a whole week of panic and broken emotions, Lee and I spent time together whilst I consoled him and reassured him," Toni Mella Sweeney, from Helping Hands, told The Sun. "The morning I received the call I immediately went to find Lee."
It was a while of combing the streets before Sweeney did find him, but when she finally located Lee, she brought him back to reunite with Crystal in a moment that she said was "mind-blowing."
As soon as he saw the dog he thought lost forever, Lee broke down, and Crystal, wagging her tail, happily licked away his tears before curling up in his lap.
"I missed you so much," Lee can be heard saying in the video of the reunion.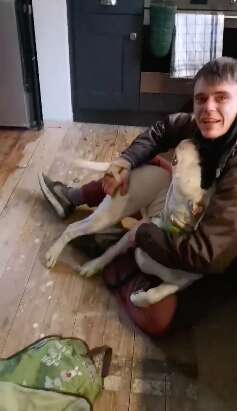 Not only did Lee get the greatest gift in the world — his best friend back — the people who helped find Crystal also gave him supplies to help keep him and Crystal safe, including a brand-new leash to help keep her close.