People Raise Money To Buy Homeless Man A Special Stroller For His Dog
"I run a dog rescue, so I save dogs, but sometimes there's a human attached to that dog and you have to help both."
On Saturday, Piper Wood got a phone call from her friend, Berni Gutierrez, who sounded very upset. Gutierrez was leaving a shopping center in Duarte, California, when she'd met a homeless man named Hector and his Chihuahua, Amy.
Hector had approached Gutierrez for help, but he wasn't asking for money or anything for himself — he'd told her that he needed a proper dog license for Amy.
"He said he can't get his dog licensed because he doesn't have a home, and animal control and the police keep bothering him and threatening to take his dog away because he doesn't have a license," Wood, founder of Hand in Paw, a dog rescue organization based in California, told The Dodo.
"My friend said, 'The dog is really well taken care of,'" Wood added. "'She's wearing a dress and she has jewelry on and he paints her nails. And he started crying when he was talking about her.' And I said, 'You know what? Let's help this guy. I'll be there in 10 minutes.'"
When Wood met Hector herself, she understood why her friend had been so moved.
"When he talks, it almost sounds like he had a stroke or something — it's very hard to understand him," Wood said. "But he's usually talking about his dog, and his dog makes him so happy that he cries most of the time because he's so happy. He's a really kind, kind person."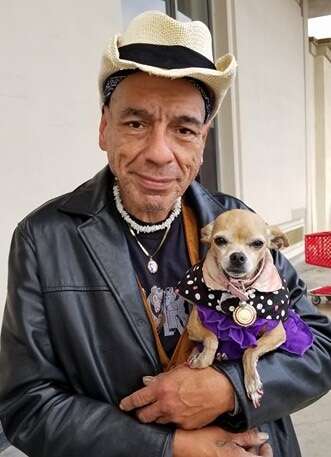 Wood told Hector that she'd help get Amy a license, and also get her spayed, microchipped and vaccinated, and fix her dental issues.
Wood also noticed that Hector was living out of a shopping cart, which is technically illegal in the U.S., so she decided to get Hector a special doggy stroller where he could keep Amy and also store his belongings.
"I run a dog rescue, so I save dogs, but sometimes there's a human attached to that dog and you have to help both," Wood said. " Sometimes you see homeless people with dogs and it's like, 'That dog would be better off somewhere else.' But he loves that dog so much, and we want to keep them together as best as possible."
"She gets treated better than most dogs in a home, because he's with her 24 hours a day," Wood added. "The dog loves him and he loves his dog — they are each other's life."
Wood wrote a post about Hector and Amy on Instagram, and asked for donations to get a dog stroller, good quality dog food and vet care for Amy. The response was overwhelming.
"I couldn't believe it," Wood said. "I got so emotional. The instant I posted it, I started getting so many responses. Not just money, but people wanting to do whatever they could to help. I was completely blown away and I was crying for a few hours."
"It's a pretty amazing thing to be able to change someone's life, but I had the help of so many people," she added.
On Wednesday, Wood presented Hector and Amy with a new doggy stroller, dog food, blankets and several gift cards.
"It's just the beginning, but he was just so happy to have a cart to put her in," Wood said. "He put her in the front with a bunch of blankets, and he was able to put his belongings in the back." Hector also placed Amy's dog stuffed toy in the cart next to her.
"I'll probably be meeting with him again tomorrow to give him some more things," Wood added. "We're also going to get her license, and she's set next week to get spayed and get her dental done."
Wood also plans on helping Hector get a job, which will hopefully get him and Amy off the streets. And Hector seems truly grateful.
"He was crying," Wood said. "He called me his sister. He said, 'Thank you, sister. You're the only family I have.' So I started crying too. It was really sweet. We all kind of look at people and judge them, but you really have to get to know someone and know their story before you can make that judgement — and he's a really, really nice person."
Wood is still raising money to get Hector more dog supplies for Amy, including more dog food and extra blankets. To help make this happen, you can
make a donation to Hand in Paw
.