Dog Abandoned On A Construction Site Was Too Terrified To Move
Rescuers had to get creative to get him out of there.
While living as a stray on the streets of Los Angeles, Odin the pit bull became terrified of everyone and everything — and seemed to trust absolutely no one. When someone spotted the poor dog living all alone on a construction site, they knew they had to try and help him.
Hope for Paws found out about Odin and drove out to the construction site to save him. When rescuers arrived, they spotted Odin lying in the middle of the site, in the center of many deep holes and tunnels, and quickly secured the area so that he couldn't run away.
Rescuers realized Odin probably put himself in the middle of the site, amidst all the deep holes, to help him feel safe and like no one could reach him. They were puzzled as to how he got there in the first place, though, and were eager to get him out of there.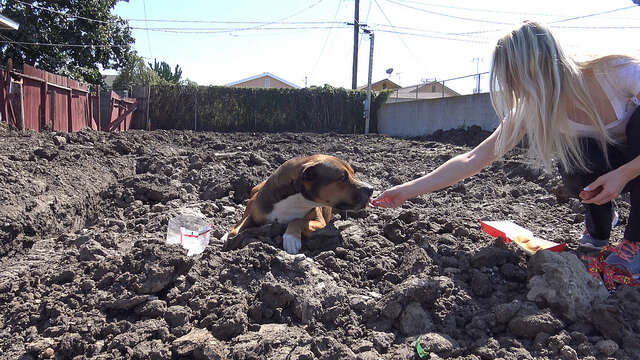 Rescuers began offering Odin food to try and gain his trust, and while he took it cautiously, he still remained pretty terrified, and refused to move from his spot on the ground. They placed a leash around his neck, but when they tried to get him to walk with them …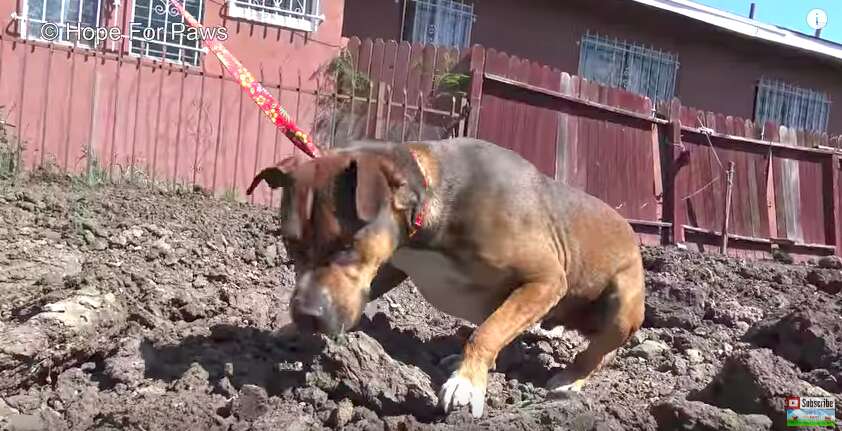 … Odin braced himself against the ground, so scared and untrusting of the people who were just trying to get him to safety.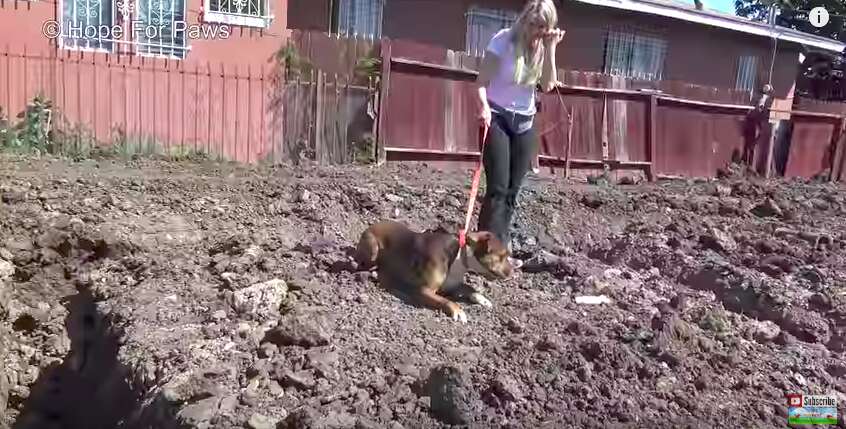 Finally, after lots of pulling and many encouraging words, Odin's rescuers realized he wasn't going to walk anywhere with them. Instead, they carried a cage out onto the construction site, hoping to get Odin into it so they could finally carry him over to their car.
Eldad Hagar, the founder of Hope for Paws, began trying to get Odin into the cage …
… and after a ton of gentle pushing (and absolutely no help from Odin himself) …
… finally managed to get him safely inside.
Once he was in the cage, the group very carefully lifted him over the deep tunnels and over to the car, where Odin began to finally relax just a tiny bit.
After scanning him for a microchip and finding nothing, the group headed to the vet to get sweet Odin cleaned up and checked out. Though he was still scared and cautious, Odin seemed to realize that he was finally safe, and began to warm up a little to the rescuers who saved his life.
Odin has since been adopted, and now loves every minute of his life with his new forever family. He is so, so different from the dog found on the construction site, all of his fear and uncertainty completely gone. Now he loves to run, play and cuddle with his family, and seems so grateful for the second chance he was given.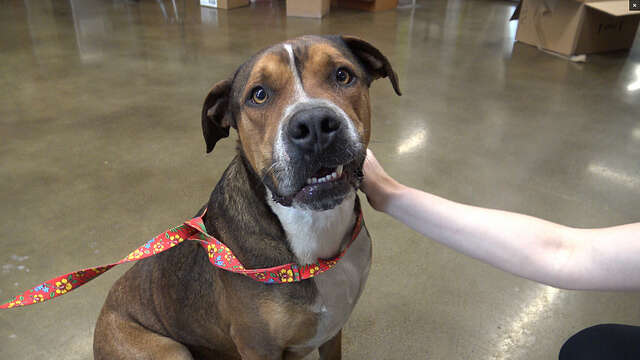 Watch the full video of Odin's rescue below: