Rescuers Chase Homeless Dog All Over The City For 7 Days
She'd been weaving in and out of traffic — but they finally caught her.
Bellanca had been living on the streets of Los Angeles for so long that people absolutely terrified her. She spent her days running away from everyone, and lived and slept near the airport. One day, someone who had noticed her running around finally decided to call for help.
Hope for Paws
Hope for Paws
On the first day, rescuers drove around as Bellanca ran through the streets, trying to find a place they could easily corner her, but with no luck. They tried to lure her to them with food, but she was much too terrified to accept it. Almost every time she saw them, she ran away and disappeared. They even tried setting up a humane trap to try and catch her that way …
Hope for Paws
… but the little dog was much too smart to fall for that.
At one point, they even brought along another rescue dog to see if Bellanca would approach her, but that didn't work, either.
Day after day, the rescuers came back with a new trick to try, and day after day they went home without Bellanca. It seemed like all hope might be lost, until finally, on the seventh day of trying, a man told the rescuers he knew where Bellanca slept.
Hope for Paws
When they arrived at her sleeping spot, Bellanca was there, and they immediately began securing the area to make sure she couldn't run away again. The fenced-in area where Bellanca chose to sleep was filled with thick bushes and huge spiderwebs, and as soon as the little dog realized she'd been found, she burrowed deeper and deeper into the mess to try and hide.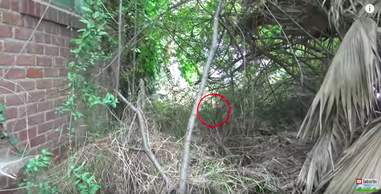 Hope for Paws
Rescuers struggled through the spiderwebs and the debris, trying to find where Bellanca was hiding …
Hope for Paws
… until they finally uncovered her, cowering in a corner, absolutely terrified of the people trying to help her.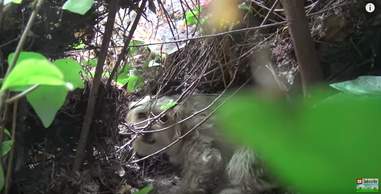 Hope for Paws
Eldad Hagar, founder of Hope for Paws, was able to get down on Bellanca's level, and quickly pulled out his gentle snare, not wanting to waste any time …
Hope for Paws
… and was somehow able to secure it around her neck.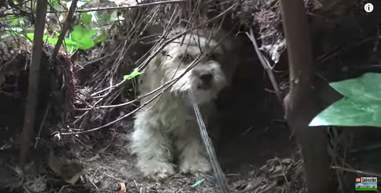 Hope for Paws
Even once she was caught, though, Bellanca was still terrified, and at first struggled as hard as she could to break free of the snare. The look on her face told her rescuers just how scared of humans she was, and they couldn't even imagine what she must have gone through to get her to that point.
Hope for Paws
Knowing he would need to gain her trust a little bit to calm her down, Hagar slowly and carefully began to pet her a little on the top of her head. Even though she was still panicked, the gesture seemed to calm her down a little bit …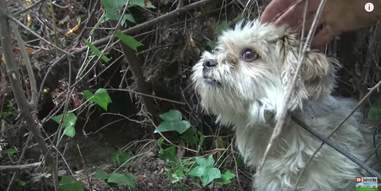 Hope for Paws
… and allowed rescuers to finally pick her up and pull her out of the bushes.
Hope for Paws
As they picked her up, rescuers noticed that Bellanca had an underbite, making her seem a little gruffer than she actually was. As they worked on getting themselves out of the tangled area, Bellanca took a rest on Hagar's leg for a moment, and seemed to finally understand that she was safe.
Hope for Paws
Once Bellanca was safely in the car, rescuers offered her some cold, clean water, something she probably hadn't had in quite some time …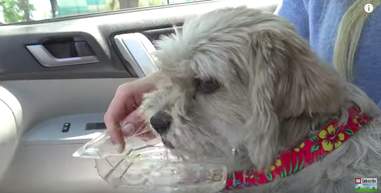 Hope for Paws
… and after that, she was a completely different dog, so friendly and so happy to be in the arms of her rescuers.
Hope for Paws
Bellanca was taken to get checked out and cleaned up, as she was covered in fleas and ticks from head to toe. She was a little hesitant during her bath, but was so excited once she realized she was clean and comfortable again.
Hope for Paws
Bellanca is now in her foster home, and is no longer even a little bit afraid of people. She's loving every moment of running around and playing with all the new dogs and people in her life.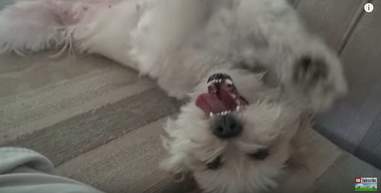 Hope for Paws