Retired Greyhounds Are Forced To Give Blood At This Strange 'Rescue' Group
It calls itself a rescue — but critics say there's so much more to the story.
The barking was deafening.
The moment anyone stepped into Hemopet's building, where 200 greyhounds are kept in tiny, rusty cages, the dogs erupted with sound.
"The dog barking is persistent and loud, and there's no respite for the animals from that constant noise," Dan Paden, associate director of evidence analysis at PETA, told The Dodo. "Some of the workers were screaming at the dogs, 'Shut up, be quiet, stop,' which only adds to those animals' stress and anxiety and fear."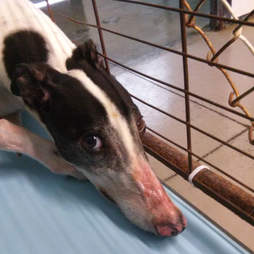 PETA
Hemopet is a California business that claims to operate as a canine blood bank that "provides state-of-the-art blood components and supplies for transfusions to veterinary clinics nationwide." It takes greyhounds who have been discarded from the racing industry and houses them at its facility in order to regularly draw their blood, and this blood is then sold to veterinary clinics throughout North America and Asia to help sick pets. Eventually, the greyhounds are put up for adoption and placed in homes.
At first glance, the mission of Hemopet seems quite honorable — yet animal welfare advocates have serious concerns for the treatment of dogs at this facility. Last year, an investigator from PETA went undercover at Hemopet for three months, and reported that the greyhounds were severely mistreated and neglected.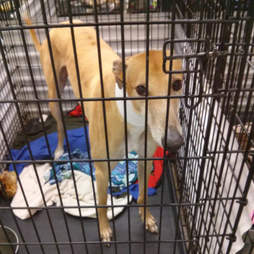 PETA
"The eyewitness saw these large, social, energetic dogs reduced to 'blood bags' on four limbs," Paden said. "They are kept in crates so small that they can barely stand up, they can barely turn around. When they try to lay down, their back is against one side of the crate, and they can hardly extend their four limbs out without touching the other side of the crate."
The dogs were only taken out for two reasons, according to Paden — for their blood to be drawn, or to go on a short walk.
"You have dogs who have been discarded by the racing industry … who, like every dog, need an opportunity to run and to play, only being taken out for five minutes, and put on a concrete path as their so-called exercise," he said.
PETA
The greyhounds don't have much comfort and enrichment inside their cages, either. At most, they might have a thin blanket and a single toy, Paden said. This severe confinement has left many of the dogs with health issues.
"The eyewitness saw … a tremendous amount of hair loss and calluses and even pockets of fluid accumulated on these animals' limbs," Paden said. "The veterinarian we consulted said that all of those are the effects of this persistent confinement on hard surfaces."
Despite being neglected by their caretakers, most dogs at Hemopet were desperate for attention, according to Paden. They'd wag their tails hard when anyone approached their kennel — so much so that they'd injure and break the tips of their tails.
A greyhound with "hot spots" all over his back, which he reportedly developed at Hemopet

| PETA
Being locked up in cages was just one element of the dogs' misery — another was the blood drawing process itself. The dogs were bled frequently, every 10 to 14 days, and many became sick as a result, according to Paden.
"Many of the dogs were on the verge of anemia, and lacking in red blood cells," Paden said. "Dogs were lethargic and listless after withdrawals, and they were put back into crates and not monitored, which is a dangerous and irresponsible oversight. There was a significant amount of bleeding and bruising along the neck on the dogs following the blood draws."
While donated blood from dogs is lifesaving in veterinary clinics — some owners even volunteer their pets as donors to save other lives — the way Hemopet operates is extremely controversial.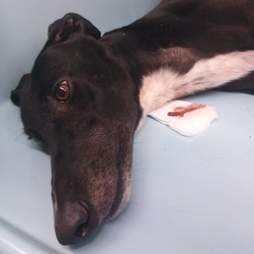 PETA
None of the dogs seemed exempt from the blood draws, even if they were ill with conditions like lupus. Taking blood from a sick dog isn't just dangerous to that particular dog — it's also hazardous for the dog receiving the blood, Paden pointed out.
Despite selling dog blood for a hefty profit, Hemopet is actually registered as a nonprofit in the U.S., which has left animal welfare advocates scratching their heads.
"We actually filed a complaint with the California attorney general, asking them to investigate, asking them why this company has charity status," Paden said. "We found very wide discrepancies between what Hemopet claims [on its website] and what the reality is for the animals — there are boasts about exercise, and the animals' husbandry and care, which do not line up in the least with the reality and the fact that we observed day in and day out for months."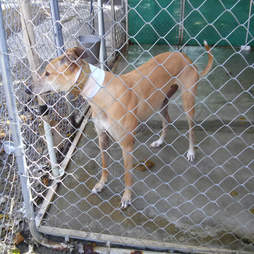 PETA
Paden is also concerned by Hemopet's claim that it's a legitimate rescue and adoption center.
"The eyewitness saw numerous dogs who would have a sign over their crate, which read, 'Going Home,' which indicated that these dogs had been, at least on paper, adopted," Paden said. "Except that those dogs would stay in those crates and continue to be bled for three or four more weeks and not go home because Hemopet had to find and obtain another dog to take the animal's place in their blood-drawing queue."
"It was an eye-opening experience, and also a heart-wrenching experience for the witness," Paden added.
PETA
When The Dodo reached out to Hemopet, a spokesperson sent a statement, saying that PETA has "broadcasted unfounded information about Hemopet and animal blood bank services." The company emphasized its charity status, and claimed to run as an "exemplary facility" that took the welfare of its dogs into account.
"Our dogs are cared for by over 40 persons and additional volunteers who directly and regularly walk and play with them," the Hemopet spokesperson said. "There is a national shortage of safe and blood-type compatible blood for companion and working animals. If not for Hemopet's animal blood bank services, countless animal patients in need of transfusions will suffer and some will die."
While blood is often necessary to help sick pets, Paden believes there are more ethical ways to obtain that blood.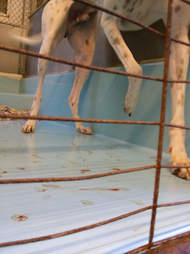 A dog with injured feet inside a kennel at Hemopet

| PETA
"There are a growing number of veterinary schools, which operate very successful community-based blood banks, where the animals, whether it be dogs or cats, live at home with their family, and every three or four months, the guardian will bring them to the clinic, or even a mobile clinic, and a vet or vet tech will draw blood from their animal for the purpose of donating it," Paden said. "In exchange for that, the animals are often given free veterinary care … and of course, the animal gets to go home at the end of the day, like a human blood donor would, and not just be cooped back up in an unnatural, stressful situation."
Another alternative is for veterinarians to ask clients to donate their pets' blood to help other pets in need.
"A practicing veterinarian or a group of veterinarians … could have a list of their clients with large, even-tempered dogs in good health, and if a patient was presented in need of a transfusion, the veterinarian would call someone on this list, and say, 'Can you bring your dog in? We need an urgent donation of plasma or red blood cells,'" Paden said. "So work with their own client list to develop that supply without having to buy blood from a facility keeping dogs captive."
To help put an end to blood banks like Hemopet, Paden encourages the public to speak to their local vets about this issue.
"We understand that veterinarians are very busy people, and we have found that not many of them are aware that in sourcing a blood product for one of their patients that they're underwriting the suffering of another animal," Paden said. "So we're really encouraging people who are struck by this issue ... to speak to their veterinarians about it, because it's a rather hidden and almost entirely unregimented industry, and the way it's going to improve for animals is when veterinarians themselves stop sourcing products from these blood farms, and pursue the alternate means of obtaining blood in order to help an animal in critical care."