Here's How To Help Animals Affected By Hurricane Harvey
They need all the help they can get ❤️️
Over the weekend, Hurricane Harvey battered the Gulf Coast and South Texas, causing catastrophic flooding and stranding thousands of people and animals. As of Monday morning, 5,500 people sought refuge in shelters, with many more expected to follow as rescues are still underway.
The storm, which made landfall Friday night, has so far claimed 10 lives and injured countless people, but there is little information to be found on how it has affected the animal population of Texas. Despite legislation put in place after Hurricane Katrina encouraging pet evacuations, and officials reminding evacuees not to leave their animals behind, the fate of many of Texas' furry residents is still up in the air.
Local and national organizations are fighting hard to save animals trapped in Harvey's wake — and they need your support. Here's how you can help animal evacuees, whether you live in Texas, Louisiana or across the globe:
Donate to the Humane Society of the United States
Foster a displaced animal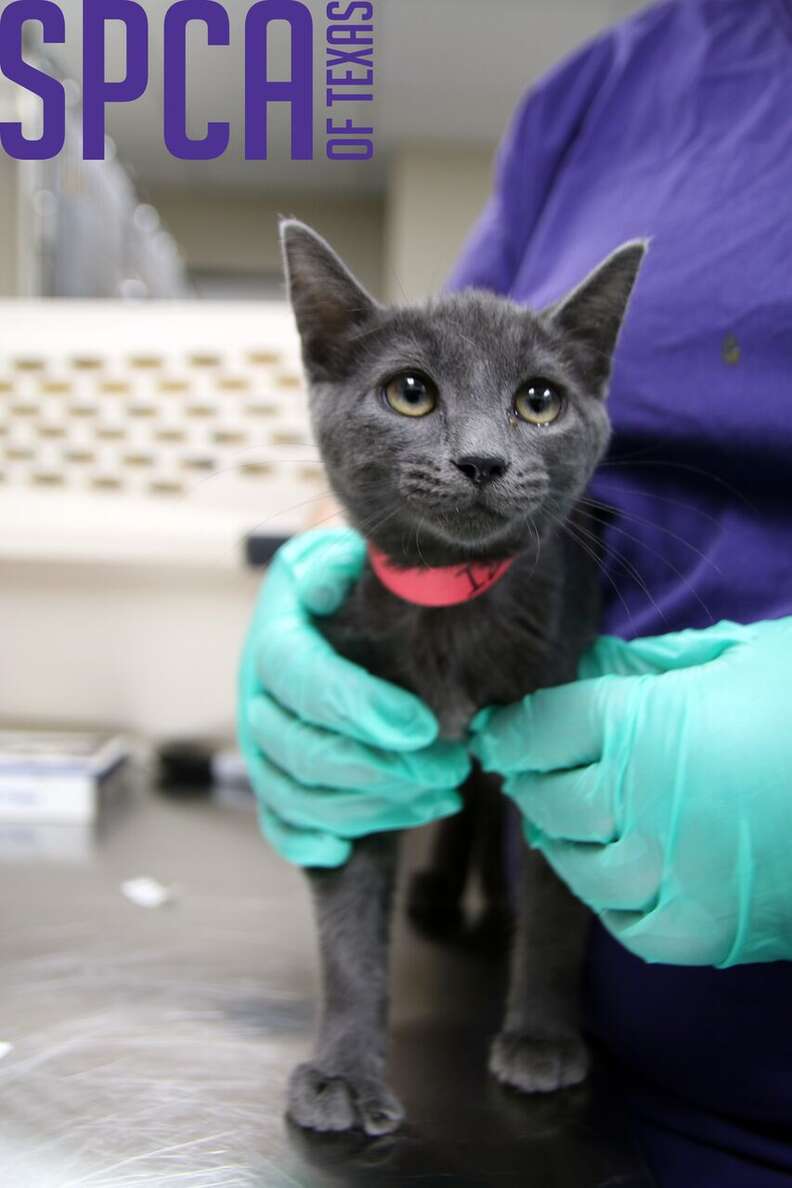 With Texas shelters inundated with displaced companion animals, fosters are always helpful. If you have the time and space to host an animal evacuee for a few days, weeks or months, it could mean freeing up space for another cat or dog in need. "The SPCA of Texas is putting out a call for foster homes to help us care for the animals already in our shelters and those coming from the Gulf Coast," the SPCA of Texas said in a recent press release. "It is easy to sign up at www.spca.org/foster. We will continue to need fosters for the pets in our care as we bring in more animals."
If you do not live in Texas, you may still be able to foster an animal affected by the hurricane. Shelters such as the Atlanta Humane Society are taking in displaced Texas pets, and plenty more organizations are sure to follow.
Donate pet supplies to shelters in need
You don't need to live in Texas to support the animals affected by the hurricane. Help shelters by donating supplies to those hit by the storm or to shelters taking in flood animals. These shelters typically need wire crates, blankets, dog and cat food, bowls, cat litter boxes and litter, bedding, comfort toys, leashes and collars. "For those that fled with nothing, they need all these things for their pets right now," a representative of the Humane Society of North Texas tells The Dodo. The Humane Society of North Texas has taken in 22 Gulf Coast pets, with more on the way.
Before donating, make sure to check the shelters' website and Facebook page to see if they have specific requests for supplies. To get started, check out the City of San Antonio Animal Care Services's Amazon Wish List and the SPCA of Texas's top-requested items. Helping can be one click away!
Join the Hurricane Harvey Animal Rescue Facebook group
If you are a resident of Texas, join the Hurricane Harvey Animal Rescue Facebook group for information on how to support local rescue groups and help those in need. The Facebook group's posts vary from individuals immediately in need of help to organizations accepting donations. While people who are not trained transport volunteers should not travel into flood zones, it could be a helpful tool for those looking to provide support and get the word out on social media.
Shelters taking in Gulf Coast animals will be working overtime to care for the extra mouths that need feeding and legs that need walking. Austin Pets Alive!, which has already saved over 230 stranded animals, is currently accepting both regular long-term volunteers and emergency, short-term volunteers to help with the influx — but you'll want to register online first before showing up to the shelter, of course.
If you've been considering adding a new furry family member, now may be the perfect time to do it! All animals deserve loving homes — no matter their circumstances.