Heartbroken Dog Bids A Touching Farewell To His Best Friend Who Died
"He stretched his neck in as far as he could, and he gave Bill just one little quick lick on his ear."
Earlier this month, friends and family gathered to offer their final farewells to Bill Schiller before he was laid to rest.
But they weren't the only ones in mourning. So, too, was the dear dog Schiller left behind.
The sweet pup, named Chief, was adopted as a rescue by Schiller five years ago. And up until his passing, the pair had been inseparable. Schiller's girlfriend, Anne Marie Sibthorp, saw the depth of their love firsthand.
"They bonded; they belonged together," Sibthorp told WCNC.
Naturally, when it came time for Schiller's funeral, it only made sense that Chief be invited as well — though no one could have guessed how tenderly the dog would express his last goodbye to his old best friend, as Sibthorp led him to Schiller's casket.
"He stretched his neck in as far as he could, and he gave Bill just one little quick lick on his ear, and of course, Bill didn't move," Sibthorp said. "And Chief laid his head right down by his head, and just laid there for the longest time."
Here's a photo of that touching moment, captured by Sibthorp's granddaughter, Nina: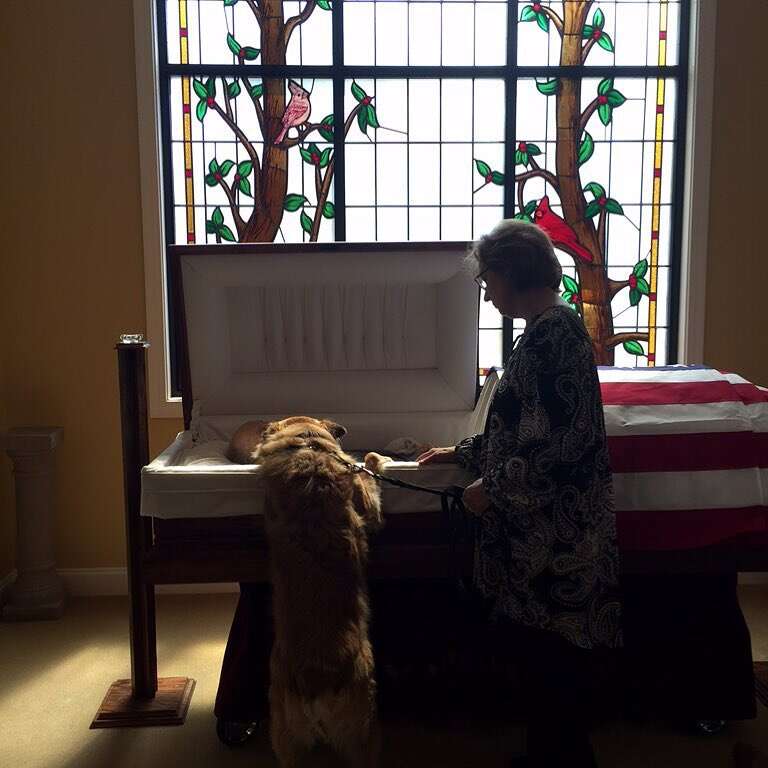 Among those moved by Chief's display of love was Sam James, owner of James Funeral Home, where the ceremony took place. To him, welcoming Schiller's bereaved pup inside to grieve was a no-brainer; after all, dogs feel heartbreak, too.
"We do whatever we can to care for our families [laying loved ones to rest], and that includes the four-legged members," James told The Dodo. "Closure is important, and we have no problem allowing animals to come to private viewings to afford them that closure."
In time, Chief's heart will no doubt begin to heal — thanks in no small part to him being included in the grieving process along with the other loved ones Schiller left behind.
"He got to say goodbye to his daddy," Sibthorp said. "And that was important."