Bo, Daisy and Luke were left at a shelter when they were just 6 weeks old by a breeder who couldn't sell them because none of them could walk in a straight line. After examining the puppies, the shelter determined that they had cerebellar vestibular dysfunction, a congenital issue caused by a lack of oxygen in utero. Staffers weren't yet sure how serious their issues were, and were afraid they may not have the resources to care for them — but quickly found people who could.
Mr. Bones and Co., a rescue based in New York City, was in the process of having some dogs sent over to them from North Carolina when at the last minute, the shelter asked if they would take the chiweenie (Chihuahua/dachshund mix) triplets too. The rescue quickly agreed, and the special trio made the trip to New York City.
After arriving in New York and undergoing a series of medical tests, it was determined that the trio's issues were actually not as bad as the shelter initially thought. Their disorder would cause them to be a little clumsy, but otherwise they seemed completely normal, and the rescue was confident they would go on to lead typical lives. Luke was always the most healthy and confident of the three, and while he was adopted quickly, Bo and Daisy remained unwanted. The pair seemed to rely on each other, and also seemed to have some strange habits — and it took everyone months to finally figure out why.
A defect on Bo's left ear led the rescue to realize that he was deaf in that ear. After making this discovery, it didn't take them long to figure out that the reason Daisy developed slower than her brothers, spun in circles frequently and hated being left alone was because she was completely deaf. She had been able to hide it for a while by mimicking everything her brothers did, and still relies heavily on Bo to help her navigate the world.
Due to their special needs, Bo and Daisy need to be adopted out together. Bo is a little more outgoing and adventurous than Daisy is, and his confidence seems to help her overcome her fears. While Bo sometimes has difficulty determining where sound is coming from, he's always able to figure it out eventually. Daisy watches her brother's every move, and uses his visual cues to figure out what she's supposed to be doing at any given time. He helps to guide her and make her feel safe, and the pair are rarely ever apart.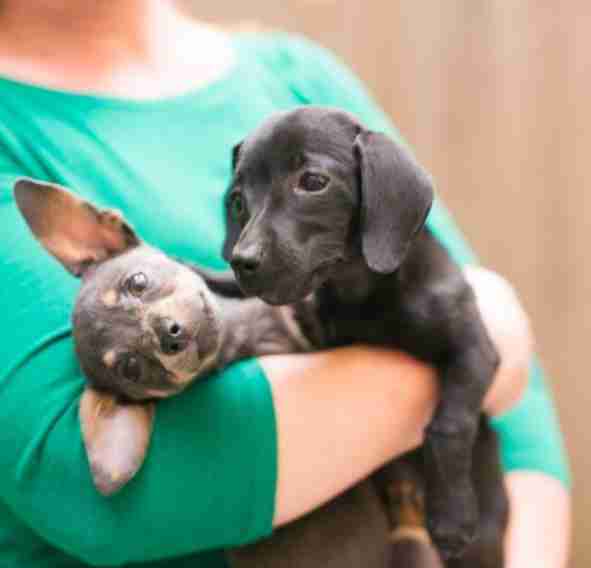 "Bo is Daisy's service dog," Elli Frank, founder of Mr. Bones and Co. and Bo and Daisy's foster mom, told The Dodo. "She follows him, she wakes up when he wakes up, she knows it's time to eat when he eats, she watched him learn to sit and then learned herself. She's trained by watching him interact with me."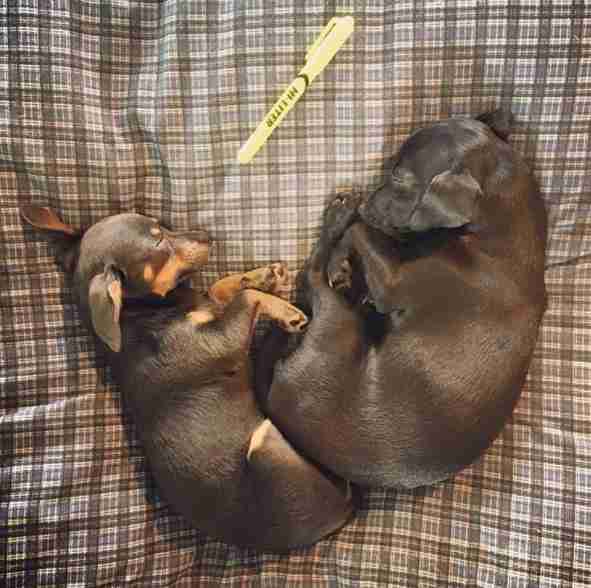 Bo and Daisy are 5 months old now, and the cutest pair of puppies you'll ever see. Due to their size and issues, they go everywhere with their foster mom, and always get a ton of attention because of how adorable and quirky they are.
"They're so small people ask me if they're ferrets," Frank said. "Daisy is so tiny even cat collars are too big for her. We bought her a ferret collar with a little bell on it so we know where she is at all times."
Daisy and Bo were adopted out at one point but unfortunately returned 10 days later, as the other dog in the home didn't get along with them. Going forward, the rescue would like them to be the only pets in their new home, to give them the best chance of being successful.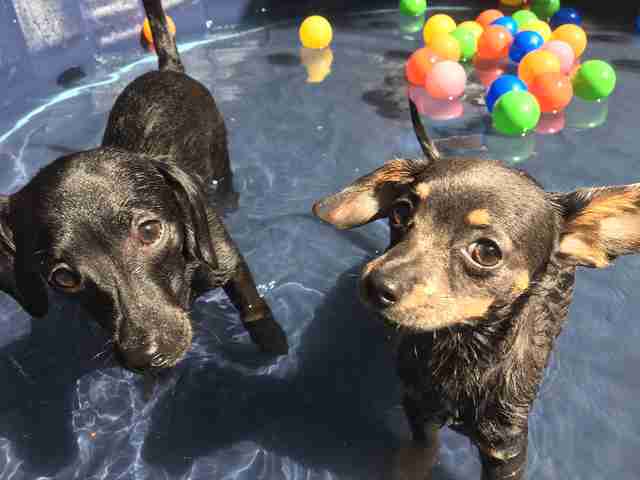 Bo and Daisy may have some issues and quirks, but they're growing stronger and braver every day, and will no doubt be the absolute greatest dogs for one very lucky family.
If you're interested in adopting Bo and Daisy, you can contact Mr. Bones and Co. for more information.