Happy Puppy Can't Believe She's Finally Leaving The Shelter
"She wags her tail so hard that she walks crooked."
Matilda the puppy has the most delightfully hyperactive tail.
This is what that tail looked like when folks came by to see Matilda at the shelter where she had been living.
"And she gave the most sweetest kisses," Santina Sanders, the volunteer at Douglas County Animal Shelter in Georgia who took this video, tells The Dodo. "She was the cutest thing ever."
Matilda is just a couple of months old. She was recently been picked up as a stray and brought to the shelter with irritated skin and a belly full of worms.
To Teresa Bowles-Chiofalo, with Pibbles & More Animal Rescue, Matilda was clearly "nothing short of perfect."
So Bowles-Chiofalo went to the shelter on Wednesday to collect Matilda and get her to a foster home. And this is what the joyful little dog looked the whole way there — her face in a smile, her tail going a mile a minute.
"Wagged the [whole] 1.5 hour ride," Bowles-Chiofalo tells The Dodo. She was so moved by Matilda's cuteness, she pulled the car over a couple of times for snuggles along the way.
Matilda is now residing with foster mom Kerrie Rich. Rich reports that after just a couple of days, Matilda is blossoming into an even more charmingly wonderful pup.
She gives lots of kisses and has a teeny little bark, which she deploys in an effort to get Rich's other dog to play (sometimes successfully). She loves playing with toys, and "bounces like a bunny" when she's getting excited, Rich tells The Dodo.
And of course, that tail just doesn't stop.
"She wags her tail so hard that she walks crooked," Rich says.
The only time Matilda's really stopped that unabating wag is when Rich tried putting a collar on her. "She is not a fan at all. I took it off immediately," Rich says.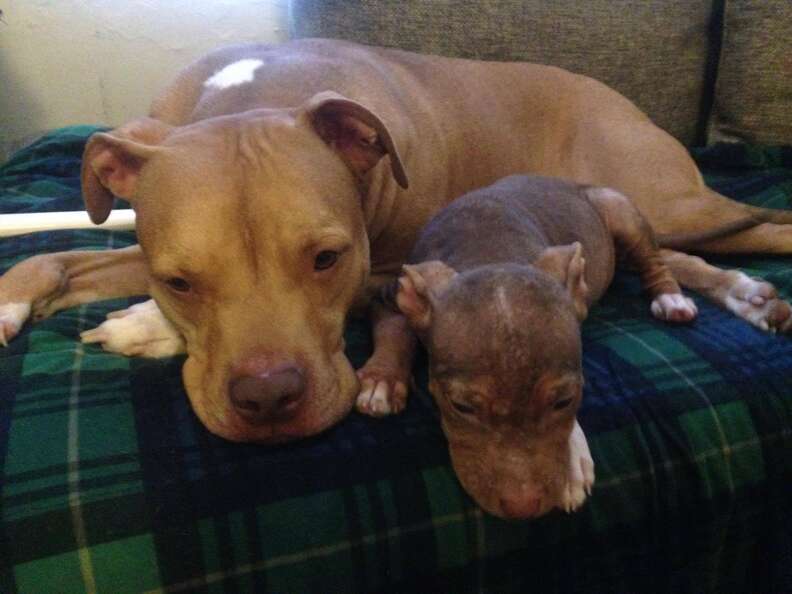 Rich thinks the collar must have hurt a little bit, given how raw and irritated Matilda's skin still is. She'll try again when her skin starts feeling better.
In fact, that's when Matilda will not only get her collar but also go up for adoption — some very lucky family will get to enjoy this good girl for the long haul. (Stay tuned on the Pibbles & More Animal Rescue Facebook page.)
Rich knows it'll be hard to give Matilda up, just like it's always hard to give up her fosters. But it's a necessary lifesaving part of this process.
"Once one pup is adopted, it opens a space at my house to save another, which opens another spot at the shelter," she says.
Until then, Rich will enjoy every second she has with this deliriously happy girl and her perpetual-motion tail.
Rich wishes she could share more photos and videos of that tail, in fact, but Matilda — with all her puppy enthusiasm and verve — thwarts every attempt to capture that waggy phenomenon on camera.
"She's hilarious and I wish I could video everything," Rich says. "But as soon as I pick up my phone, she runs right at me!"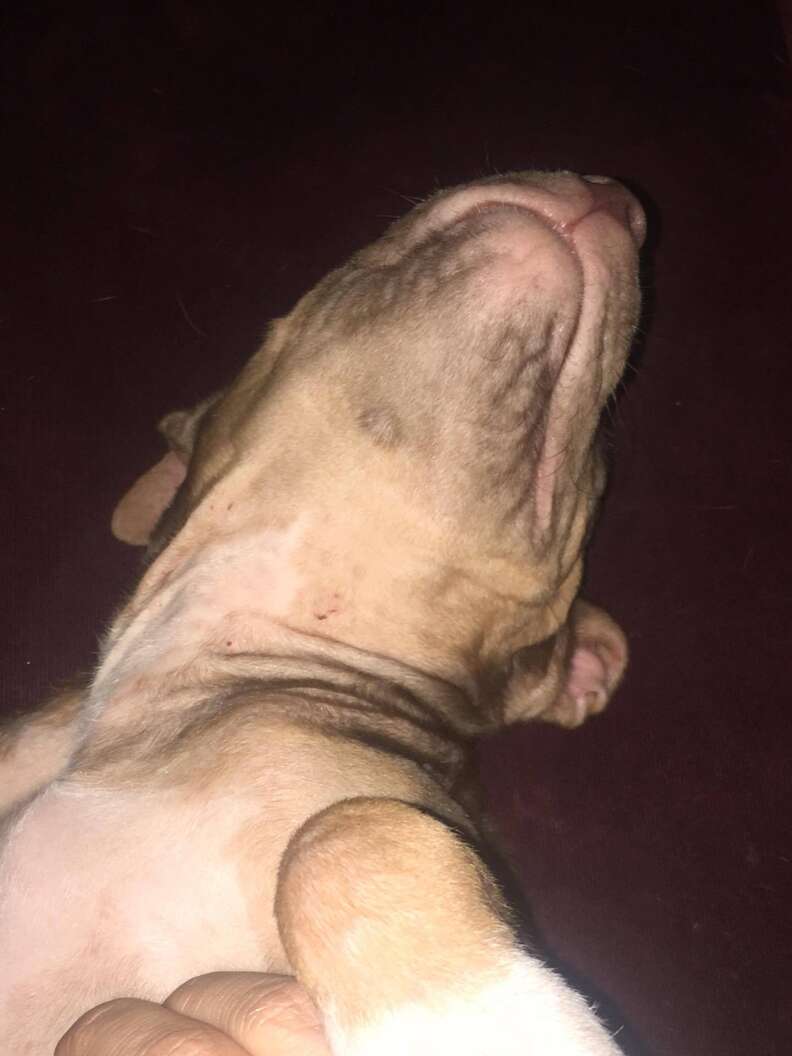 Follow the Pibbles & More Animal Rescue
Facebook page
to find out when Matilda goes up for adoption, and to learn about the group's other adoptable pets.