Pit Bull Couldn't Stop Wagging His Tail After Being Rescued
"He was kissing me and kissing her, and he was so over-the-top excited."
To Laura Miller, Polo wasn't just another shelter dog — he was special.
"He is this happy-go-lucky, cuddly dog who loves everybody," Miller, director for Sarama Animal Rescue, told The Dodo. "He is so personable with people, and he kind of looks like a baby hippo, which is adorable."
In March, Polo, a 4-year-old pit bull, was picked up as a stray and brought to the Animal Care and Control Team of Philadelphia (ACCT Philly), a busy city shelter. He got adopted shortly after his arrival, but sadly, his new home didn't work out — he didn't get along with the family's cat, and he climbed a fence and got in a fight with the neighbor's dog.
After this, he was returned to the shelter, and no one was interested in adopting Polo again.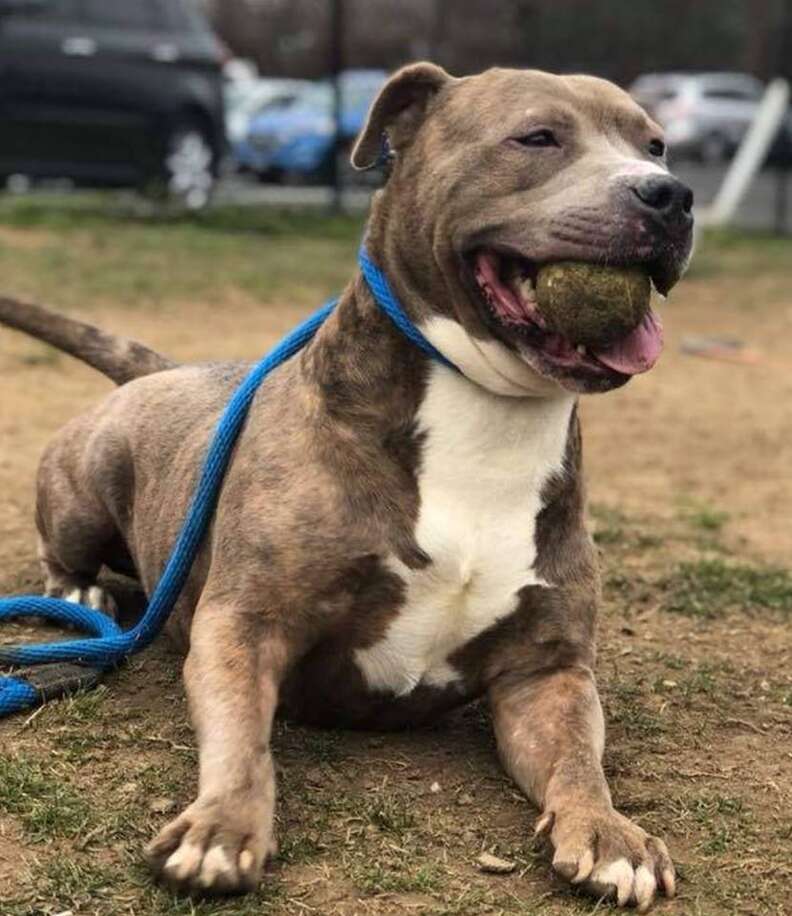 "They time-stamped him, which means that they give him a date for euthanasia," Miller said. "They usually do this because the shelter is full, and a dog with that kind of history isn't likely to be adopted by the public. Even though he's had these really great qualities ... they still have to disclose his history with the other dogs, and when you're looking at a hundred pit bulls, you're probably not going to take one with that history."
Miller, who'd become aware of Polo through an email alert, deeply sympathized with his situation.
"His life was one on the line because of one incident," Miller said. "While I'm not dismissing it, this incident doesn't represent who he is."
Miller frantically tried to find a foster home for Polo. Without one, her rescue group couldn't pull him from the shelter. But time was running out for Miller — and for Polo.
"It was really emotional because you want to save them all, but you don't want to take on more than you can at one time," Miller said. "You also don't want to put him in a dangerous situation, in a house that couldn't handle his issues."
"I'd wake up in the middle of the night and check if he was rescued or not," Miller added. "It was a nail-biting experience, because every morning, I didn't know … if they euthanized him or if somebody took him."
Miller wasn't the only one rallying for Polo — several volunteers at ACCT Philly were also doing their best to help him.
"The volunteers at ACCT played a huge role in getting him out of there — they advocated for him, and set up a training fund for him for the rescue that takes him, and they spread his story all over Facebook," Miller said. "Because he was getting so much interest, ACCT extended his time stamp four times, which is kind of unheard of … and I really think that saved his life."
But the volunteers could only do so much, and Polo's time eventually ran out. Then something amazing happened — that same day that Polo was meant to be euthanized, a dog trainer sent a message to Miller, saying she'd like to foster Polo. Miller called her right away.
"I talked to her and she sounded amazing," Miller said. "So we decided to go for it."
Now that Polo had a foster home lined up, he was safe. That evening, Miller and her friend Rachel went to ACCT Philly to pick up Polo.
"We picked him up at 7:30, which was right before ACCT was closing … and it was raining," Miller said. "When he got into the car, he had this 'Oh my God, I'm getting out of here' moment. He was kissing me and kissing her, and he was so over-the-top excited."
Miller and her friend drove Polo to his foster home, which was about a half hour away, and Polo has been adjusting well to his new life. "He's great in the house, he's great with people," Miller said.
And Polo hasn't stopped wagging his tail and wiggling with delight. He's so squirmy, in fact, it's nearly impossible to get a non-blurry photo of him.
Polo will eventually need a forever home. The best kind of home for him would be one with no other animals, and with an owner who's happy to be covered in countless kisses every day.
"He just needs someone who wants to be his best friend," Miller said. "That's what he really needs."
While he waits for this perfect situation, he's safe and sound at his foster home.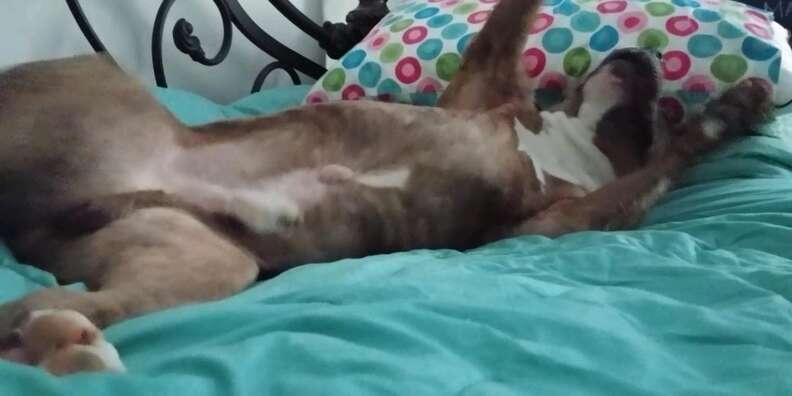 "The fact that so many people rallied for him and got him out of the shelter against the odds is amazing," Miller said. "I wish every dog could have that. But his story gives us hope."
If you're interested in adopting Polo, contact Sarama Animal Rescue at SaramaRescue@gmail.com.