Pug Found Alone And Hairless On The Streets Looks So Much Better Now
He's such a handsome boy 👏
When Dex was brought in as a stray to the Austin Animal Center in Texas in January, things did not look good for the young dog.
At barely a year old, the little pug weighed just 10 pounds, and was in serious danger of losing his vision. Being left alone in a barren cage until the end of his stray hold — the number of days that shelters are required to hold a stray to give owners an opportunity to claim them — meant putting off urgently needed medical attention.
Then Pug Rescue Austin stepped in.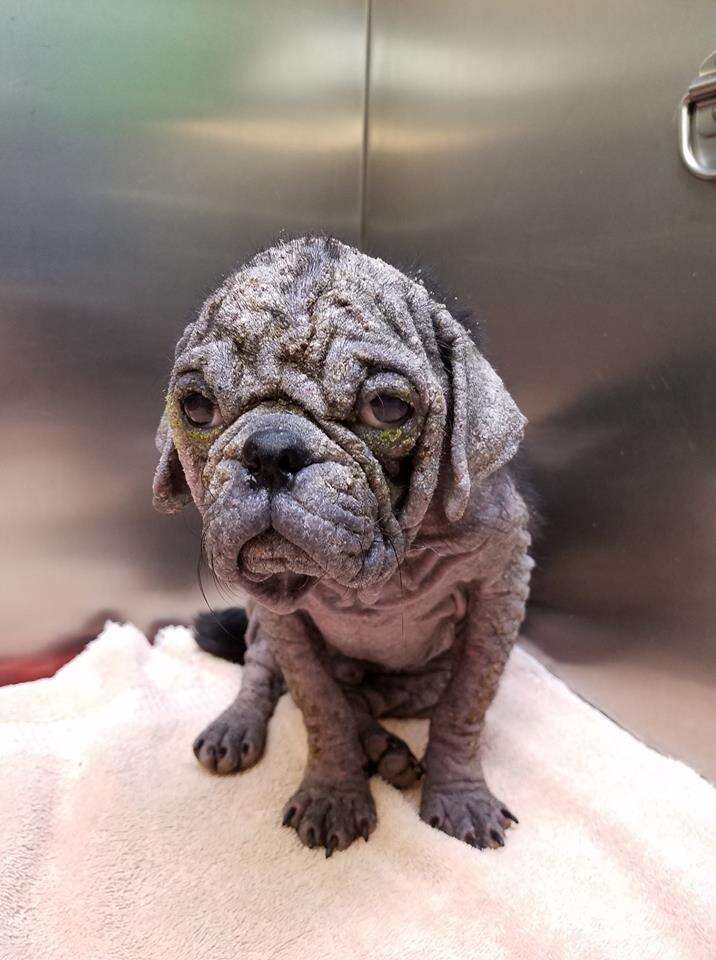 Dex was rushed to the rescue, where an assessment revealed that he was in much worse shape than originally thought. His demodectic mange and skin infections, which rendered him entirely hairless except for his curlicue of a tail, were so severe that doctors suspected he had been suffering from the condition for up to six months — half his entire life, according to Signe Corbin, founder and director of Pug Rescue Austin.
His bulging eyes caused him a host of other problems, too. "He had 'dry eye' (low tear production) and both of his eyes were infected," Corbin told The Dodo. "He had painful corneal ulcers from not only the lack of tear production, but likely from constant itching and rubbing his face, thus traumatizing his eyes. He squinted and kept them closed most of the time."
Dex was dewormed and put on pain medication, antibiotics and antifungal medications. He was also given medicated baths to soothe his inflamed skin. To save his sight, his foster mom had to administer five different eye drops every two hours.
Rescuers worried that after suffering for so long, Dex wouldn't be able to recover emotionally — remaining shut down and closed off. But the little pug proved them wrong.
"He was very scared the first few days, but as he started to heal and feel better, he quickly warmed up to people and became particularly attached to his foster," Corbin said. "We discovered he loved to curl up in round beds with higher sides on them and he loved fleece blankets against his skin."
The changes in Dex's behavior were small, but encouraging to his rescuers. "After a week or so, he became relaxed enough to start wagging his tail," Corbin added, "and after another week, he started enjoying chews, toys and interacting with other dogs."
While he first arrived at the rescue, Dex was not the most photogenic, but the little naked dog quickly developed quite a fan base on Facebook. Hundreds of followers monitoring the hashtag #dexupdate stepped up to help Dex by spreading his story, contributing monetary donations and sending in cozy T-shirts, fleece blankets, dog pajamas, dog beds, toys, treats and homemade salve to help him heal.
Among those fans was Beth Legacki.
Legacki, who had previously adopted two dogs from Pug Rescue Austin, had been following Dex's story from the beginning and contributing to his health care. When Dex was healthy enough to start searching for a home, Legacki was first in line.
Finally holding the dog whom she had watched so closely on her computer screen in her arms was an emotional moment. "I cried," Legacki told The Dodo. "He was shy, but I knew in my heart he belonged in our home."
In just a few short months, the little pug had gone from living alone on the streets of Austin to gaining a warm home, five rescue dog siblings and a loving human family.
It hasn't taken long for the once-shy pug to come out of his shell. Dex doesn't hesitate to play fight with his much larger brothers and sister for ownership of certain favored stuffed toys, and any scraps of food that cross his path.
"He has become very dominant in an adorable way," Legacki said. "He's tiny and the most confident and feisty of our pack. He's super proud and knows he has 'street cred.'"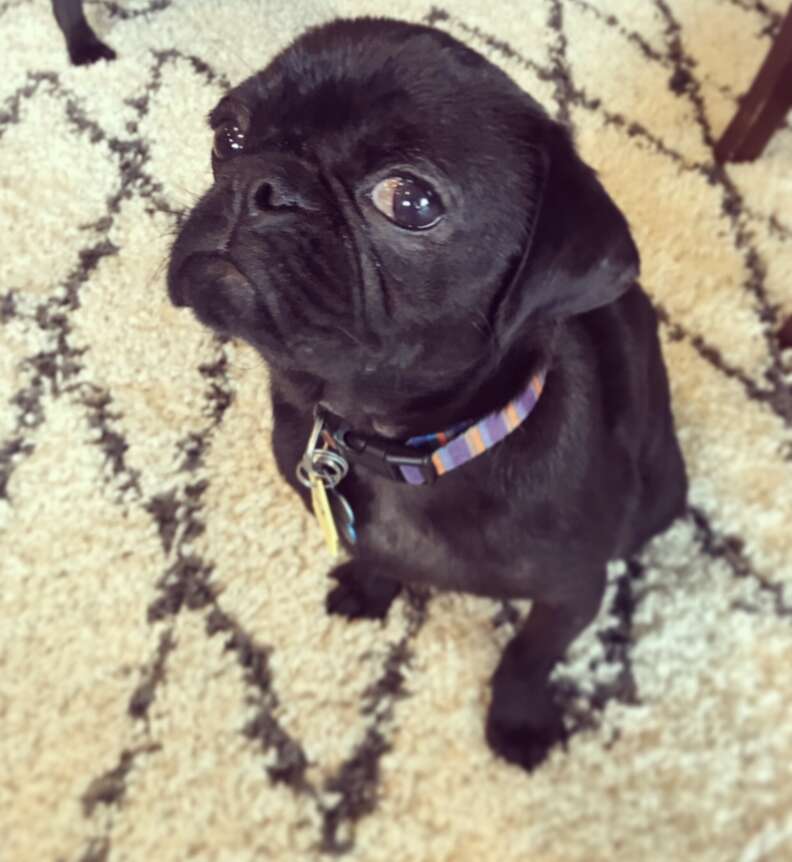 But his independent attitude doesn't keep him from seeking out snuggles from his favorite people, Legacki noted. "He is a little shadow always attached to a human. He loves to sleep under the covers."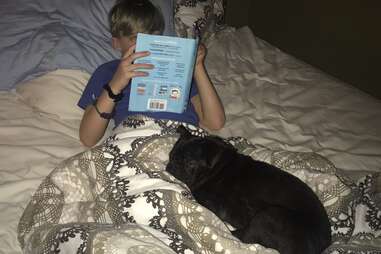 Now safe and healthy, Dex gets to act like a puppy for the first time in his life — and his antics crack up his new family. "He makes us laugh. He brings warmth and love," Legacki said. "It's hard to not get emotional when we look at him and think about where he came from."
"Our home is filled with 'thrown away' dogs," Legacki added, "and we couldn't imagine a life without them."
To help dogs like Dex in central Texas, you can make a donation to
Pug Rescue Austin
.
Thinking about adopting? Then meet Dodo Adoptbot, an interactive guide for new pet parents. Get started on
Facebook Messenger
or text HOME to 38349.