Bald Puppy Found On Roadside Was So Uncomfortable He Wouldn't Move
"He was the one that really needed help ... once I caught him it's like he knew he was safe."
When Blue and his siblings were only 3 months old, they were dumped on an empty country road in a small town in Texas and left there to fend for themselves. There are no houses at the end of the road, and people often dump all sorts of unwanted things down there, including animals. Sometimes these poor animals go unnoticed, but luckily, someone spotted Blue and his siblings and knew they had to help.
Jennifer Peskey's husband and kids were out driving when they called her to tell her that four pit bull puppies had been dumped on their road. Peskey was used to these kinds of calls, unfortunately, and had rescued multiple dogs found on her road in the past. She quickly went out to see the puppies — and she felt a tug on her heart as soon as she laid eyes on Blue.
The puppies had been dumped in a small crate and left in a ditch, and the door to the crate had opened, allowing the puppies to wander around. While all of the puppies appeared to have mange, Blue was in the worst shape of all, and Peskey's heart broke for him.
"Blue was hairless, crusty and red," Peskey told The Dodo. "The other three dogs were playing in a pasture but poor Blue was sitting by the crate. The poor thing was so red and he could hardly move. I felt like he was the one that really needed help. When I first picked him up he was so scared, but once I caught him it's like he knew he was safe."
Peskey knew that Blue likely wouldn't make it without a lot of specialized help, and so she decided right then and there to welcome him into her family. The other three puppies were rescued by one of Peskey's neighbors, and Blue was quickly rushed to the vet to get the help he so desperately needed.
"Blue had the worst case of demodex mange the vet had ever seen, and he had a horrible skin infection," Peskey said.
While the vet was shocked by Blue's condition, she was also hopeful that with the right care, he would eventually transform into a happy, healthy dog. She gave Peskey a few different medications to give to Blue, including a special shampoo to wash him with. Peskey then took him home, and began the process of showing the sick, scared pup that he was finally loved.
"We have a pile of shop rags in the barn and he laid on them for three days," Peskey said. "He'd get up to go potty and then straight back to the pile of rags. By day five he was moving around more."
Blue was on antibiotics for a full month and a half and had to have multiple baths a day — but finally, after some time had passed, he started to heal, and as he healed, his personality finally began to shine through.
"The first month I had him, he was timid and just not sure of anything," Peskey said. "It's been awesome to watch his confidence grow. He loves to cuddle on the couch and he's friendly when we are out and about. He's just a happy-go-lucky boy and he's laid-back. He's still recovering from his skin issues but other than that he's great!"
Now, Blue's favorite activities include playing with his best friends, JJ the cat and Vera the dog, and stopping to smell the flowers that are all over his family's property. His mom is so overjoyed with how far he's come, and is even planning on writing a children's book about his journey.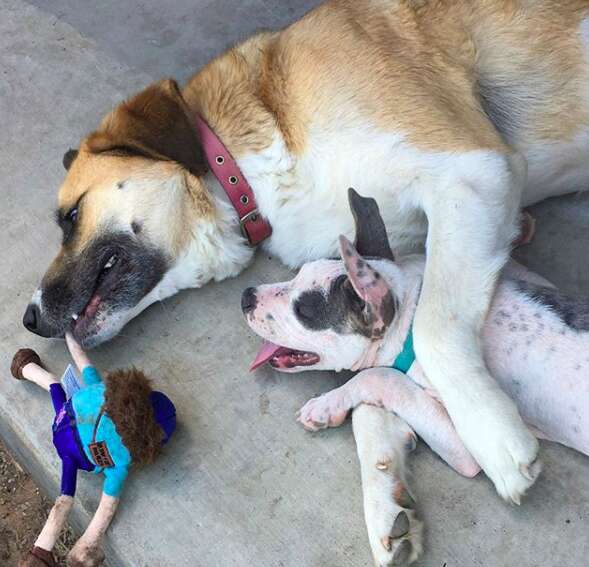 Blue still needs frequent baths with his special shampoo to continue to help his skin heal, but other than that, he's just a happy, normal dog who loves his new family so much. If Peskey's family hadn't noticed Blue that day, his story might have turned out much differently. Instead, he has the best new life, and is loving every minute of his happy ending.
Thinking about adopting? Then meet Dodo Adoptbot, an interactive guide for new pet parents. Get
started on Facebook Messenger
or text HOME to 38349.