Hairless Cat Who Was Born Sick Works At A Vet Clinic Now
She loves comforting the patients — even rats and big dogs.
Raisin is a one-and-half-year-old Sphynx cat who was born to a breeder in Gainesville, Florida. She was born with congenital eye issues, and because of that, was surrendered to Helping Hands Pet Rescue when she was just a kitten.
When Raisin was brought to the rescue, she had a bad eye ulcer, something she is predisposed to due to her eye issues, and staffers were afraid the sweet little kitten was going to lose her eye. To make sure she got the best care possible, a local vet student who volunteered with the group became her foster mom, and monitored her closely as she received treatment for her eye.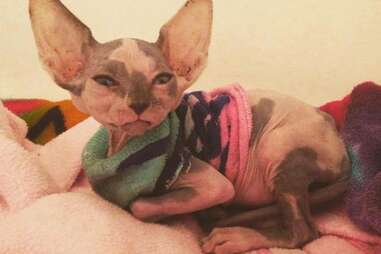 Thanks to the vet student's dedication, Raisin was able to keep her eye and escaped the whole ordeal with minimal scarring, but the rescue knew that she still might face more ulcers and other issues with her eyes in the future. She needed a special kind of person to care for her full time — and before long, she found the perfect mom to take her on.
Raisin now lives with her new mom, Ruth Heffernan, who is a vet tech at the Animal Medical Clinic of Gulf Gate in Sarasota, Florida. Not only is Heffernan the perfect person to make sure Raisin is healthy and happy, but thanks to her, Raisin also has the perfect job — working with her mom at the clinic, every single day.
"She has become their clinic mascot and people love to come and meet her," Heffernan told The Dodo.
Raisin loves going to work with her mom every day, and she takes her job very seriously. She loves assisting the staff with their day-to-day tasks, walking around and overseeing the clinic in general, and of course, meeting all of the patients who come through to be treated.
"Raisin loves the clinic because she loves meeting the patients," Heffernan said. "She LOVES dogs. The bigger the breed, the better. She enjoys going into the exam room to meet clients and patients, and we always check and make sure the animal is good with cats and other pets. We let her walk around the clinic when we are in between appointments, and she has her own exam room to relax in, with lots of boxes and cozy bedding."
Raisin is an incredibly fearless, friendly little cat, and she loves comforting all the pets who come in and making their trip to the vet a little easier.

Raisin definitely has her favorite patients, like a blind pit bull who comes in frequently, but she loves meeting anyone and everyone, and especially loves being there when pets wake up from various procedures.
"She loves to be back in our prep/surgery area, and loves to be there when pets are waking up from surgery." Heffernan said. "She enjoys cuddling with them as they wake up."
Raisin started out life as an unwanted cat who was deemed too different, and now she's found the perfect home, where she can help and inspire people every single day.