Guy In Viral Photo Explains Why He Visited Dog Park Covered In Peanut Butter
"It was the most embarrassing moment of my life."
It took 25 years, but it finally happened.
The most embarrassing moment of Steven Shrout's life — one that's unlikely to be topped.
(And to be honest, it was pretty awkward for everyone.)
Last week, Clinton Butler was at a Texas dog park with his pup and a few other dog owners when he witnessed a strange figure approaching. It was Shrout, clad in his underwear, walking reluctantly into the canine play area covered in peanut butter.
"My first thought was, 'WTF is this?'" Butler told The Dodo. "My mind went a few places before I really knew what was going on."
Though Butler and the others, including the dogs at the scene, were skeptical at first, it soon became clear that the peanut-buttered Shrout meant no harm.
"He was very cordial with the dogs and seemed a little remorseful," Butler said. "I think he was sort of embarrassed."
Butler snapped this photo, which later went viral: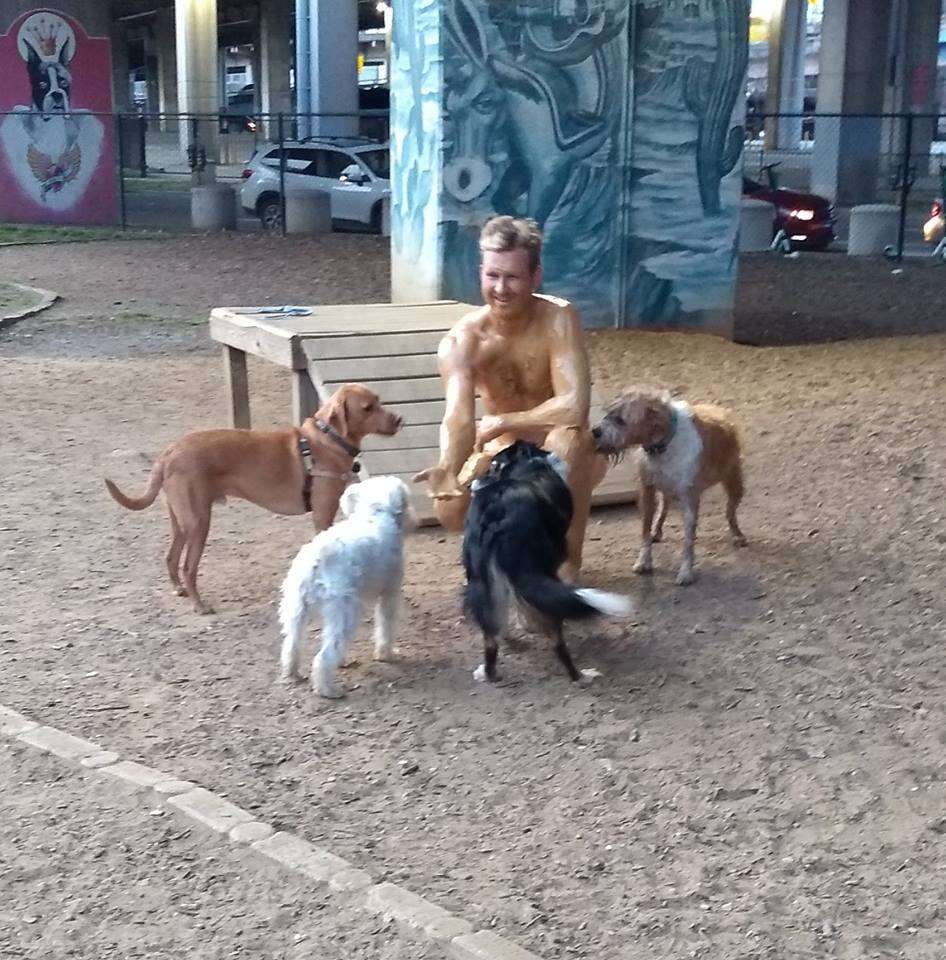 The odd visit only lasted a few minutes — garnering just a few curious licks from a dog or two. Mostly, the pups seemed as confused as their owners. Like, "What is this guy doing?" Well, now we know.
He lost a bet, and this was the result.
"Me and some buddies play fantasy football. It was my first year. I got dead last," Shrout told The Dodo. "They came up with the craziest thing ever for the loser. It was absolutely ridiculous. They said I wouldn't do it, but I did it. It was the most embarrassing moment of my life. Guaranteed."
Shrout insists that he took no joy in the experience, which he described as "weirdest thing ever." Well, other than getting to meet a few cute pups.
"I love dogs — but not, like, in a weird way," he said.
Here's footage Shrout's friends took to confirm he followed through:
Was it juvenile and stupid? Yes. Yes it was. Not only is it not a good idea to feed dogs that aren't your own, Shrout risked getting bitten (or arrested). Fortunately, that didn't happen.
"They just ended up licking me," he said.
Shrout said he'll be reconsidering his participation in next year's fantasy football league, on account of what could happen if he loses again. Covering yourself with peanut butter and going to a dog park isn't a good idea, a fact that apparently bears repeating.
"I wouldn't recommend it to anyone," Shrout said.