Strange Dog Shows Up At Guy's House — So He Gives Her The Best Day Ever
"She decided she needed a swim."
Some people say that life is what happens to you when you're making other plans — and no one knows that better than a guy and the random pup who showed up at his doorstep earlier this month.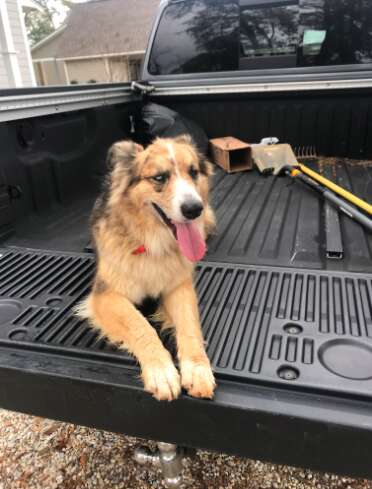 It was just another Tuesday when Brooks Rabren, of Birmingham, Alabama, went outside and realized that he had a visitor.
Rabren checked the collar, but the tags were missing. The pup was clearly well-loved, but lost. Rabren snapped some photos and put them on Facebook to see if anyone was missing their dog.
And then that's when Rabren made a choice: He could have stayed put, waiting and worrying about where the dog had come from and where she was supposed to be.
Instead, he decided to seize the day and give this random pup the best day ever.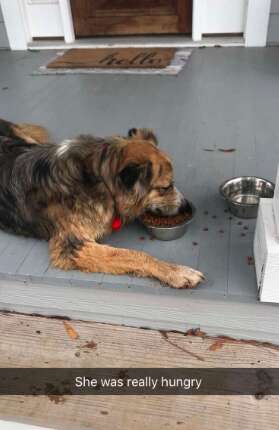 Rabren decided to chronicle the day on Twitter: "This random dog showed up to my house to hang today," he wrote. "Here's the thread of what we did."
It started, as many great days do, with a hearty meal.
Then it was time for an activity. "She decided she needed a swim," he wrote.
Then after all that doggy paddling, the pup decided she needed a nap — which was convenient, since Rabren had some schoolwork to do.
Well-rested and ready to go, Rabren decided to take the pup out on his boat for some sightseeing.
The dog was able to soak in the scenery in the picturesque afternoon light.
While this best dog day ever was going on, the pup's family managed to get the message from Facebook that their dog, whose name is Lola, was being taken care of by Rabren.
"​​​​Lola's owners found her and were very happy she had such a fun day and that she's okay!" Rabren wrote. "Hopefully she'll drop by to see me again sometime soon!"
It seemed to be the end of their day of fun — but it wasn't.
"Y'all aren't going to believe this," Rabren updated on Twitter. "She already came back to see me. She got picked up 10 mins ago."
Lola and her new friend hung out on the porch for a while until her owners could come and pick her up — again.
This gave Rabren some time to listen to some music and dance around with Lola.
"She missed me so much she came back to see me," Rabren said.
Lola went home a second time, and her family was glad that she had such a fun adventure.
"When I showed her owner how much love Lola was getting on Twitter and how much fun Lola had today she almost started crying and thanked me for taking such good care of her," Rabren said. "Made the day that much better for sure."
And Rabren will always be able to look back and remember the day he gave a lost dog the time of her life.
"I wanted to take care of her like I would want someone who found my pet to take care of them," Rabren told The Dodo. It's the sweetest form of the Golden Rule possible: "I just played in the yard with her. Fed her. Scratched her ears and her belly."