Guy Who 'Isn't A Cat Person' Gets Caught Dancing With His Girlfriend's Cat
"They're pretty much inseparable now."
When Emily Young's parents moved to Japan, she and her boyfriend agreed to watch the family cat Momo until they could sort out the pet immigration procedures. Young's boyfriend Ryan had always considered himself to be "not a cat person" — but all that changed as soon as Momo moved in.
"It was pretty much love at first sight for Ryan," Young told The Dodo. "She spent the first night in bed with him and that was it. They're pretty much inseparable now."
Emily Young
Momo spends all day trying to cuddle and distract Ryan while he works, and then sleeps in bed with him at night. She loves Young too, of course, but she and Ryan have a special bond for some reason, and it could be that she's just so proud she won him over.
"She just adores him, she loves me too but it's definitely a special connection she has with him," Young said.
Emily Young
Even though he was never a cat person, Ryan now loves Momo right back and can't get enough of her …
… and even got caught dancing to a cute song with her, officially solidifying his title as a cat person.
"Momo always loves to be part of the action, so when we're making dinner and dancing at night she always meows to be scooped up so she can be part of it," Young said.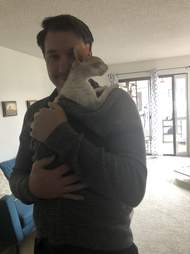 Emily Young
Momo has always been a super sweet and social cat, so it's no wonder that she was able to win Ryan over. Now the couple are also fostering another cat, Tanu, so there's no way around it — Ryan has officially turned into a cat person, and everyone is thrilled about it.