Couple Skips Trip To Disney World To Save A Sick Senior Dog
"He reminds me to not give up."
Sheridan and Bryan Thorse Pierard were looking forward to a relaxing vacation in Florida, but instead of the trip to Disney World they had planned, they suddenly found themselves driving in a very different direction.
The couple, who run Thorse Dog Rescue in Oswego, Illinois, were supposed to be on break from saving animals when they saw a photo of a small matted dog posted to a local rescue site.
"He was clearly emaciated and in great need," Sheridan Thorse Pierard told The Dodo. "He was a few hours from where we were vacationing, and I said, 'We could just go meet him.'"
Time was limited for the elderly dog, who was found wandering the streets of Florida. Brought to a high-kill shelter, the dog was estimated to be about 15 years old and in such bad condition that he was kept off the public adoption floor. When the Pierards arrived, it was clear that they were his only chance of survival — but that didn't make the decision any easier.
"Most of his fur was missing, he was about half the weight he should have been, he was blind, had a massive skin infection and had terrible untreated glaucoma," Pierard said. "My husband said, 'Look at him.' And I did. I saw endless work. Sleepless nights. A dog who would likely need a funeral even if I tried my best to save him. I had been through this before and felt too tired to do it again."
Pierard had planned a vacation full of rest and fun, instead of "finding a way to come home with more work," she said. That's when the blind, nameless dog walked into a wall, and their hearts melted.
"I felt too emotionally drained to care for him, but instead of thinking about myself, I decided to think of him," Pierard explained. "How emotionally drained must he be, utterly alone, in pain and not knowing or even being able to see where he was."
Pierard sat on the floor of the shelter, and to her surprise the dog started wagging his tail, putting his paws on her shoulders and licking her face. Despite his terrible condition, it was clear the dog hadn't given up hope on a better life just yet.
"He rubbed his smelly, dirty face on me and I laughed as he snuggled close," Pierard added. "He became a member of the Thorse Dog Rescue family and our own family that day."
The couple named the dog Guppy, and brought him to a vet as soon as they returned home. With his advanced age and numerous health issues, the vet didn't think he would survive more than a few days, but they persisted. Over several days in the hospital, Guppy's eye was removed and he was given medicated baths for his skin conditions.
At home, Guppy's progress was slow and his treatments taxing.
"We alternated between medicated baths, epsom salt and apple cider soaks, and rubbing him with a cream I made from coconut oil, vitamin E oil and apple cider vinegar," Pierard explained. "He still wanted to chew on himself, so we put booties and a soft collar on him and held him constantly."
Guppy was completely dependent on his new owners, unable to eat, pee or even move on his own, but they continued to care for him night and day. "Even when we slept, he would often wake us up crying, and we'd have to go to him and figure out what he needed," Pierard said.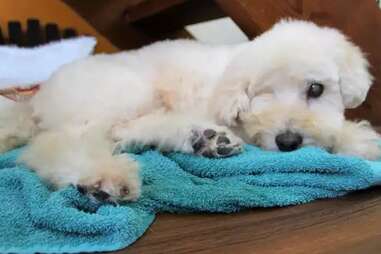 Ever so slowly, Guppy's health improved and his strength returned. As the months passed, his skin infection cleared, his fur grew back and he even began to eat on his own. "He went from completely dependent to very self-sufficient," Pierard noted. "He is still old, so he likes to sleep a lot, but whenever he is awake he likes to say 'Hi' to his parents."
Exactly a year after he was rescued from the Florida shelter, Guppy is enjoying his golden years as a pampered pet. Since sleeping is Guppy's primary activity, the couple have a dog bed in each room especially for Guppy, though he will forgo them to snuggle contentedly in his mom's arms.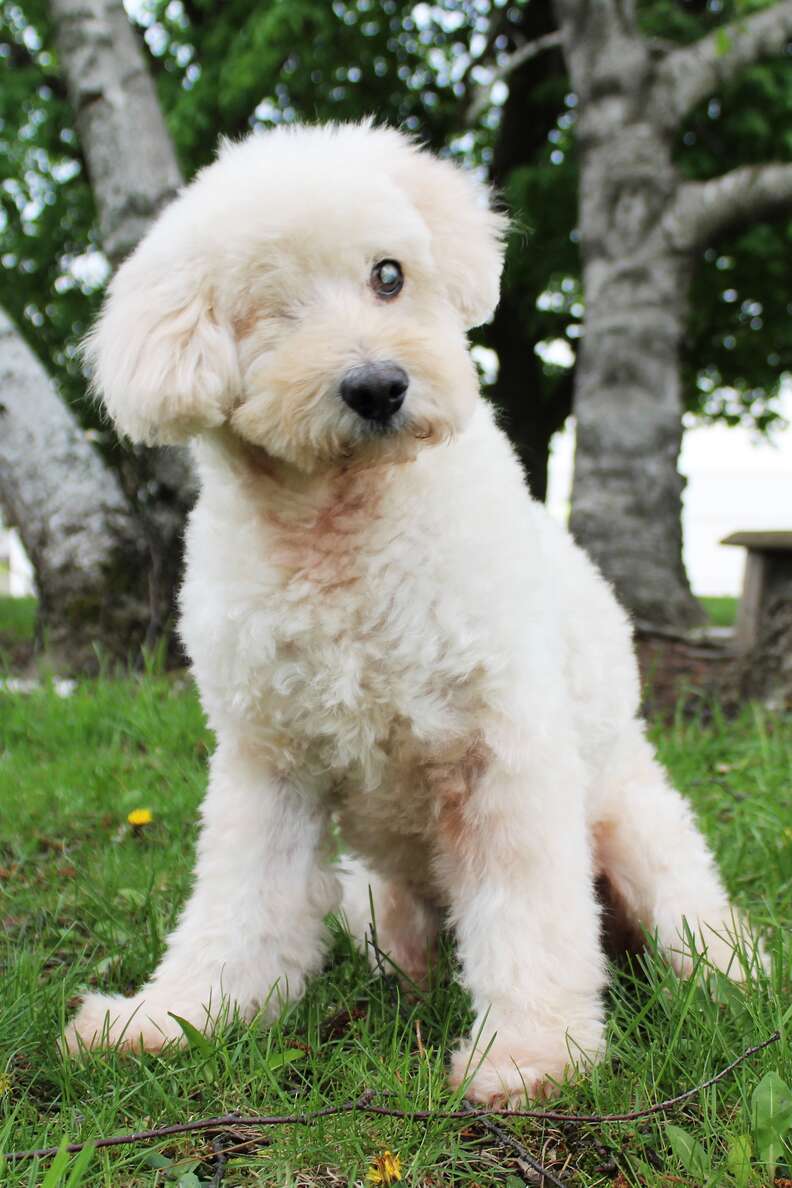 Guppy serves as a constant reminder to his parents that one act of kindness can completely transform you.
"He reminds me to not give up," Pierard added. "Even at his darkest hour he didn't give up, and he ended up getting a forever family who loves him endlessly."
"People often won't adopt senior pets because they say they couldn't cope with their death. I do understand that," Pierard explained. "However, I encourage them to find the courage and strength to open up their hearts and homes anyway."