Guinea Pig Gets Job With Police Department To Teach People About Safety
He has his own uniform and everything.
Elliot is a 4-year-old guinea pig who has lived with his family for most of his life. One of his parents works on the media team at the New Zealand Police Department — and decided to make Elliot an honorary member of the department.
Elliot's "official" role with the department is media spokesperson. Every now and then he appears on the department's Facebook page to talk about important issues, such as theft and safe driving.
"Remember people, the kids are going to be out and about walking and biking, and crossing roads," one of Elliot's messages said. "Like me, they are small and unpredictable, so you have to watch out!"
The sweet guinea pig also has his own uniform to wear when he's spreading awareness and giving safety tips, including a little hat and a miniature version of the harnesses that the department's police dogs wear.
"Elliot is brave enough to be a media spokesperson about some of our important prevention messages; not only about road policing but also about thefts and keeping ourselves safe," a police spokesperson with the New Zealand Police told The Dodo. "Police are always looking at new ways to communicate with the public and promote messaging as quickly and as efficiently as possible."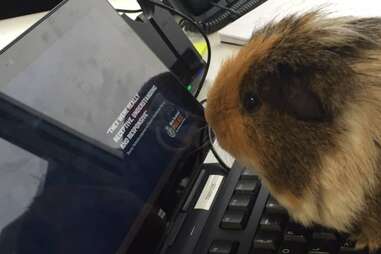 When he's not on the job, Elliot loves hanging out at home with his family, eating lots of green vegetables and getting cuddles. Everyone with the New Zealand Police loves Elliot and hope his cuteness and charm will help spread messages of safety.