Dog Rescued From Meat Farm Was Afraid Of Everything — Until She Made A Friend
Her tail started wagging as soon as she saw him.
When Lyle Muskat and his family decided to adopt a second dog, they had one specific requirement in mind: They wanted a dog who had a very low chance of getting adopted.
The Muskat family, who are based in Toronto, learned about Free Korean Dogs, an organization that rescues dogs from meat farms in South Korea and transports them to new homes in North America. Muskat started corresponding with Ek Park, the organization's founder, about possibly adopting a dog — and Park told Muskat about the plight of larger dogs rescued from the meat farms.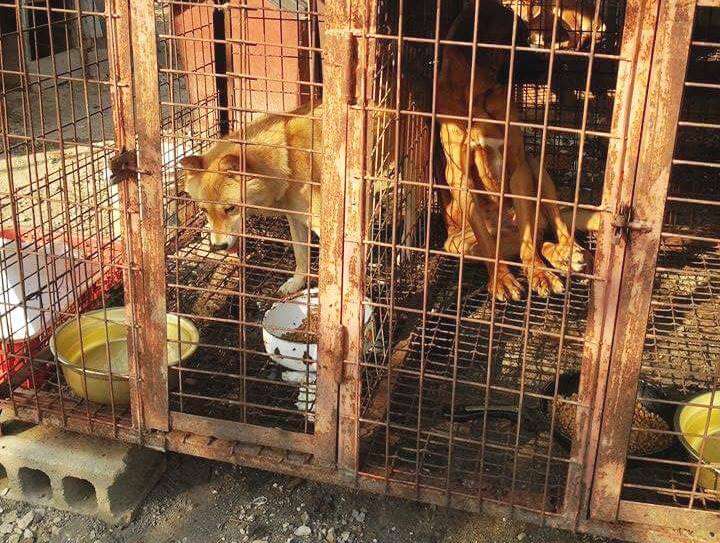 "She said ... larger dogs don't really get adopted out because people don't want to spend money on shipping them over," Muskat told The Dodo. "So I thought, 'Well, if these smaller dogs are getting adopted out, I'd rather get a larger dog that has even less of a chance.'"
The Muskat family's search led them to Gucci, a 1-year-old Korean mastiff who was one of 55 dogs rescued from a meat farm in Namyangju, Korea, in 2016. Korean mastiffs are common dogs at meat farms due to their large body size, but they're not desirable pets in South Korea.
So while most of the smaller dogs rescued with her had already adopted, Gucci had been living at the shelter for over 5 months. On top of everything else, Gucci had a broken leg that healed in a funny way, which left her limping.
"I said, 'You know what? I want to bring in this dog,'" Muskat said. "We don't have a lot of money, but we'd feel really good if we adopted a dog that came from such a severe place, and brought him into our family."
But when Gucci finally arrived at the Toronto airport, she was terrified of everything and everyone.
"She was sitting in the back of the crate, and she wouldn't move," Muskat said. "She didn't know what the hell was going on. I opened the door, but she would not come out."
By chance, Muskat had brought along his other rescue dog Charley, another mastiff, and he wondered if Charley would help Gucci feel more comfortable.

"I said, 'Let's bring in Charley,' because I knew once she saw Charley that might make her come out," Muskat said. "So I took him to the crate, and she started wagging her tail from the inside of the crate when she saw him, and she slowly came out."
But getting Gucci out of the crate was just the first step. It was difficult to get a leash on Gucci, and to get her into the car. And once she arrived at her new home, Muskat and his family couldn't figure out how to make her feel comfortable.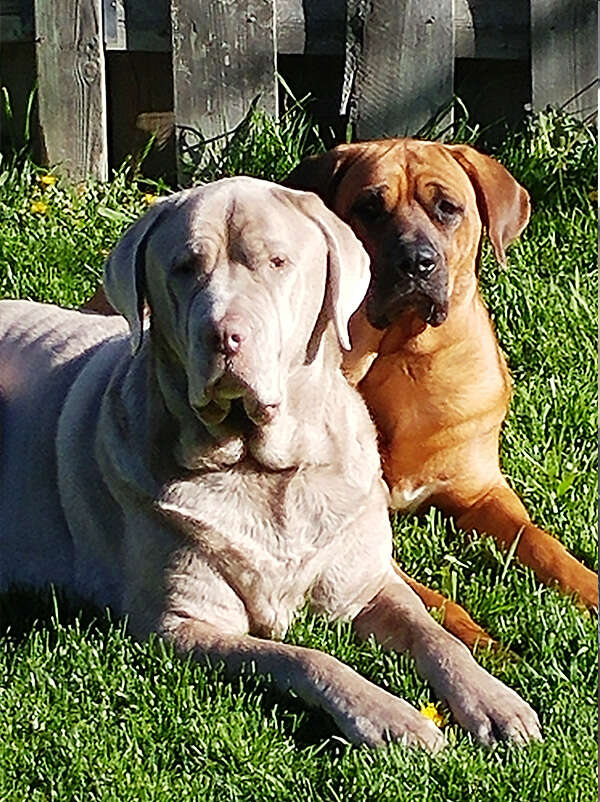 "When she came into the house, she just ran directly under the dining room table," Muskat said. "Every time we would go up to her, she'd run away. It took about a month for her to walk up the stairs."
Gucci was even afraid of Charley at first, despite having wagged her tail at him at the airport. Whenever Charley would approach her, Gucci growled.
But Charley was patient with Gucci, giving her the space she needed — and Charley's patience paid off.
"I put both Charley and her into the backseat of the car and took them to the park," Muskat said. "She [Gucci] let me lift her up onto the backseat of the car, and she just started climbing on Charley and basically sitting on him, and he just let her do whatever she wanted to do. She was stepping on him and lying on top of him, and he let her do her thing."
From that moment on, Gucci wanted to be with Charley all the time.
"I think she realizes that Charlie is an incredibly sweet soul, and she feels safe with him," Muskat said. "She could take food out of his mouth, and he'd let her."
Seeing how closely connected the dogs had become, Muskat realized Charley could help Gucci learn to walk on a leash.
"I would tie the leash to Charley, and Charley would listen to my commands, and she'd [Gucci] just be pulled along, and learn what it's like to heel," Muskat said.
And when it was nap time, Gucci couldn't get close enough to Charley.
"She sleeps on him — like literally sleeps on him," Muskat said. "If he's lying down, she walks over to him and cuddles inside his legs."
Now, nearly a year later, Gucci is a different dog — she's confident, affectionate and playful, all thanks to Charley.
"It's wonderful to see a dog that was so scared [start] to feel so secure and safe with another dog," Muskat said. "She loves our family and she feels safe with us, especially our dog Charley. She's just incredibly in love with him."
While Gucci found the perfect forever family, Free Korean Dogs rescues many other dogs who need loving homes. In fact, the organization is currently
looking for a home for Bella
, another Korean mastiff rescued from the same meat farm as Gucci.
If you're interested in adopting Bella or another dog,
contact Free Korean Dogs
. You can also help the organization rescue more dogs like Gucci by
making a donation
.