Groomer Comes Up With Creative Way To Help Feisty Dogs Relax
"Many dogs fall asleep in it" 🐶💤
Grooming a wiggly puppy can be a challenge, even with Britt Johnson's 11 years of experience. But she's discovered a way to make the process a breeze — thanks to a little homemade hammock.
"I found a template on Pinterest and hand-made this one," Johnson told The Dodo. "I used 'non-pill' fleece fabric that doesn't stretch as much as regular fleece. It's soft and comfortable. Many dogs fall asleep in it!"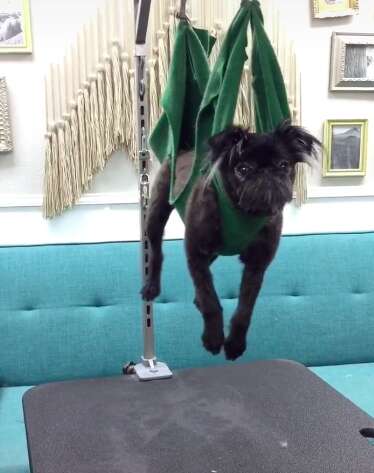 Hanging out in the hammock, most of her clients immediately calm down, allowing her to work on their legs, tails and other hard-to-reach spots safely. And the sleepy pups look adorable doing it.
"It works by evenly distributing the tension across the chest, belly and hips, and therefore is an excellent aid in helping older dogs that have trouble standing for long periods of time," Johnson said. "It's also wonderful for disabled dogs."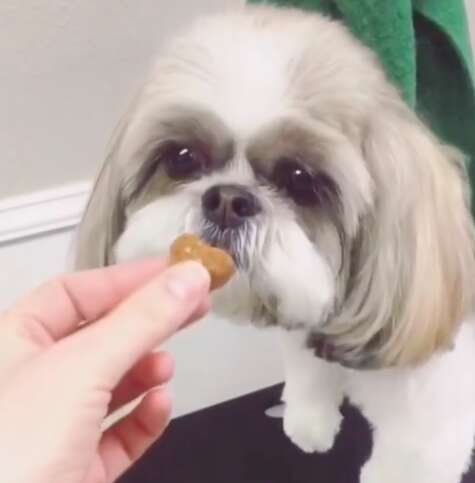 The gentle hugging pressure calms the pups, similar to a ThunderShirt. "It's also great for dogs that are not fond of having their nails done, like Baxter the Shih Tzu," Johnson said. "He can't turn in circles like he usually does, so I'm able to calmly get him through his least favorite part of grooming quickly so we can get back to his favorite part ... treats and pets!"
A video of the dogs' hilarious reactions to the hammock recently went viral on social media. The content pups wagged their tails, dozed and swayed as Johnson worked on making their coats beautiful.
Of course, the hammock isn't perfect for all dogs. Johnson typically uses it for one out of every 50 dogs she grooms and only for about five minutes at a time. The most important thing to take into consideration when grooming your dog is to keep their comfort in mind.
"I'm passionate about educating clients and other groomers on safe techniques and putting the happiness of the dog over forcing them through a groom to get a perfect result," Johnson said, "Or as we like to say in the grooming world, 'humanity over vanity.'"