Senior Pit Bull Gets Contact Lenses And Turns Back Into A Puppy
"I think all of us had tears in our eyes when she looked up, as if coming out of a daze, and took off!"

When Chris and Mariesa Hughes' beloved senior pit bull, Gremlin, lost her eyesight last year due to complications from cataract surgery, they noticed a depressing change in her. She was walking into walls, missing steps and stopped playing with her dog sibling, Sam. But the hardest thing for them was watching Gremlin startle and jump each time someone walked near her.

"It was awful to see," Mariesa Hughes tells the Dodo, "and it seemed she just started sleeping a lot more."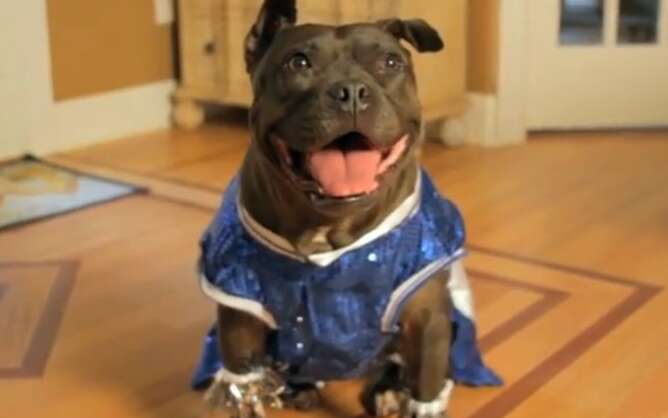 Cataracts occur in humans and animals when the normally clear part of the lens of the eye becomes cloudy, making it difficult to see. They can be caused by genetics, trauma or diabetes. Left untreated, they often become painful or lead to glaucoma, which can cause blindness. Cataracts can be removed, and traditional surgery involves surgically implanting an artificial lens to the cornea.
Shortly after bringing Gremlin home from cataract removal surgery, the Hughes felt she was experiencing more discomfort than was to be expected. They were advised at the local emergency clinic that nothing was wrong but by morning, Gremlin lost vision in her right eye and had nearly no vision in her left one. It was later determined that too much pressure had built up on Gremlin's optic nerves following surgery.

The Hugheses, who reside in upstate New York, are known for taking extraordinary steps to save the lives of senior dogs in shelters through their rescue, The Mr. Mo Project. Senior dogs, especially those with serious health issues, face euthanasia in shelters because their care can be expensive and they're harder to adopt out. The Mr. Mo Project pulls senior dogs out of shelters all over the country, places them into foster and forever homes and covers all medical bills associated with them for the rest of their lives. The Hugheses currently have nine dogs, the most recent addition being Franklin, a 15- year-old pug picked up as a stray by animal control in Virginia.

The couple, desperate for Gremlin to see better, turned to Dr. Petra Lackner, the veterinary ophthalmologist who treated Gremlin after the failed cataract surgery.
"I had been wondering what to do for Gremmy for a while," Lackner tells the Dodo. She felt there were too many risks associated with permanently attaching the artificial lens to Gremlin's cornea because her eye had become unstable.
Although she knew of contact lenses specially made for dogs, at $200 a lens, these lenses were cost-prohibitive to a family who already stretches their budget taking care of their special needs dogs. Seeking an alternative solution, she went to a popular website for ordering human contact lenses, submitted a prescription for a high-powered contact lens, and waited for it to arrive. "Not very scientific," she laughs.

Mariesa Hughes tried to remain optimistic about using human contact lenses for Gremlin. "I said I would try anything if it improved her quality of life," she says. And in the exam room at Capital District Veterinary Referral Hospital, "I had many questions, but before Dr. Lackner had time to answer most of them, the contact was in, Gremlin was off of the table and pulling me down the hall!"
Dr. Lackner recalls that moment, too. "I think all of us had tears in our eyes when she looked up, as if coming out of a daze, and took off!" she says. "It still gives me goosebumps."
Now Gremlin can find her water bowl without a problem.
"Since she's had the lens in, she hasn't run into anything," Hughes says. "She no longer flinches when the other dogs walk by her and she found her water bowl without stepping in it and dumping the water out."

Contact lenses have been used in pets for years, mostly to protect damaged corneas while they are healing. In 2008, a nearly blind 15-year-old cat named Ernest made headlines when he was fitted for contact lenses simply to improve his vision.
Dr. Lackner's decision to use less expensive, human contact lenses made a difference to a couple who often dips into their own funds to supplement the rescue. The kind of contacts Gremlin wears cost around $20 a box.
It didn't make putting the contact lens into Gremlin's eye any easier, though. "It's like wrestling an alligator!" Hughes says.
It takes two to put Gremlin's contact lenses in!


The Mr. Mo Project is a nonprofit rescue that relies on donations to keep saving senior dogs and providing them veterinary care. You can donate or buy items from their Amazon wishlist
here
.