Senior Parrot Can't Help But Fall Asleep While 'Helping' With The Dishes
"I stacked the dishes around him so that he did not have to wake up."
Of all the homeless birds who end up at Tallgrass Parrot Sanctuary, Tinky was one of the most unusual.
Often, Kail Marie, founder of the Kansas sanctuary, sees birds come to her from homes that didn't realize how much work an exotic pet bird would be. Suffering from stress and anxiety, some of these birds even pull out their own feathers.
But not Tinky.
At over 50 years old, Tinky has had a stable, loving home his whole life, which is unusual for parrots, who are often rehomed several times because these incredibly smart creatures can require a lot of work.
"I have never met a bird that was so well cared for by one person for his entire life," Marie told The Dodo.
But Tinky's owner came down with a serious illness about a year ago and knew that she wouldn't be able to continue to give Tinky the life the senior parrot deserved.
"She got him when she was in her early 20s and in college," Marie said. "She is now in her 70s." She reached out to Tallgrass for help — and Marie welcomed Tinky with open arms.
So Tinky came to live at the sanctuary — the first big upheaval in all his years. But he seems to be adjusting very well, keeping particularly close to Marie, and watching her do all the work required to care for the 55 rescued birds who call the sanctuary home.
Tinky absolutely loves to eat. And he prefers to be close to Marie at almost all times.
"He follows me everywhere I go," Marie said. "And he finds me when I call him."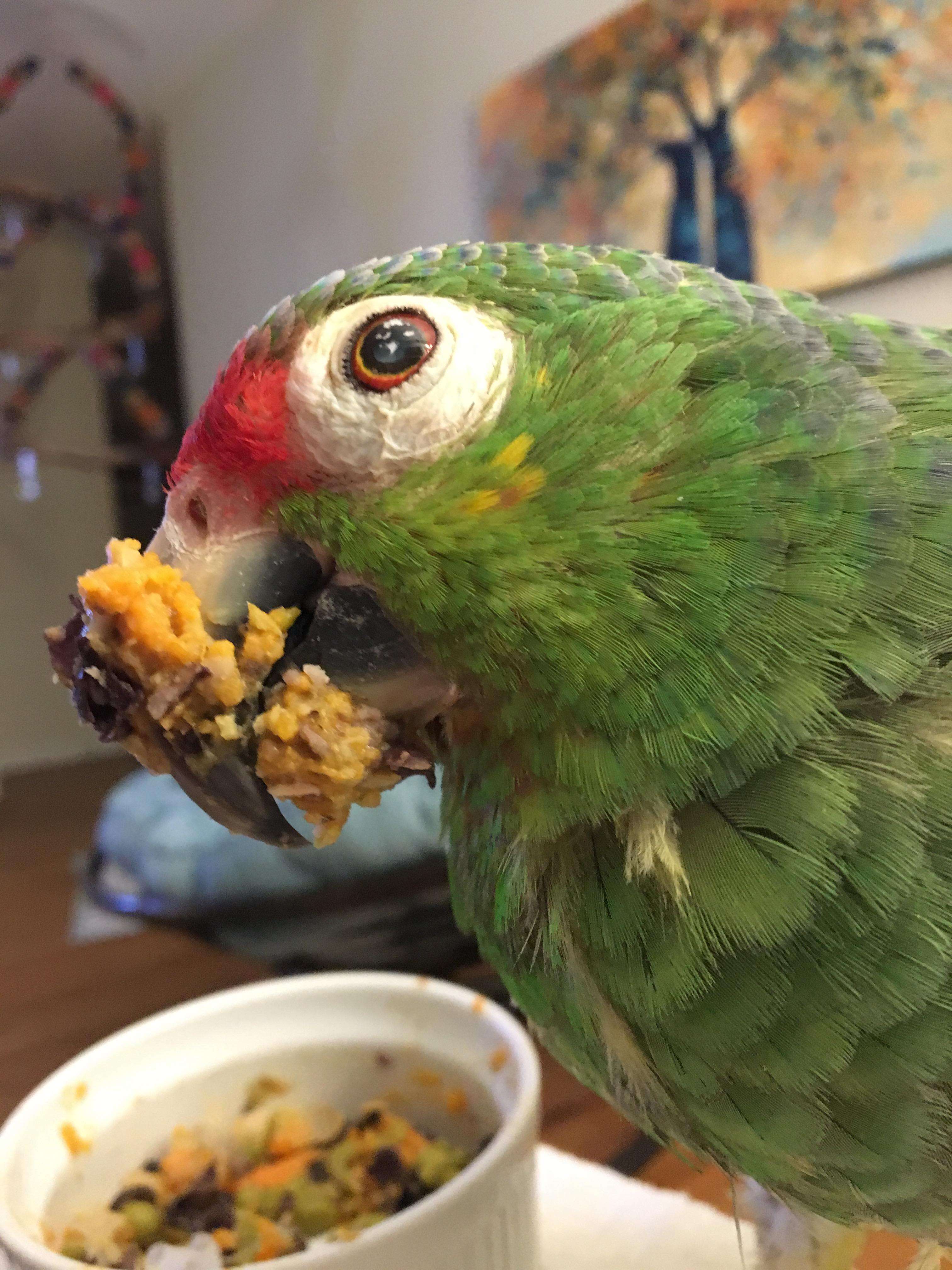 Every day Marie spends much of her time preparing meals for all her rescued feathered residents. And Tinky often decides to "help" her by sampling that day's culinary offerings.
Taking care of so many animals (the sanctuary is also home to many rescued farm animals and other kinds of rescued pets) means there are always chores to be done. Tinky stays by Marie's side during cleanup time, also.
Just recently he provided some oversight as she washed the dishes.
Being a senior bird who loves eating, Tinky is also prone to taking sudden naps.
As Marie was rinsing the plates, she glanced over and realized that Tinky had fallen asleep while watching her.
"Tinky fell asleep while I was doing dishes," she wrote on Facebook. "I stacked the dishes around him so that he did not have to wake up."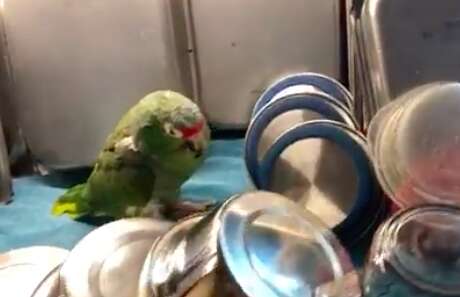 Tinky is quite obviously a sweet-natured and very special little individual. His previous owner misses him tremendously, but Marie is sure to send pictures and photos of him to her almost every day.
Seeing the well-adjusted Tinky in his new home is such a comfort to her, helping her to feel that he's still part of her life, however distant.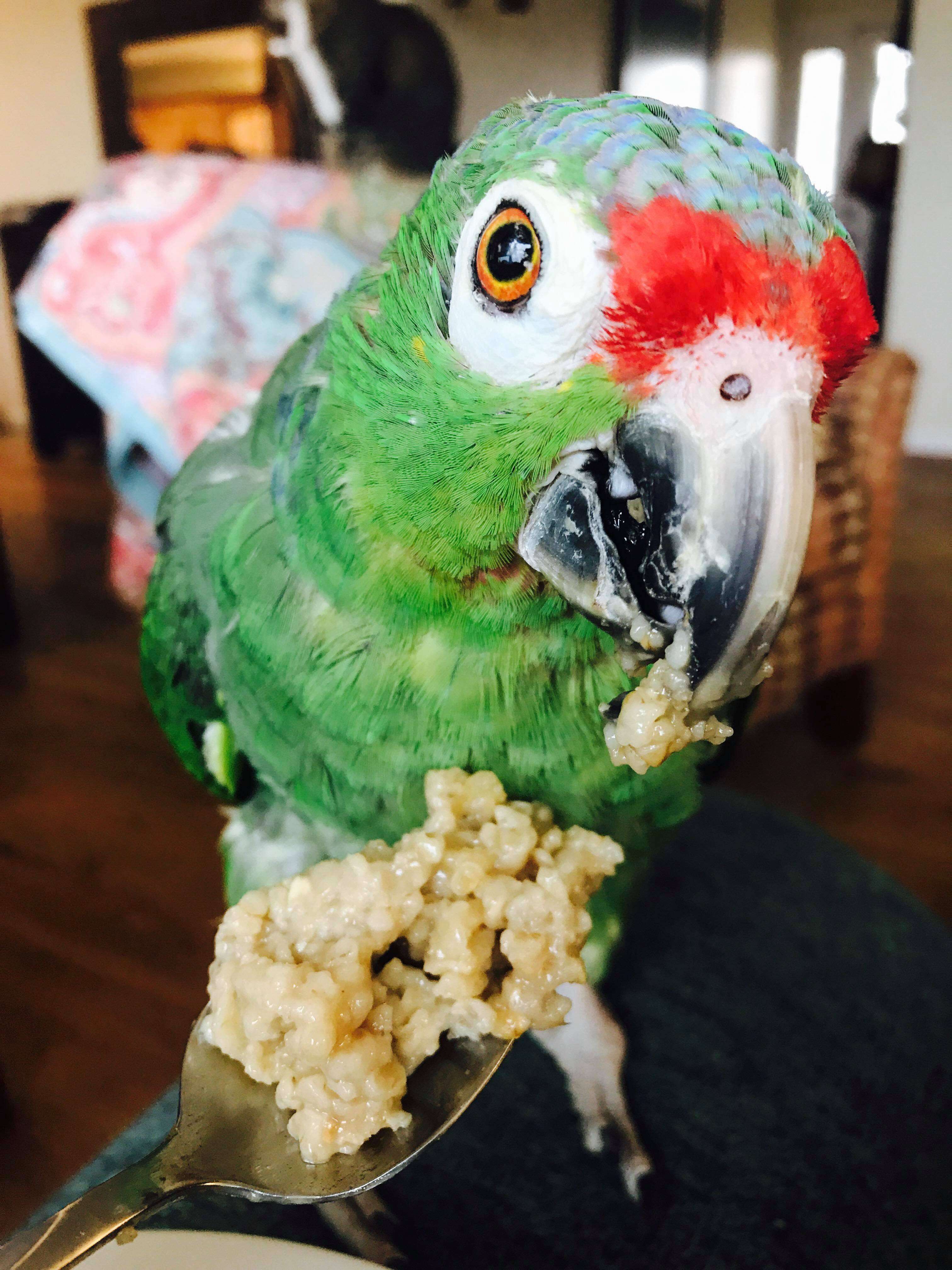 And even though Marie already has a house full of birds, she's so happy wise old Tinky has joined them.
"He has stolen my heart," she said.