Dog On His 'Freedom Flight' Is Too Excited To Stay In His Seat
"He has all these problems, but he doesn't care, he just wants to be next to another being."
The first time Woody, a 5-year-old Great Pyrenees, got to ride in an airplane, he was on his way to freedom.
And he had a special way of showing his thanks.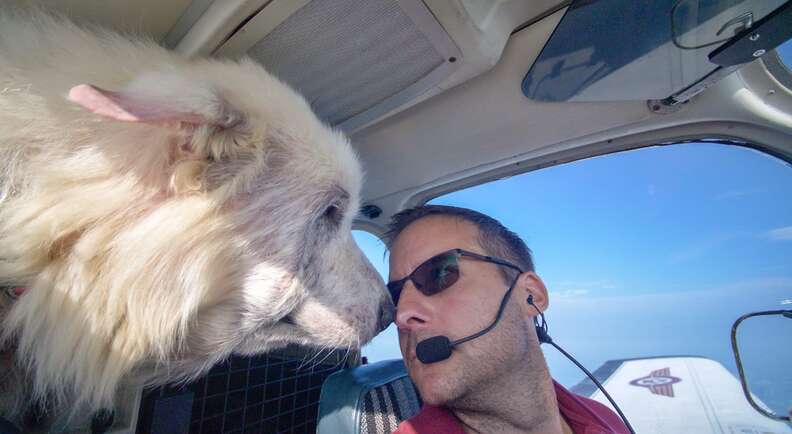 Initially found as a stray on the streets of North Carolina, Woody had spent his days inside a local shelter, with nothing but concrete walls to stare at.
After a veterinary exam revealed that he was suffering from mange, heartworm and a host of other problems that would require expensive medical care, he was scheduled to be euthanized.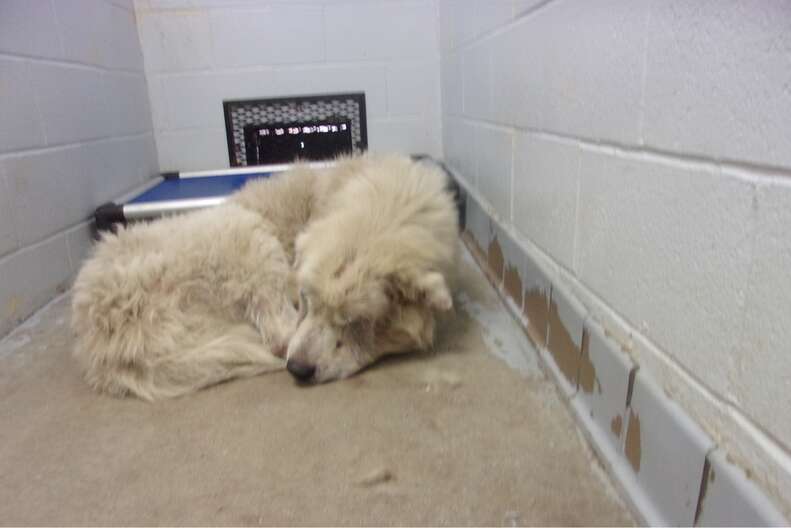 LaMancha Animal Rescue heard of Woody's situation and agreed to take him in. The only problem? The rescue was located hundreds of miles away in Unionville, Pennsylvania.
That's when network engineer and Army veteran Paul Steklenski stepped up with a plan and, more importantly, a plane.
Steklenski is the founder of Flying Fur Animal Rescue, and over the course of three years he has flown over 1,000 animals in need from overcrowded kill shelters in North Carolina to rescues in the Northeast. Steklenski was inspired to start the nonprofit after adopting his own dog, Tessa.
"At the time, I was completing my airman's certificate and adopting Tessa, and it just all came together and made sense," Steklenski told The Dodo. "You realize the airplane is a really efficient way to move a lot of animals hundreds of miles in a short amount of time to get them off death row."
When Steklenski arrived at the airport early one morning in late July, he set to work figuring out a Tetris-like configuration of crates for Woody and the four other dogs he was transporting. Too much weight in the back of the plane would throw off the aircraft's balance — and Woody's 84 pounds made things all the more complicated.
Steklenski made Woody a comfy spot between the crates and the walls of the aircraft, and the dog seemed quite content.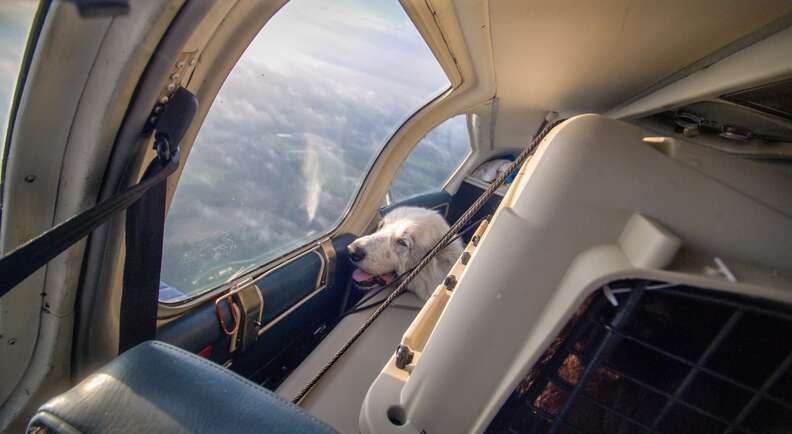 But as soon as the plane left the ground, it became clear that Woody wasn't interested in being merely a passenger — he wanted to be copilot.
"Because of the loading and how big some of these dogs were, I had to basically carve out a place in the back of the airplane for him so he could sit freely," Steklenski said. "It was a surprise to us once we got him in and he looked pretty happy, when he started to make his way forward until we were nose-to-nose."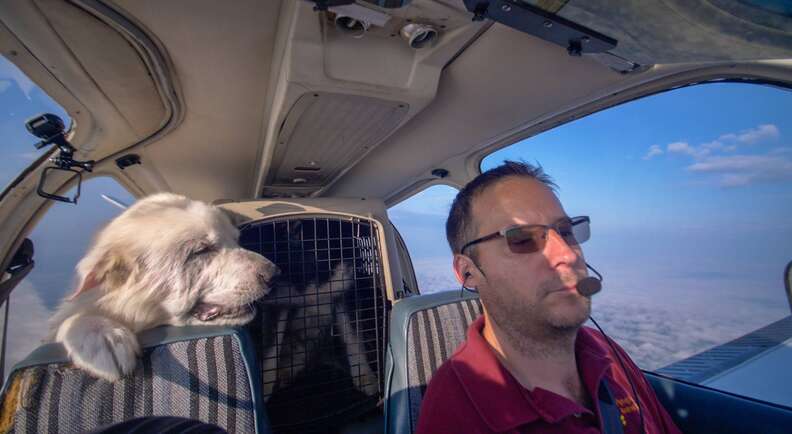 Woody popped up over the seat and couldn't stop smiling at his rescuers. He quickly became friendly with the pilot and cameraman present in the plane.
"It was great, he just wanted to be around us, and that blows me away," Steklenski said. "Here's this dog, he has all these problems, but he doesn't care, he just wants to be next to another being."
Above the clouds, Woody didn't seem to have a care in the world.
The dog's calm and happy demeanor even helped Steklenski stay positive while navigating the difficult weather conditions on the way to his first stop in Pennsylvania.
Woody was used to turbulence in his everyday life, so a little bumpy air was nothing. In fact, between hanging with his new buddies and admiring the view, he took a nap.
"He just made his way forward, put his paws on the chair and kinda got nose-to-nose and took a little nap there," Steklenski said. "He fell asleep and stayed there for the rest of the flight."
"It was wonderful — I never expected him to climb forward the way he did," Steklenski added. "He just wanted to be part of the action."
After a week of healing at LaMancha Animal Rescue, Woody's coat is white and fluffy once more. Now on a special diet and antibiotics, he's gaining weight and enjoying running around the rescue's farmland and snuggling up on his first real couch.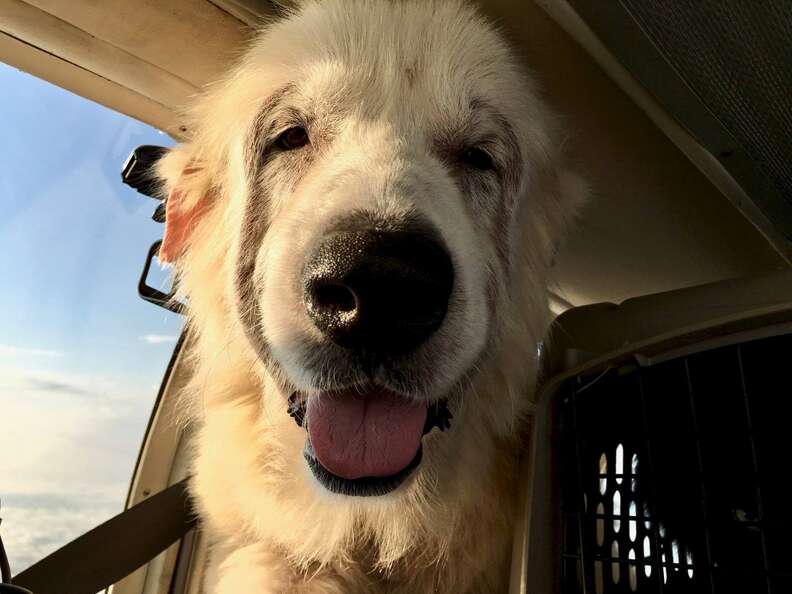 Steklenski can't wait to visit and see just how far the dog's come.
"Dogs are just incredible. Even in their worst condition, in their worst shape, they're always happy to see you, hang out with you and be with you," Steklenski said. "It always blows my mind how resilient animals are."
Steklenski knows that once Woody is healthy again, he will make some family very happy.
"We don't deserve dogs, they're just the best," Steklenski added. "I don't know how else to say it really."