Starving Dogs Found Abandoned Refuse To Give Up On One Another
"You can tell that they were meant to be together. Dade didn't leave Phillip's side, and he wouldn't stop kissing him and loving him."
No one knows for certain what life had been like for Phillip and Dade, two dogs found abandoned together in Oregon, but their bodies bore heartbreaking signs of mistreatment and neglect. 
Despite both being in such poor condition, however, it soon became clear that what mattered most to them was one another.
And thankfully, their rescuers agreed.
DoveLewis
Multnomah County Animal Services was alerted to Phillip and Dade by an anonymous call last October. That's when they were found by officer Sophia Condon, tethered to a pole. They were both scared, but Condon managed to win their trust. She could see just how in need of help they were.
Phillip, a poodle mix, had heavily matted fur covering his frail, emaciated body. Dade's short hair made his starved state more readily apparent.
"They both looked so uncomfortable and defeated," Condon told The Dodo.
So, from there, she rushed them to the DoveLewis Animal Hospital for treatment.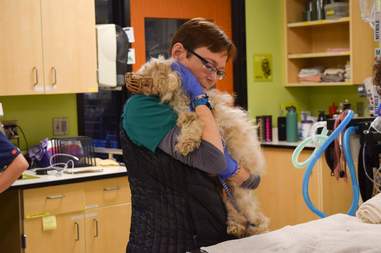 DoveLewis
DoveLewis staff soon set about assessing the dogs' physical conditions, and in so doing, saw how deeply they cared for each other.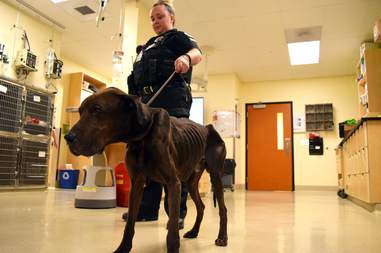 DoveLewis
"From the moment they entered our emergency room, it was clear that these two had a special bond," veterinarian Becca Falender told The Dodo. "Our entire hospital staff was touched by the strong connection that these two dogs shared."
As Phillip was taken into another room to be shaved, Dade insisted on following.
DoveLewis
"I get teary just thinking about Dade's worried expression when he walked in the room looking for Phillip," Lorri Schinderle, an assistant vet tech at DoveLewis, said in a release. "They were so attached. You can tell that they were meant to be together. Dade didn't leave Phillip's side, and he wouldn't stop kissing him and loving him."
DoveLewis
DoveLewis
Fortunately, even after what had likely been years of neglect, Phillip and Dade were given a good prognosis. Phillip had a couple of ailments that would take a few weeks to recover from before he could be adopted, but simply by being rescued that day, their world had already changed for the better.
And they still had each other.
"Once everyone was done with exams and shaved, they got to just take a breather and hang out together before we loaded up and headed back to our shelter," Condon said.
DoveLewis
Finding a forever home is often a difficult task for just a single dog with a rough past, but staff at the shelter hoped a potential adopter would take Phillip and Dade together. After all, it was clear that they were inseparable.
Condon even made sure they were kept in the same kennel.
After just a few weeks at the shelter, Phillip and Dade's dream came true.
A woman who had heard about their story decided to give them the home they deserve — together.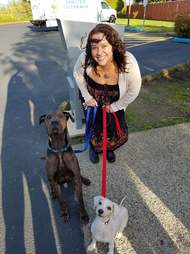 Multnomah County Animal Services
Both dogs are gaining weight and settling into their new lives as cherished pets in a loving home. There, Phillip and Dade remain inseparable.
"They're doing really well," the dogs' new owner, Jennifer, told The Dodo. "They usually sleep together in the same bed every night, even though there's another bed right next to it."
It's perfect ending for Phillip and Dade, celebrated by those who helped save them.
"From the moment they left our hospital, we were hopeful that they would be adopted by the same owner," Falender said. "They clearly belong together."