Dog Inspires His Sick Brother To Learn To Stand Again
"When Gray came into our home, Quinn's whole demeanor changed ... Quinn's energy level and happiness level definitely became higher because of Gray."
When Quinn and Gray were born in May 2016, they looked like any other healthy Great Dane puppies. However, as they began to age, it became clear that these victims of poor backyard breeding had extensive physical issues that would require a lifetime of special love and attention.
Quinn and Gray's story was heartbreaking from the start. Their mother, Princess, was rescued by a Philadelphia woman who couldn't stand that the dog was tied up in a neighbor's backyard 24/7. She was underweight due to a poor diet and clearly in bad health.
The woman approached approached her neighbor only to find out he had bred the young dog with his brother's Great Dane — Princess' brother. The woman convinced her neighbor to let her adopt Princess then immediately took the dog to the vet, where she found out the 11-month-old dog was indeed pregnant.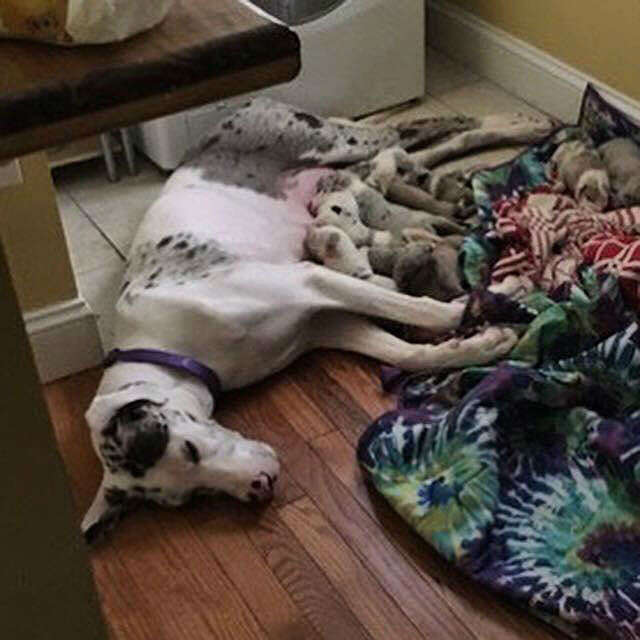 "This was a classic backyard breeding where little to no thought was put into the breeding," Alicia Fox, Quinn and Gray's mom, told The Dodo. "They both had dogs from the same litter and bred them for money, but the people involved had absolutely no knowledge of breeding."
Princess' rescuer reached out to Anna Mosko, an independent rescuer who worked as an office manager at a veterinary clinic, to help her find loving homes for Princess' 10 puppies. Mosko took them into her own home, where she made certain they got the care they needed under the supervision of World of Animals Veterinary Clinic in Elkins Park, Pennsylvania.
Four of the puppies, including Quinn and Gray, had trouble learning to walk and needed special care. Quinn and Gray also had bone deformities, scoliosis and spinal issues. Quinn has muscular atrophy from his inability to walk and Gray has suffered a few bouts of bloat — a seriously life-threatening condition in dogs.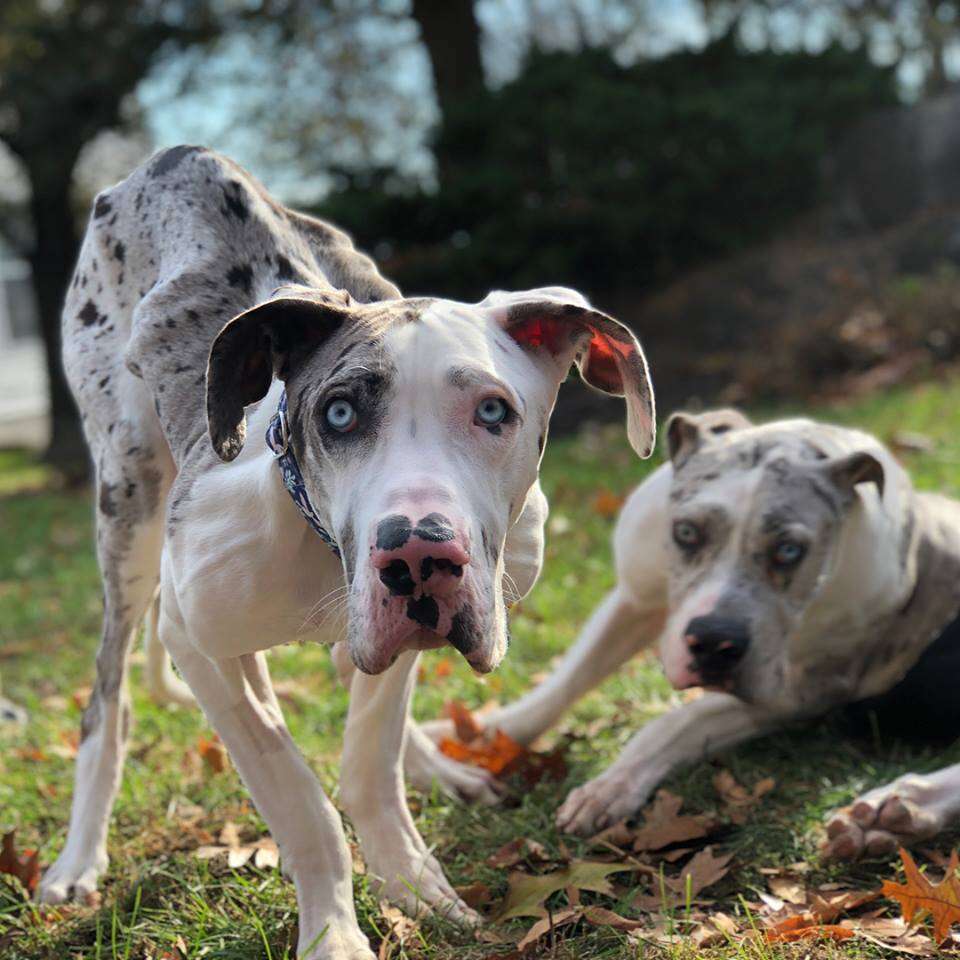 They went through multiple tests with several different veterinarians and specialists, ruling out a number of diseases and conditions potentially causing the affliction. "While we are still not 100 percent certain what is going on with these four incredible puppies," Mosko said in July 2016, "they are some of the strongest, happiest and sweetest puppies there are."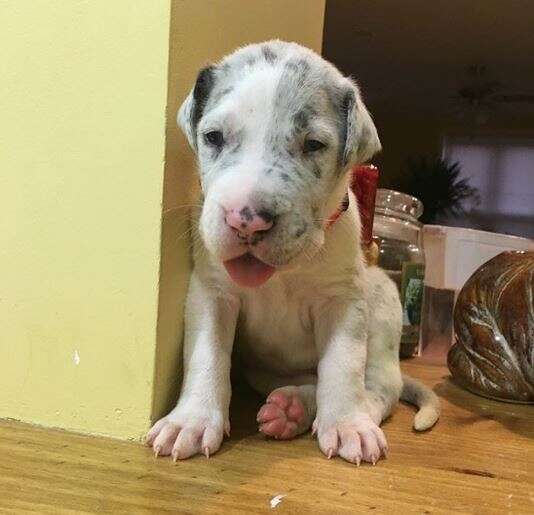 Fox and her husband Brian, of Schwenksville, Pennsylvania, were considering adopting a Great Dane when a friend connected them to Mosko. They went and met the puppies when they were 5 weeks old and chose Quinn to come home with them once he was old enough. "I chose Quinn because he was the laziest in the litter," Fox said. "His personality seemed to fit what I wanted in a Dane."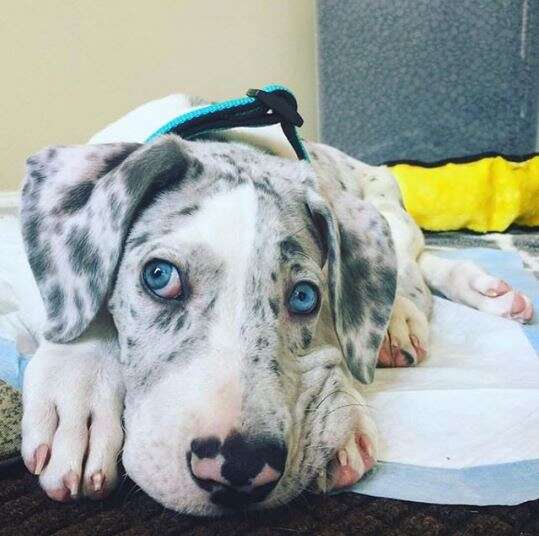 Unfortunately, they soon found out that Quinn — who, despite having hind end weakness, had been able to walk up until 9 weeks of age — was no longer able to walk, and it was unclear if he'd ever be able to. "We were told that Quinn may deteriorate quickly and would only have quality of life for four months tops," Fox said. "We were given the option to opt out of adopting Quinn many times by [Mosko], but we never faltered."
While Quinn began his new life with the Foxes in July 2016, his brother, Gray, and another sibling were sent to be fostered by a massage therapist. Gray, who had been unable to walk at all when he went to his foster home, responded well to massage therapy and began walking.
After the second pup who was living with the massage therapist was adopted, the Foxes decided to take over fostering 5-month-old Gray. "We thought that having Gray around might influence Quinn to start walking on his own," Fox said.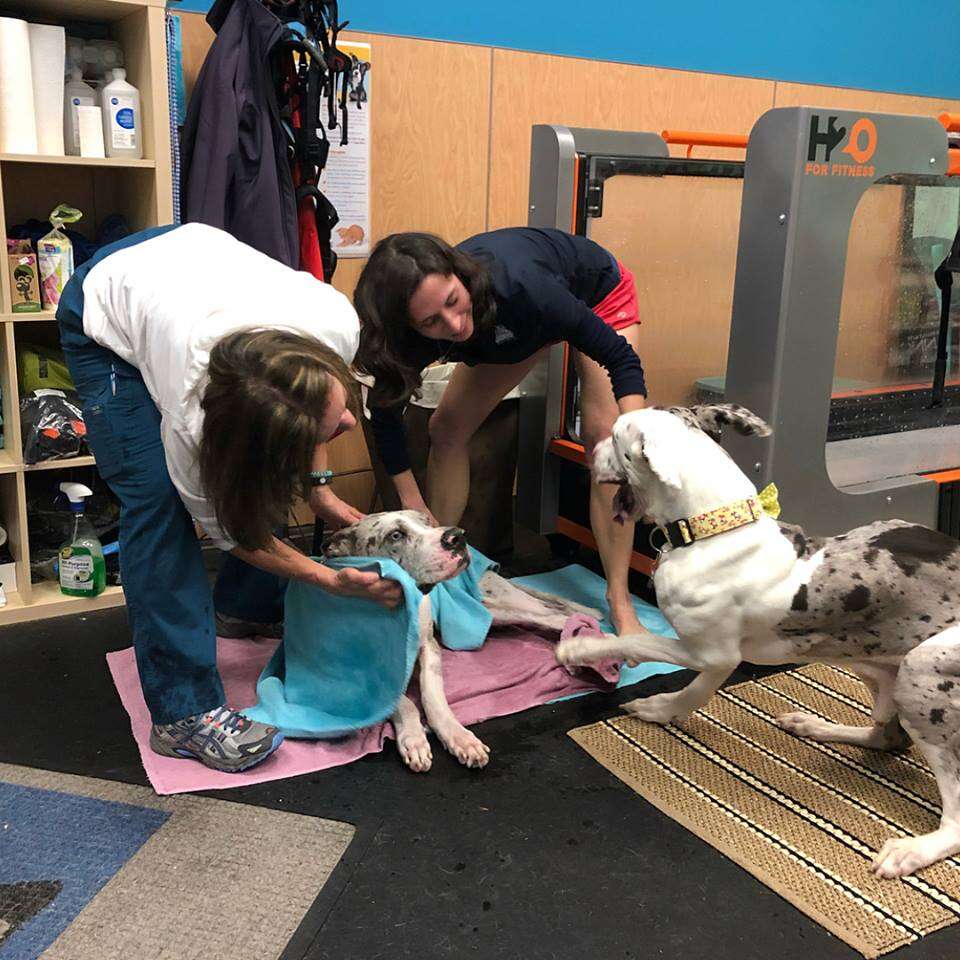 At the time Gray came to live with them, Quinn was only able to stand with assistance and could only walk with a sling around him. However, he almost immediately began to stand on his own with Gray's support. "Gray influenced Quinn to walk more because he wanted to follow Gray around," Fox said. It wasn't long before the Foxes adopted Gray too and officially made him part of the family.
Over the next year and a half, the bonded brothers experienced a number of ups and downs, but through it all, they had each other and their incredibly dedicated owners to care for them every step of the way.
With the help of physical therapy and Gray's support, Quinn is making great strides. He attends weekly acupuncture and hydrotherapy sessions, with Gray often tagging along. "Gray gets very upset when we take Quinn to his therapies [without him]," Fox said. "Gray will cry until his brother comes home, and he likes to run to my car to be reunited with his brother."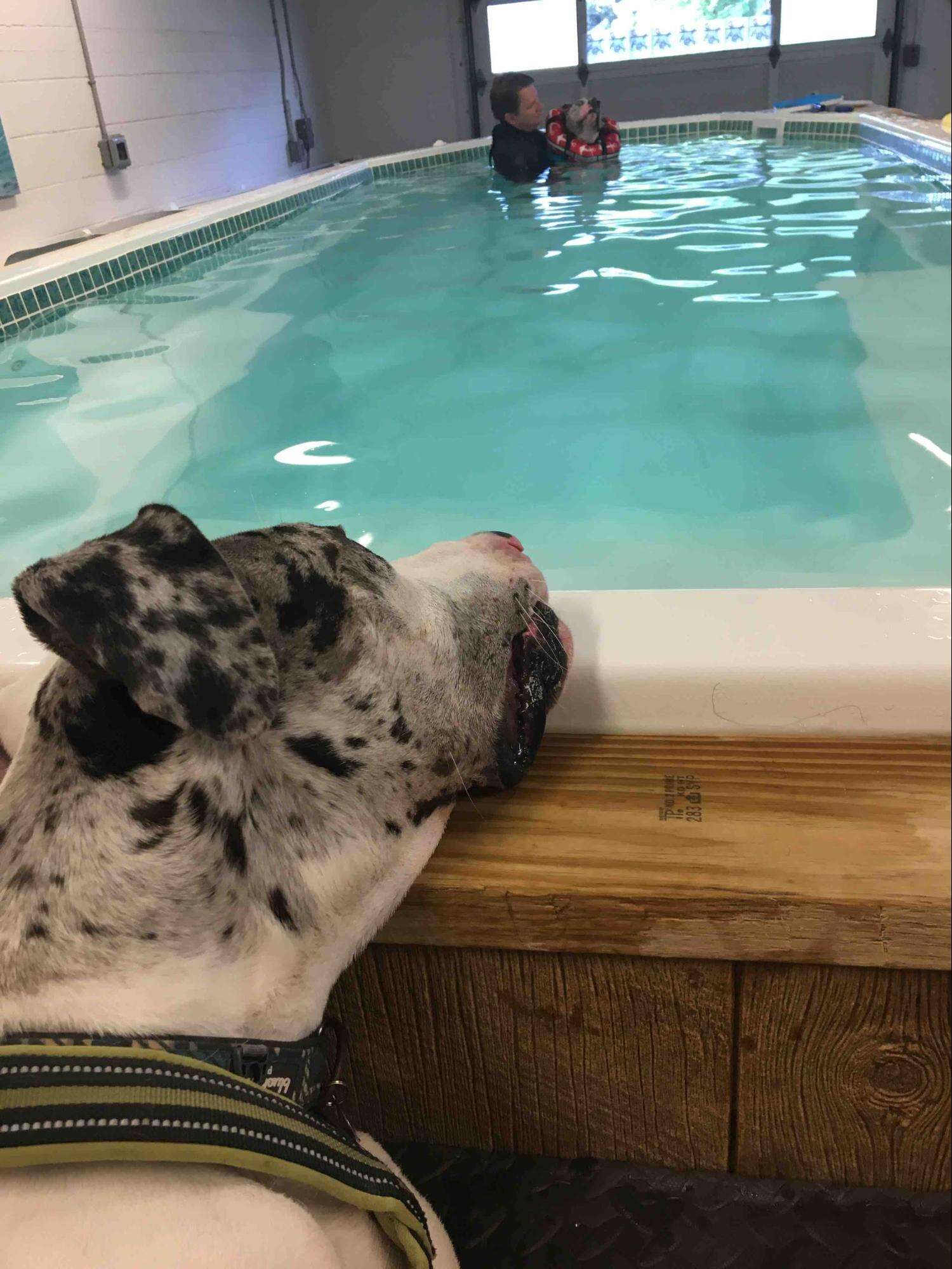 Both dogs suffer from stunted growth and only weigh around 70 pounds — making them smaller than the average Great Dane, who usually weigh more than 100 pounds.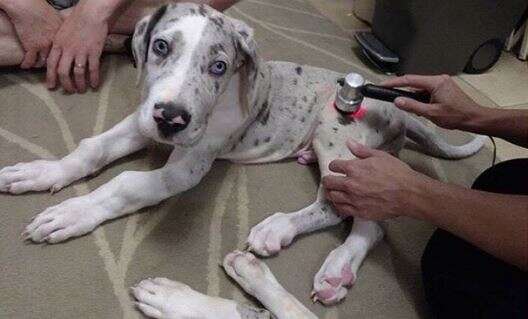 In fact, the Foxes have a very busy daily routine caring for the special needs pups, which includes a specific diet, monitored meals to prevent bloat, physical therapy exercises and stretches, diaper changes and more. "Once you get into a routine of care it is less challenging," Fox said.
But that doesn't mean these pups don't find pleasure in the simple things. For example, Quinn loves lying on comfy beds …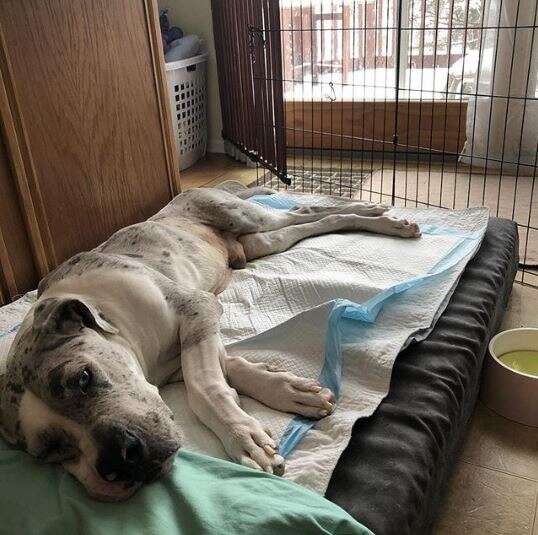 … while Gray loves snuggling on the couch.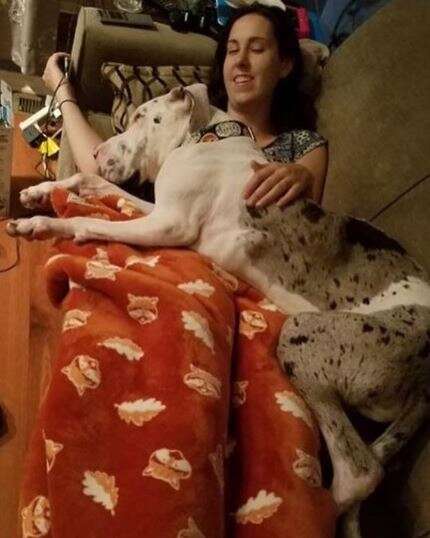 They both love sticks, too, though Gray likes to play fetch while Quinn prefers chewing on his.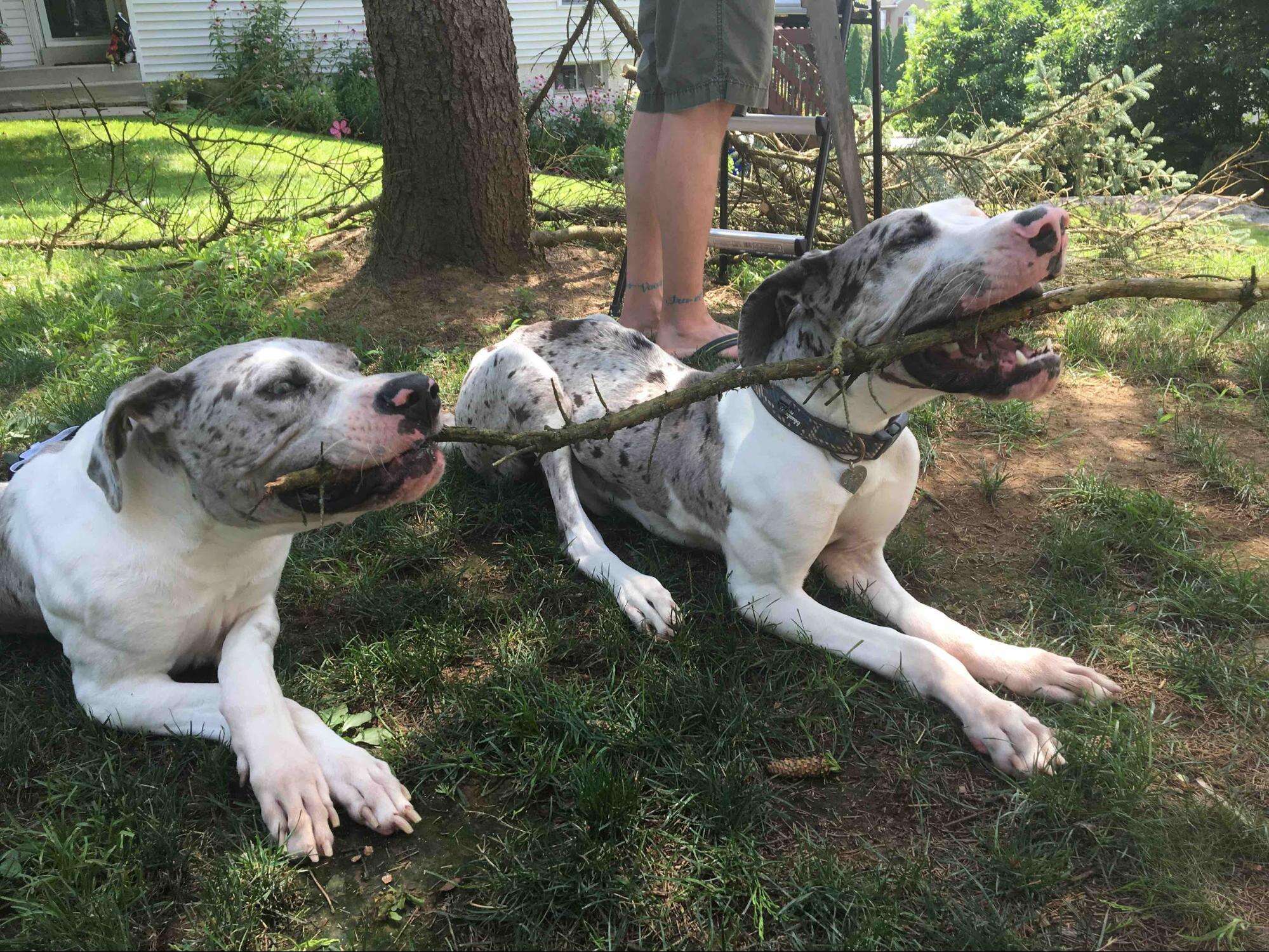 They also love accompanying their mom to the horse barn she works at …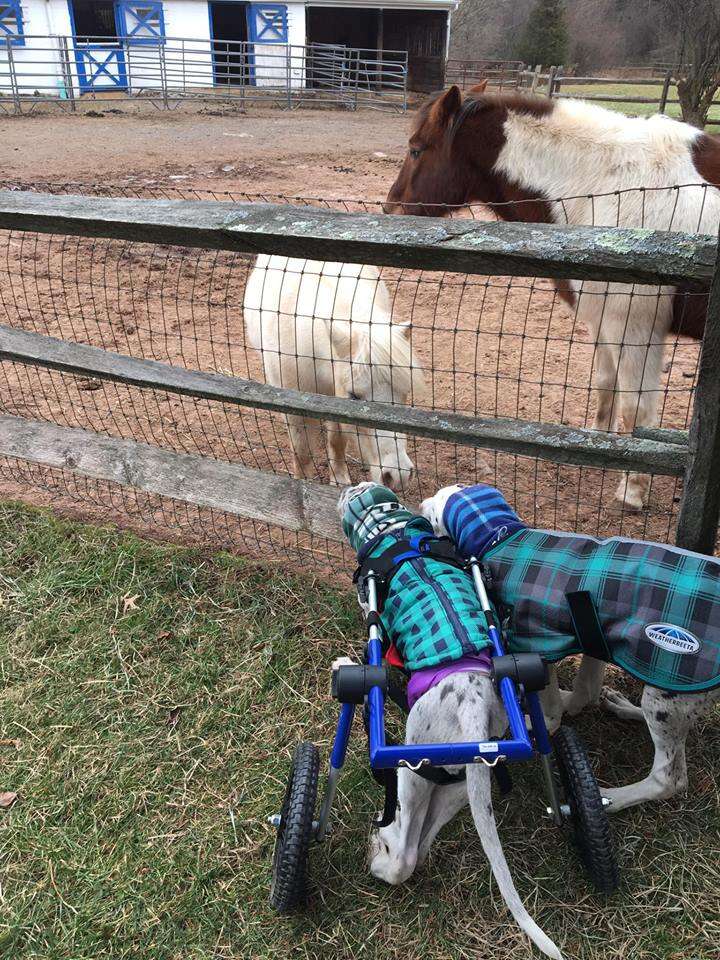 … spending time with children …
… and playing their all-time favorite game, "bitey face."
They've been playing "bitey face" together since they were just puppies.
"Gray is the only dog that will play with Quinn," Fox said. "Other dogs just ignore him."
Though Quinn and Gray have so much in common, their personalities are distinct opposites. "Gray is outgoing and extroverted," Fox said. "He loves everyone and everything. He's very enthusiastic and gets excited easily."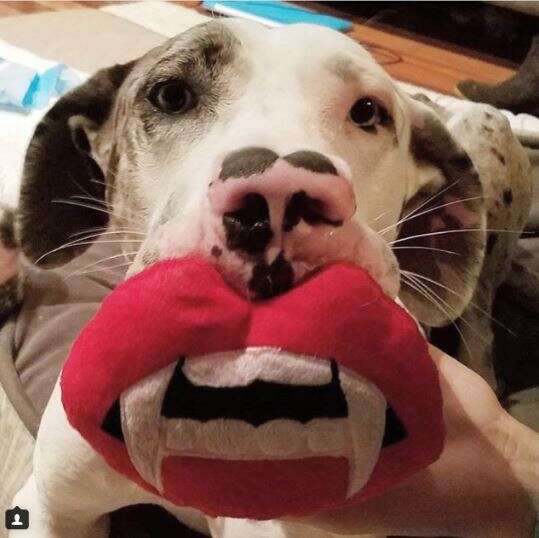 "Quinn is introverted," Fox said. "He takes a little longer to warm up to new people. He is very opinionated about any activity and his facial expressions can easily tell you that. Quinn loves to give people the 'side eye' when he doesn't approve of something."
Though Quinn still isn't walking and may never be able to on his own, his life has clearly changed for the better with the support of his amazingly dedicated owners, Great Babies Rescue (a rescue group that has taken Quinn and Gray in as "unofficial" members) and especially his brother.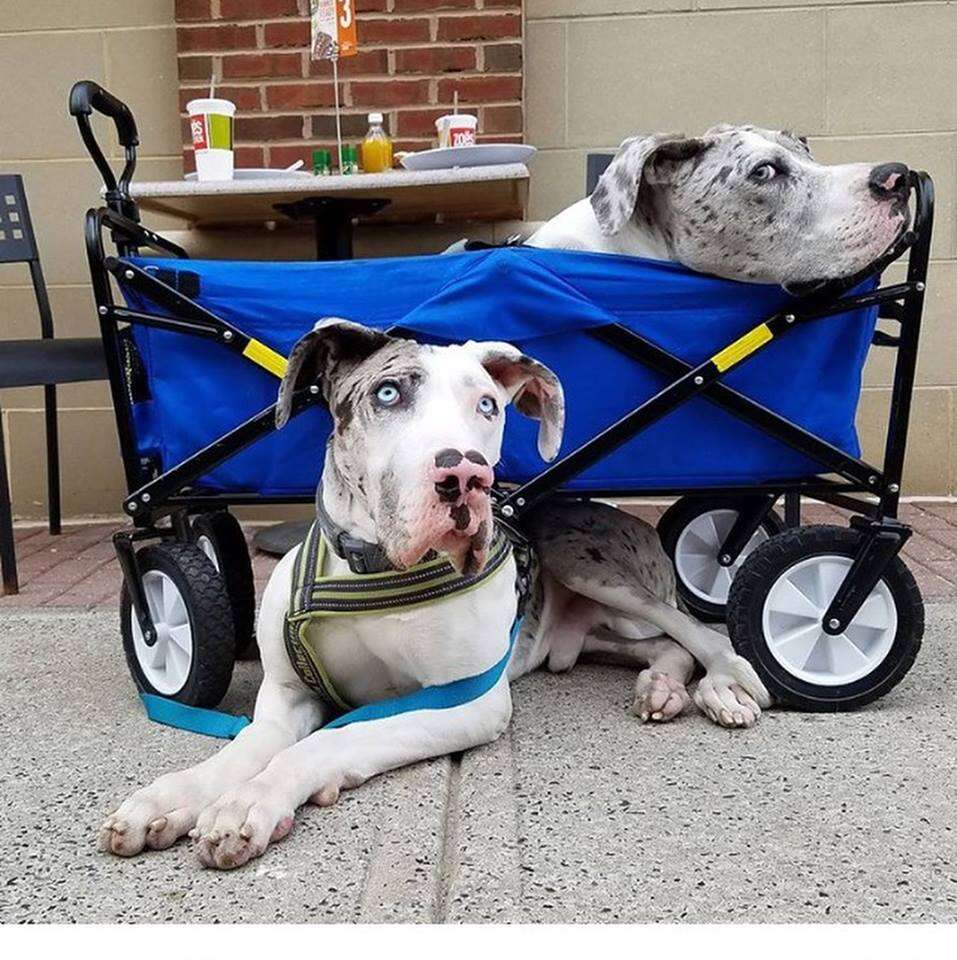 "When Gray came into our home, Quinn's whole demeanor changed," Fox said. "He was alone sometimes before Gray. We had a pet sitter, but Quinn's energy level and happiness level definitely became higher because of Gray."
"Gray and Quinn have taught me that you should never ever give up and you are always capable of more than what someone else thinks," Fox said. "It is up to you to push through to your goals and not be afraid to rely on help from friends."
You can help the Foxes continue to pay for Quinn and Gray's extensive care and vet bills by contributing to
their GoFundMe page
.