Great Dane Rescued From Nightmare Mansion Has A Totally Different Life Now
"I am so not the kind of girl who believes in soul mates or anything like that, but if there is such a thing, then she's mine."
On the outside, the New Hampshire mansion looked posh and impressive. But the inside held a dark, sad secret — the homeowner was running a puppy mill, a commercial facility that breeds and sells dogs for profit, and she wasn't properly caring for the dogs.
Eighty-four Great Danes were crammed inside cages or running loose throughout the house, which was covered from floor to ceiling in feces. Many of the dogs were underweight, and had infections on their eyes and paws. There was no water available, and the only food was pieces of raw chicken scattered across the filthy floors.
In June 2017, an animal rescue team from the Humane Society of the United States (HSUS) gained entry into the home, and they'll never forget what they experienced in there.
"They told me that the first thing that hit them was an overpowering rancid and putrid smell, with ammonia levels so high in some rooms that the rescuers' eyes teared up," Wayne Pacelle, then-CEO of HSUS, wrote in an article about the rescue operation. "There were feces and debris smeared across all the walls to the point where the windows were opaque."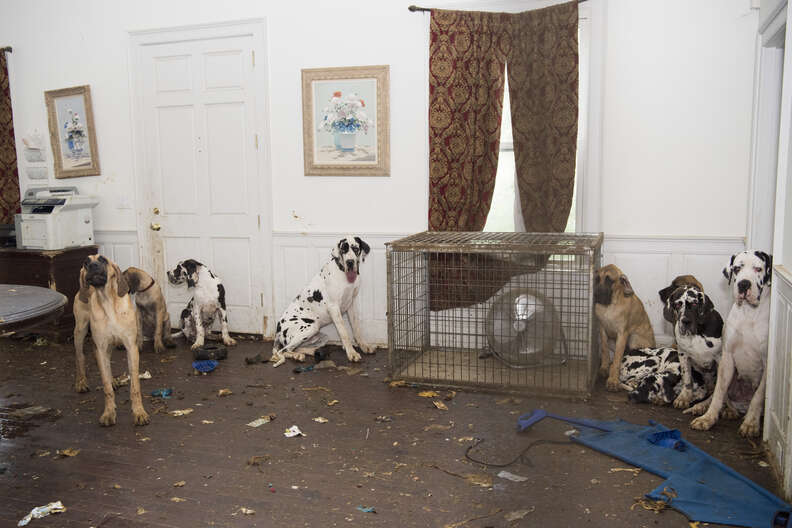 Many of the Great Danes were as "large as ponies," but looked "sad" and "broken," according to Pacelle.
While most of the dogs were being kept in cages, two Great Danes were locked up in the owner's bedroom, including a senior dog named Wanda.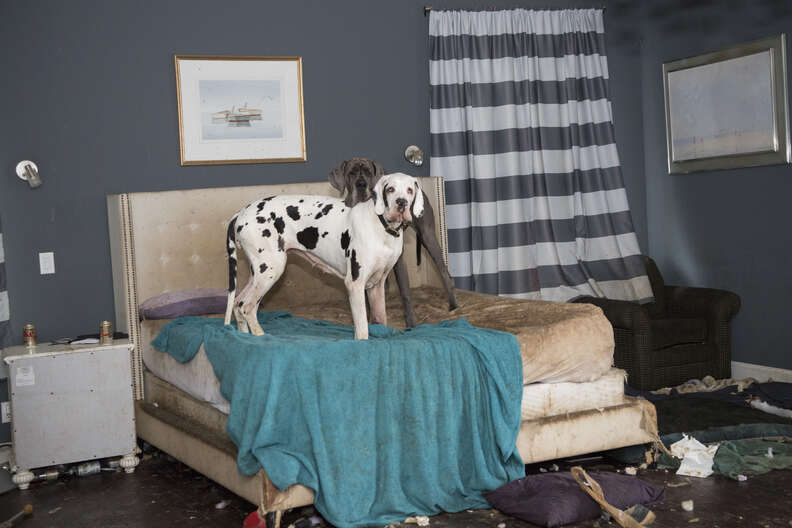 "We have these really dramatic pictures of her in this person's bed, and it was completely covered in feces," Morgan (who asked for her last name to remain private), an animal rescuer at HSUS, told The Dodo. "There's one other dog in the room, and Wanda is kind of cowering behind the other dog."
Wanda seemed a little frightened, but she quickly warmed up to the rescue team.
"She was one of the only dogs who was instantly in your face like, 'Give me kisses, just love on me, I just want affection,'" Morgan said. "She was a very, very social dog."
The team relocated the dogs to a safe but undisclosed location in New England, and the dogs had to stay there for the next 14 months while HSUS embarked on a legal battle to gain full custody of them.
While waiting for the courts to decide the Great Danes' fates, Morgan helped care for them at the shelter. During that time, Morgan formed a soft spot for Wanda — and Wanda was also falling hard for Morgan.
"While I was at the shelter, she would watch me, no matter where I was — she would just watch me, watch me, watch me," Morgan said. "And all the volunteers would say, 'You know that she's your dog, right? She picked you. That's your dog.' And I was like, 'I don't know. I have to think about it.' And everyone was like, 'No, no, no, she's picked you. That's your girl.'"
Morgan had a lot going on in her life at the time — her husband was due to get a liver transplant, and he'd need a lot of specialized care after his operation. But the more Morgan thought about Wanda, the more she realized Wanda was the perfect dog for her family.
"I've always been drawn to the more difficult dogs, and I always took the more behaviorally challenged ones," Morgan said. "But I knew that with everything that was going on with my husband and the fact that we'd have to have caretakers in the house ... I knew I needed to go ahead and adopt an easy dog. And Wanda was always one of the more social ones — just so sweet, and literally loved everyone that she met."
When HSUS finally gained legal custody of the dogs earlier this year, Morgan went ahead and adopted Wanda, bringing her home to live with her, her husband and their two other dogs and cats.
"It was probably one of the best decisions I've ever made," Morgan said.
Wanda, who's about 40 pounds heavier than Morgan, is attached to her new mom at the hip, and she follows her absolutely everywhere.
"I can't walk 5 feet in the house without her right behind me," Morgan said. "She crams herself in the bathroom with me … and whatever chair I'm sitting on, she figures out how to MacGyver herself into the chair with me. She can't sleep without her head being on my chest."
Wanda has also been very attentive to Morgan's husband since his liver transplant.
"She has to be right next to him with her head on his lap, just watching him and seeing what's going on," Morgan said. "She'll kind of move herself so that she's in front of him so that nobody bounces into him. I don't know how she knows, but she just knows."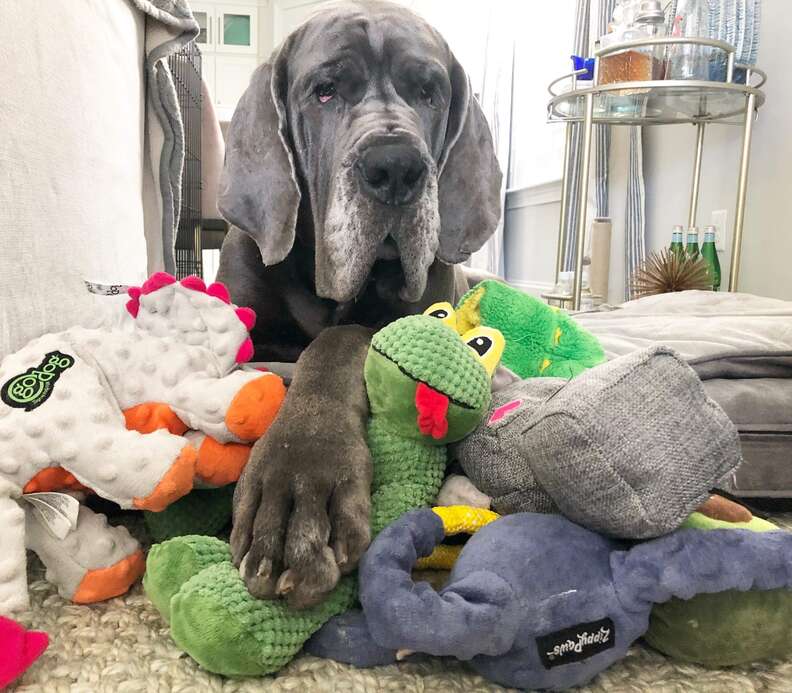 Morgan has also seen big changes in Wanda's behavior.
"She used to be one of the pickiest eaters in the whole shelter," Morgan said. "We were trying something new every day to get her something to eat, but she would not eat. And now we have to literally lock and hide the food from her … she eats everything in sight. She's just so confident and happy, and her coat is glistening and shiny now."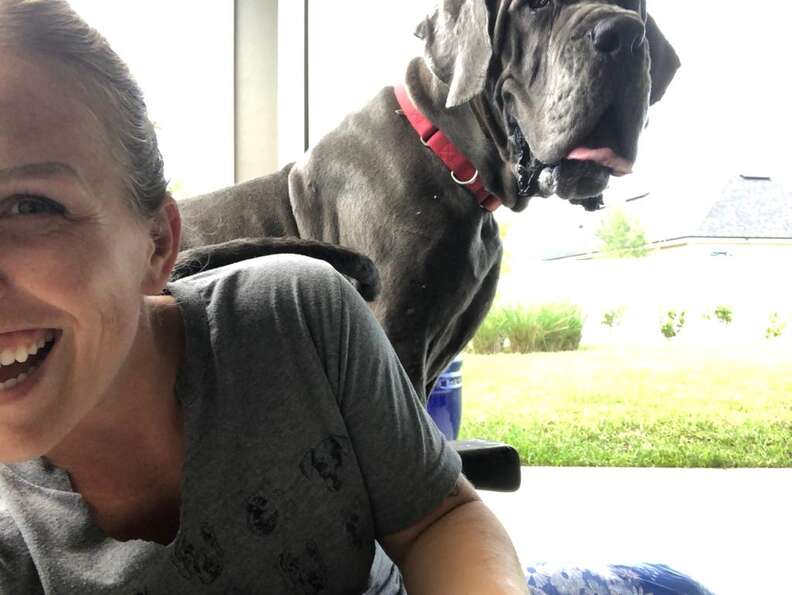 Wanda's become such a big part of Morgan's life that she can't imagine life without her — and Wanda likely feels the same.
"I am so not the kind of girl who believes in soul mates or anything like that, but if there is such a thing, then she's mine," Morgan said. "I love that dog more than anything. I literally spend my whole life caring for animals, and I don't think I loved an animal on Earth as much as I love her. She's the best."