Dog Gets Race Car Bed For Christmas — Just Like All The Other Grandkids
"He is our grandson and is treated as such."
This year, Donna and Trevor Armstrong of Wingham, New South Wales, happily bought their three grandsons race car beds from a local furniture store. The grandkids and their parents loved the beds — but someone in the family couldn't help but feel left out.
"My son Zac, who doesn't have any kids, said to us, 'Aww, where's my son's car bed?" Donna told The Dodo. Zac was referring to none other than his 3-year-old Chihuahua-Pomeranian mix, Butch Cassidy.
Butch with his dad, Zac

| Donna Armstrong
Like any loving grandparents would, the couple decided to surprise the dog with a race car bed of his own this Christmas — but his turned out a little different from the other grandchildren's.
Completely handcrafted and painted by grandpa, the wooden bed is perfectly sized for Butch and even has his name painted across the side. It has four small wheels with painted logos on the tires and has a wide area on top for plenty of comfortable pillows and blankets.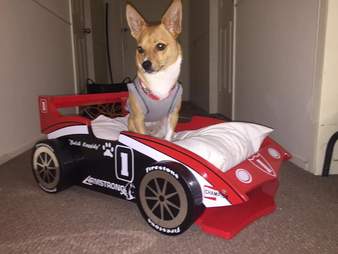 Donna Armstrong
"He works six days a week, but every spare moment he had leading up to the holiday he'd been working on it," Donna said. "He was devastated two days before Christmas because Zac took my dog downstairs and nearly busted the surprise when he was working on it in the workshop. But the look on Zac's face the day he opened it showed he clearly hadn't seen it."
In all, it took Trevor almost a month to complete the project in time for Christmas.
As expected, their granddog loved it just as much as his dad did.
Donna Armstrong
"Butch was quite excited when he opened his bed and got straight in it," Donna said. "He lies in it now at night while his dad watches TV, but when it's sleep time he gets into the big bed with his dad."
Since Butch is an only dog, he gets plenty of time with his grandparents and their three dogs while his dad is at work. He spends a lot of time alongside his grandpa especially, so there's no denying they have a special bond.
Butch with his grandpa, Trevor

| Donna Armstrong
"My husband has a shop, so Butch goes to work with his pop every day," Donna said. "He eagerly sits at the front window waiting for his dad to come by at 5 p.m. As soon as his dad picks up the keys, he will come and say bye-bye to nan and pop and gives us a cuddle."
While he doesn't let the extra attention get to his head, it seems little Butch knows well how very spoiled he is — just as grandchildren should be.
Butch and his aunt dog, Neecy, relaxing on the couch

| Donna Armstrong
"He loves his toys and loves the box of toys at his nanny's," Donna added. "Luckily I have taught his Aunty Neecy, our schnauzer, to clean the toys up after he's gone as he manages to get every single one out and leaves them all around the house. He is our grandson and is treated as such."