Grandpa Calls Granddaughter To Tell Her About Every Single Dog He Sees
All relatives should be this thoughtful 😂
Growing up, dogs were always an incredibly important part of Haley Okun's family. They've had four different dogs throughout her life, who were considered furry family members rather than pets, and their love for animals has always bonded them all, especially Okun and her grandpa.
"I lived with my grandparents for seven summers in a row so I could sail on Cape Cod, so we're super close," Okun told The Dodo. "When we drove around, he would point out the different types of dogs that we saw being walked."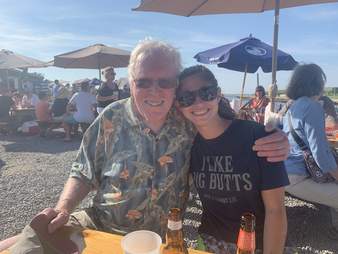 Haley Okun
Okun's grandpa, Steve Gavin, has always been a huge dog lover, and adores being able to share that love with his granddaughter. He grew up with dogs the same way his granddaughter did, and while he doesn't currently have any dogs, most of his kids do, so he's able to get his fix whenever he visits them. 
"No dogs presently, we travel frequently to visit our kids and friends," Gavin told The Dodo. "All the kids have dogs except one daughter; she has cats. Oh well!"
Haley Okun
Even though Gavin doesn't have dogs currently, he still manages to befriend them wherever he goes. He lives in an area with a lot of dogs around, and every time he sees an adorable new dog, he calls Okun — because he just has to tell her about them.
Recently Okun missed one of her grandpa's calls, and so he left her the sweetest voicemail, all about dogs.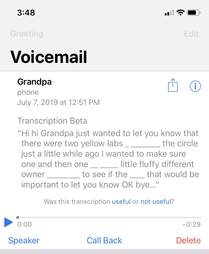 Haley Okun
"My grandpa likes to tell me about dogs he has seen or send me articles about dogs," Okun said.
Gavin is definitely a professional dog spotter of sorts, and of course, he always makes sure he gets to meet them and give them lots of love and attention as well.
Haley Okun
Okun and her grandpa always have been and always will be close, and while they love to bond over a myriad of things, their favorite thing to talk about and obsess over together will forever be dogs.