Family Surprises Heartbroken Grandma With A New Best Friend
"She couldn't stop crying tears of happiness."
Last month, Matthew McVey saw a sad change in his grandmother, Shirley. It happened after her beloved dog Kinsey died, ending their 14 long years together. She was having trouble coping.
Since Shirley's husband passed away in 2011, she and Kinsey had grown especially close. But now her canine companion was gone, too.
"She was always upset and said sometimes she would feel so empty without her 'little shadow.' That's what my granddad would call her," McVey told The Dodo. "Kinsey was really the only thing that made her happy."
Shirley's family wanted to help heal her broken heart — and they found the perfect someone for the job.
"My mother and sisters went to a local ASPCA and started looking at dogs. That's when they found Sammy," McVey said. "The day after they met Sammy, they knew he was the perfect fit for my grandmother."
Following a recent hospital visit, Shirley has been recovering at a rehab facility. It was there that McVey's mother decided to drop by to introduce Shirley to Sammy, her new best friend.
It came as the sweetest surprise:
"My mom says that she couldn't stop crying tears of happiness, and that she loves Sammy," McVey said. "She's glad to have a dog back in her life."
As a shelter dog, Sammy is no doubt glad to have a caring human back in his life as well. He'll be staying with McVey's family, awaiting the day Shirley is well enough to return home.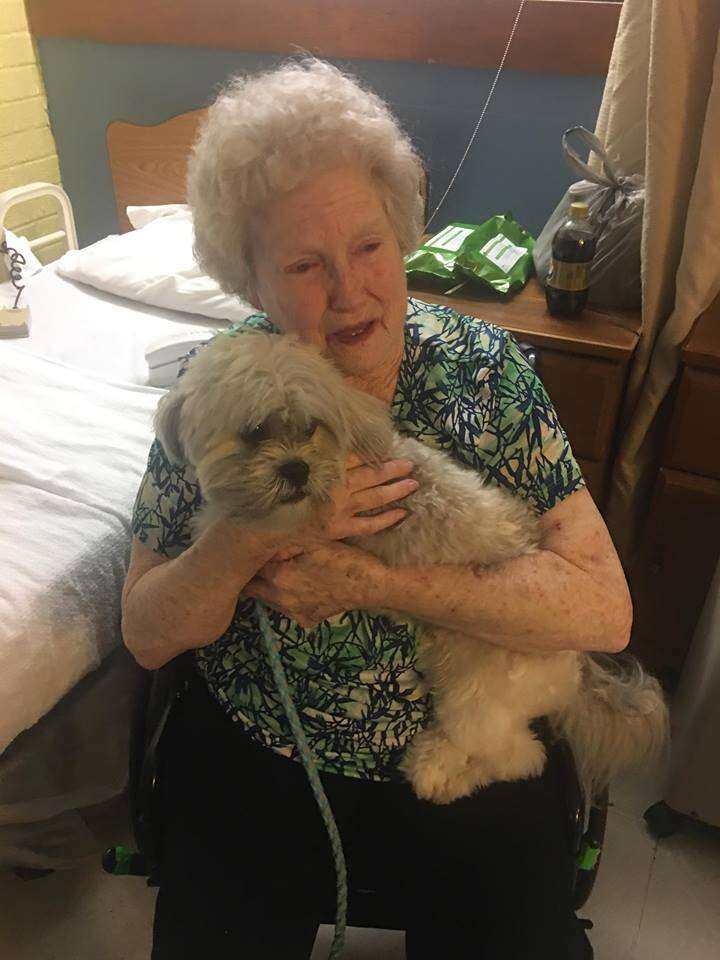 Nothing can ever replace those who have passed on, of course, but memories steeped with love, like those Shirley has of Kinsey, will always remain.
And now new ones will be written with Sammy by her side.