Dog Trapped In Horrible Cage Had No Idea His Life Was About To Change
"I don't think he'd ever seen a toy before and he absolutely loved them from very first day."
His life now is any dog's dream.
Every day, Clover the golden retriever explores the rolling countrysides of England, plays with all the toys he wants and snuggles into a warm, cozy bed with his mom at night. His best friends are chickens, and he loves playing with other dogs, too.
He has a zest for life — but he almost never got to experience any of it.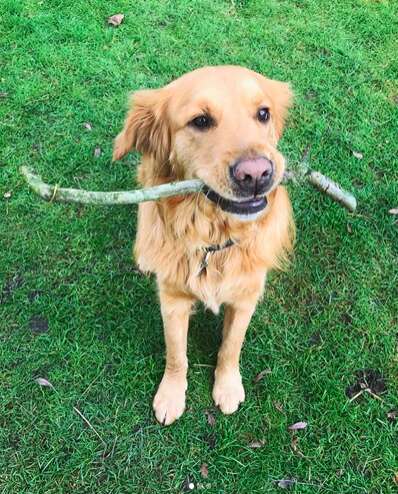 A little over a year ago, Clover lived on a dog meat farm in China that was raising him to be slaughtered for food. He spent his days inside a small cage with little food or water. He and his other pen mates often had no choice but to eat the decaying remains of dogs who had died from the horrible conditions.
No one knows whether he was born on the farm, or if he had been someone's pet who was stolen — which is common in China's dog trade.
Animals Asia estimates that an average of 10 million dogs are slaughtered for food each year in China. Many of them are forced to watch other dogs be bludgeoned to death or thrown alive into boiling water for sale at a market or restaurant — which is legal in the country. The country's most infamous instance is the Yulin Dog Meat Festival, which celebrates dog meat each June.
By the time he was a year old, Clover was starving and sick. There was no light in his eyes, and it was only a matter of time before he would be killed at a slaughterhouse in Changchun, China, one of the country's largest hubs for dog meat. He was stuffed into a tiny metal crate and transported there.
But in July 2016, that all changed. A group of Buddhist monks, who often negotiate with dog meat traders at markets to surrender the dogs to them, had been given ownership of Clover and some other dogs. Soon after, a Chinese activist affiliated with UK's Rushton Dog Rescue arranged veterinary care so Clover could be treated for his long list of ailments. The group had just begun their "Darkness to Light" initiative to rescue dogs within the Asian meat trade — and Clover was their first mission.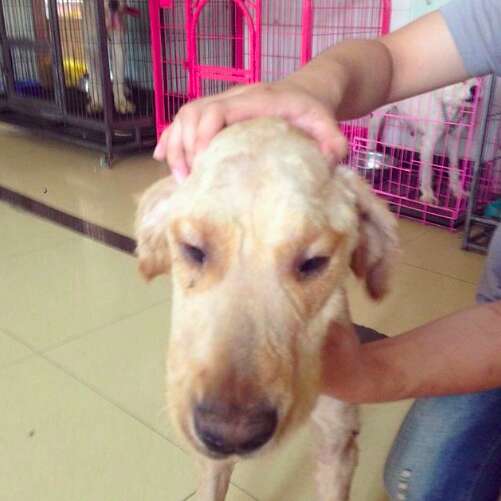 Over the next few months, Clover slowly recovered from starvation, pneumonia, mange and canine distemper. Skye Wardle, of Gloucester, England, saw posts about him on the rescue's page and instantly fell in love.
"We had always heard about the Yulin Dog Meat Festival, but I don't think we were aware dogs were killed in China every day all year round before that," Wardle told The Dodo. "My mum had always wanted to adopt one of these dogs, and when we saw Clover, we just thought he was perfect. We've had goldens our whole lives."
They hadn't even met him yet, but it already felt like he was a part of the family.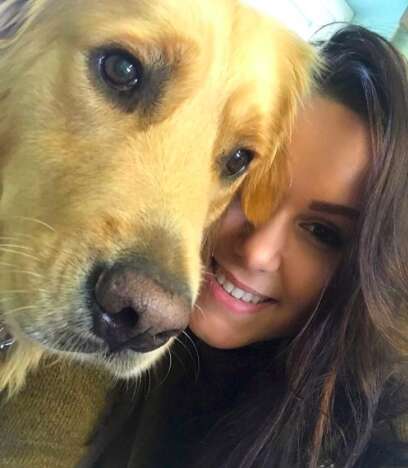 Just in time for Christmas in 2016, the Wardles welcomed Clover home — with a stocking completely stuffed full of toys to celebrate the occasion.
"He just went crazy," Wardle said. "I don't think he'd ever seen a toy before and he absolutely loved them from very first day."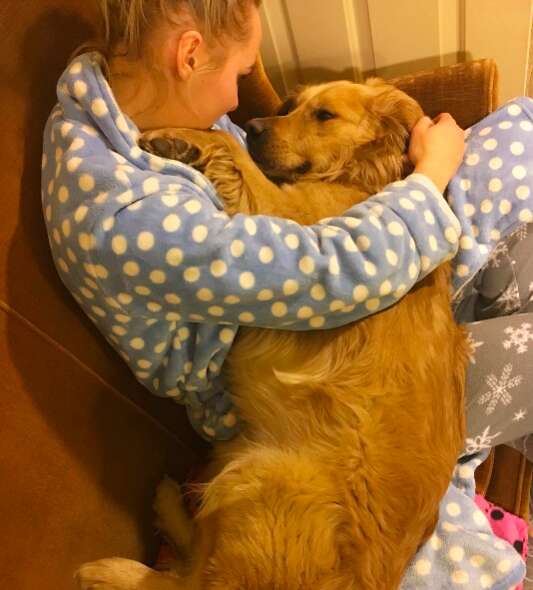 Clover's playful and sweet demeanor is evident in everything he does, from hanging out with the family's chickens to snuggling at night. Despite what he endured at the farm, he has nothing but love for everyone.
"We were actually shocked at how much of a golden retriever he was," Wardle said. "He fit into family life so quickly — he even loves our chickens. He'll sit with them so patiently and they'll peck at his food bowl trying to steal a bit of food. He is such a gentle and sweet boy."
Through social media, Wardle has connected with the owners of other dog trade survivors like Clover — including Angel, a Belgian Malinois who was rescued from the same slaughterhouse.
"She lives nearby in Oxford," Wardle said. "Clover just loves to meet up with her to play. His favorite thing is just running around outside."
Now celebrating Clover's first adoption anniversary, Wardle spends a lot of her time educating people about the industry and attending protests for reform at the Chinese embassy in England.
When out at the dog park or for a walk, Clover does a bit of educating, too. He often wears a brown bandana that reads "dog meat trade survivor."
Those words might seem intimidating at first — but once people see his smile, they instantly want to help.
"It's an amazing conversation starter for sure," Wardle said. "When they meet him, and see how sweet he is, it's like this really scary problem is suddenly approachable. People are brought to tears and ask us so many questions."