Dog Plays The Wind Chimes Every Day So She Can Sing Along
"It's the most precious thing" 🎶🐶❤️️
Meet Bleu — a sweet dog with a musical talent unlike any other.
Not only can the 4-year-old golden retriever sing, but she accompanies herself on an unusual instrument: the wind chimes.
Bleu has been honing her musical skills ever since she was a puppy when she literally stumbled into what would soon become her favorite toy.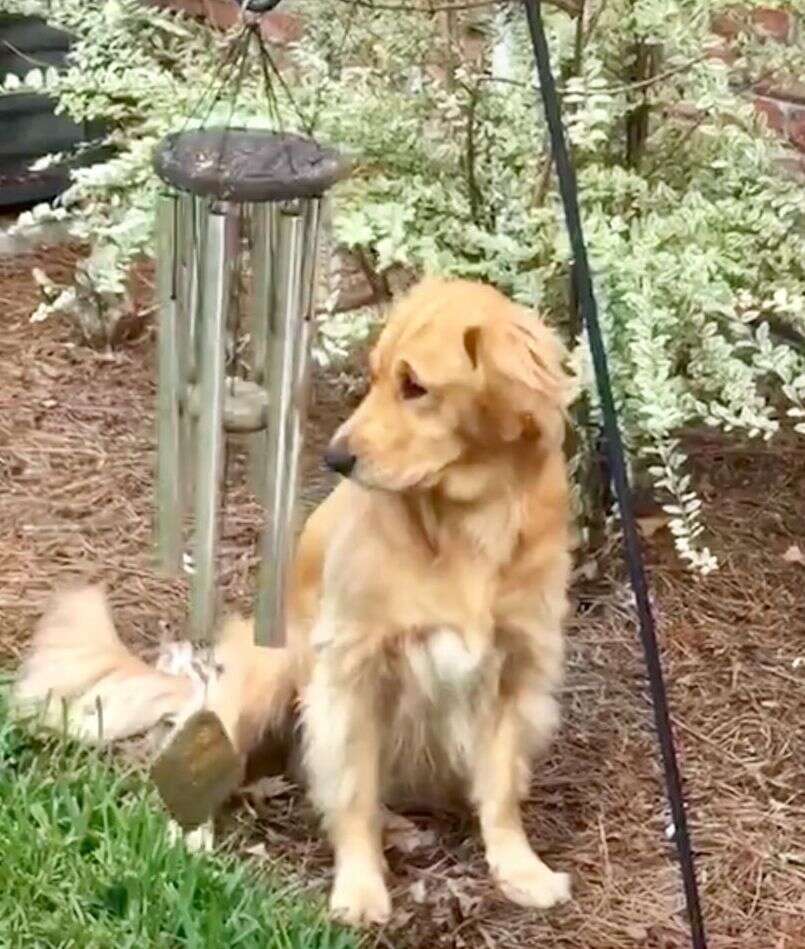 Bleu's mom, Ana Brown, was cleaning up outside when she moved the garden hook that usually holds flowers to the backyard. She hung some old wind chimes on the hook to get them out of the way, and baby Bleu was immediately entranced by the metal tubes.
"When she was really, really little, like 4 months old, she walked outside and her head hit the wind chimes because they were down so low," Brown told The Dodo. "We kinda freaked thinking that would be horrible for her ears — but she just started singing."
Ever since then, Bleu has made it her routine to go outside at least once a day and play the chimes while wagging her tail and tipping her head back to sing along. "It's the most precious thing," Brown said, "when she looks at you and sings, hitting her head against the wind chimes."
"I don't know if she loves the sound, or if she knows she can play it herself," Brown added. "It's almost like she tries to keep in tune with it."
Bleu's unique talent has earned her quite a large audience on social media as well. In June, Brown posted a video of Bleu and her wind chimes on Facebook and within 24 hours the video received 100,000 shares.
Now, Bleu's video has as many as 19.7 million views, and her mom receives messages from people all over the world.
Bleu is blissfully unaware of her online fame, and won't even trade in her old wind chimes for a more expensive, tuneful set.
"My mom got us a really nice wind chime for Christmas and [Bleu] won't touch it," Brown said. "She wants nothing to do with it. She just wants the wind chimes that she's used to."