Dog Chases Her Snowboarding Dad Down The Entire Mountain
Look at her go! 🏂🐶
Ali Coletta always wanted someone to share her adventures. Then she met her husband Nick, and things seemed perfect — for a while. But she knew there was still something, or someone, missing.
"I knew we needed an addition to our family to share our passion for adventure together," Coletta told The Dodo. "It even got to the point where I created a PowerPoint slideshow on why we needed a sweet golden [retreiver] in our lives."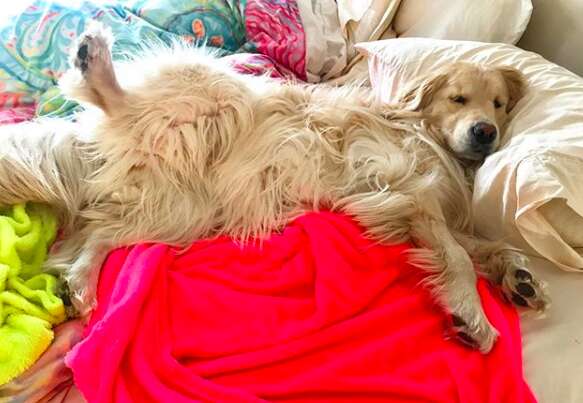 In 2016, Stella joined the family and the Colettas finally found the perfect pet to make them feel complete. "Stella's personality is a combination of a goofball and diva. One minute, she's sitting at the kitchen table as if it's no big deal, the next minute she's bossing us around," Coletta said. "She loves to go swimming, hiking and as of recently — riding the half-pipe."

The fearless pup loves following her dad around wherever he goes and is always up for an adventure. This was never more apparent than when the family went on a recent ski trip. Their vacation was cut short due to COVID-19, but on their last day before the resort closed, the family hiked up the park portion of the mountain to enjoy one last ride.
Of course, they brought Stella along for the journey so she, too, could enjoy the snow. Then something unexpected happened — as her dad began snowboarding downhill, the faithful Stella refused to be left behind. The pup bounded happily through the snow, following her dad's every move.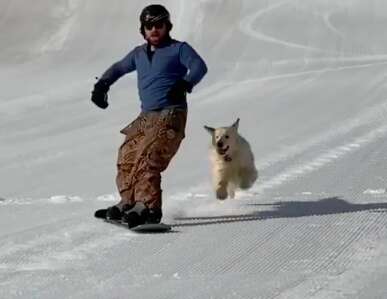 "We knew she'd love the hike in the snow," Coletta said. "But we honestly had no idea she would love running down just as much."

You can watch the adorable video here:
Stella has always loved the cold, and now it's clear that she's finally found her calling.
"If it were up to her, she would like to be laying out on the balcony all day if it's freezing outside," Coletta said. "Maybe that's why she's a big fan of the snowboarding scene!"
Regardless of what she does, her parents couldn't be happier to have such a special pup in their lives. "I can't imagine life before Stella. She truly completes our family and is the best companion one could ask for," Coletta said. "Plus, it's bonus points that she's a total badass!"
Now, every day for the Colettas is an adventure — thanks to Stella.