Senior Dog Dumped Outside Church Waited All Night For His Family To Come Back
"It's hard to believe people can give up on their animals like this" 💔
One night a few weeks ago, Chino's owners tossed him over the fence of a church — and just left him there.
Completely alone, the 10-year-old golden retriever sat there unnoticed overnight, waiting for his owners to return. But they didn't.
His fur was tattered and balding from years of neglect, and his skin was irritated by mange and fleas. His eyes were cloudy and full of discharge, and he was so malnourished that he had trouble walking. At first glance, he appeared to be blind.
Church employees spotted the dog the next morning and knew immediately that he needed help.
Zach Skow, founder of Marley's Mutts Dog Rescue in Tehachapi, California, drove over right away to check him out. While Chino was scared and wouldn't stop barking at first, it wasn't long before he settled down and welcomed gentle pats.
"He obviously had not been taken care of and was in an environment where it just stagnated and got worse," Skow told The Dodo. "His eyes were almost rotten — they had been badly infected for a long time and we thought he would end up losing them."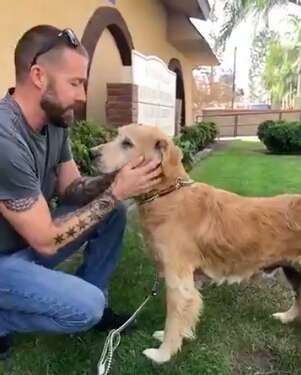 Skow brought Chino in for veterinary care and found that in addition to his skin and eye conditions, he was also immuno-compromised from years of not being fed properly. His teeth were broken and worn, likely from chewing on a metal fence out of boredom.
While no one knows anything about Chino's previous owners, Skow said it's very possible that he was kept outside and barely interacted with people.
"I don't think he had anyone paying attention to him for years and years," Skow said.
Chino soon began treatment for his many ailments — and after only two weeks, he's made major progress. While his eyes were severely damaged, some of his vision could luckily be restored with treatment and his skin is healing up more each day.
"It's only been two weeks and he's acting like a completely different dog," Skow said. "He's playful, happy and running around. When we first saw him we never thought he would even be able to run."
Currently in a foster with other dogs and cats, Chino is continuing to recover and is expected to be healthy enough to be neutered in about a month. While Chino was scared when he first met Skow, he's now comfortable and friendly around everyone he meets.
"At first we thought, 'Oh man he's growling at us, this could be an issue especially since he's older,'" Skow said. "But he's got a great temperament. He's your typical golden retriever."
His sweet demeanor is one Skow would one day like to put to work in the rescue's Miracle Mutts program, which trains rescue dogs to become therapy dogs for visits at retirement homes, homeless shelters or hospitals. Once Chino is healthy and ready, he can enter the program and start training.
This is a far cry from the lonely life Chino once knew — but luckily, he will never have to live that way again. Skow has already found a great new family to adopt the dog, and he'll soon be ready to go home with them.
"It's hard to believe people can give up on their animals like this," Skow said. "But for every dirtbag dumper, there are 100 of us willing to pitch in and make progress for our homeless pets."
To support the continued care of Chino, you can
make a donation
to Marley's Mutts Dog Rescue.