Clever Pup Figures Out Best Way To Soothe Himself During Fireworks
Bathtub + every single toy = ❤️️💙
Kimbo is a golden retriever who has lived in New York City his whole life, so he's always up for a new adventure.
Kimbo enjoys all the activities the city and its surrounding areas have to offer — from long walks through brownstone-lined streets to frequent visits to Brooklyn parks to swimming in special doggie swimming pools in New Jersey to taking road trips to go hiking in the Hudson Valley.
In the past, the noise and bustle of the city never much bothered Kimbo. But recently, he and his person, Marco, moved to a new neighborhood in Brooklyn — a lively area that, as they both just learned, doesn't hold back when celebrating the Fourth of July.
For the first time in Kimbo's life, out of the blue, he was pretty nervous when the loud noises of the first fireworks sounded.
Luckily, like any seasoned New Yorker, Kimbo figured out how to keep calm amid the chaos — and he got a bit of help, too.
Marco and Kimbo were having a few friends over for dinner on Independence Day. They had decided to stay in precisely for Kimbo — to avoid the fireworks — but the booming sounds could still be heard from their apartment.
As the veggies grilled outside, a sweet 4-year-old girl, the daughter of one friend, took it upon herself to keep Kimbo company and calm his nerves.
At first, it was difficult: Kimbo kept barking and Marco kept having to go over and help assure Kimbo that everything would be OK, rubbing his ears and giving him treats.
But then suddenly, the barking stopped. When the adults went to see what had calmed Kimbo, this is what they found:
Kimbo had climbed into the tub and the little girl had decided to surround him with all his favorite toys — and it seemed to do the trick.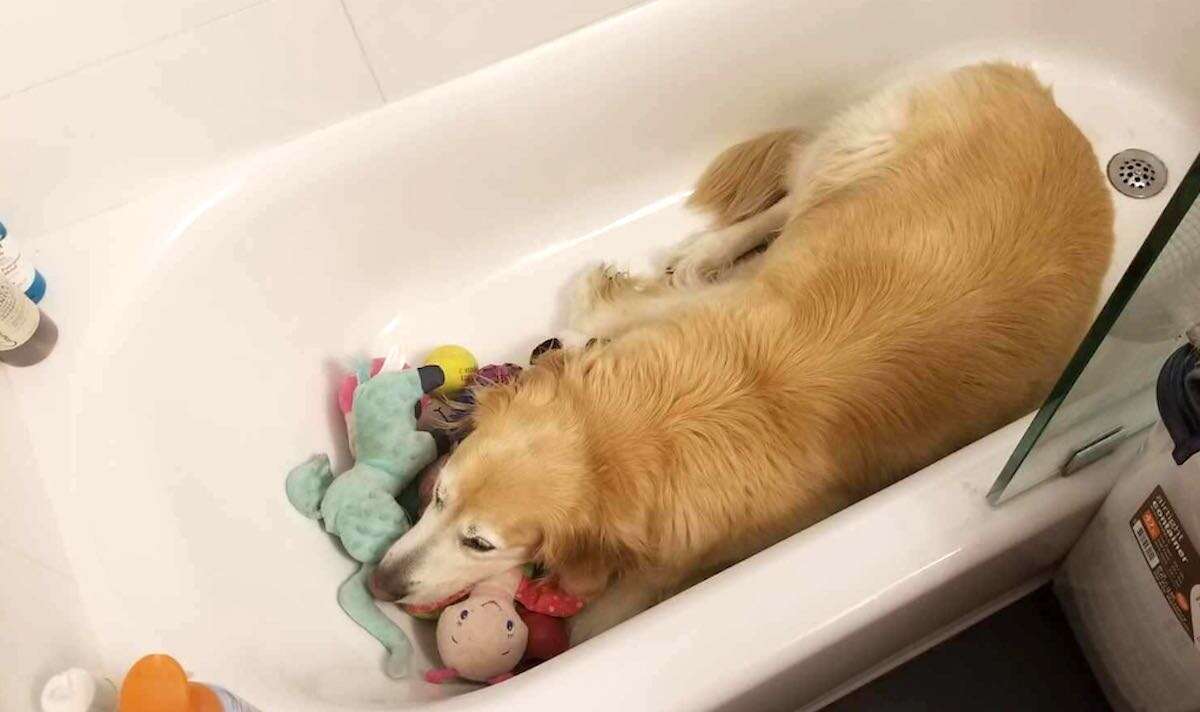 Kimbo rested his head and even drifted off a bit while the last fireworks burst.
And soon enough, Kimbo was his normal, happy self again.