Dog Who Lost Her Babies Had Trouble Adjusting — Until She Met This Kitten
"She loves every minute of it ... She's become a much happier, more peaceful dog since he's been around."
When Sam Christie started to foster two tiny, bottle-dependent kittens, she thought she was going to be their "mom." But Christie's dog, Oakley, a 5-year-old golden retriever, had other plans.
Christie, who works as a wildlife rehabilitator in Boise, Idaho, recently adopted Oakley from the West Valley Humane Society.
"I saw Oakley's picture pop up on our local humane society's website, and I made arrangements to go meet her the next morning as soon as they opened," Christie told The Dodo. "I was so excited. I just kind of felt like she was going to be the one."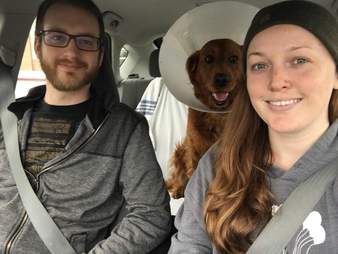 Christie, her boyfriend and the newly adopted Oakley

| Sam Christie
But first, Christie needed to make sure that Oakley was good around cats — Christie and her boyfriend have three cats, including an adventure cat named Atlas, and they also regularly fostered kittens. So Christie tested Oakley by walking her on a leash through the cat room at the shelter.
"She was actually afraid of the cats, so I felt that that was a better reaction than barking or growling or anything," Christie said. "And I just fell in love with her … she's the sweetest, most sensitive and most kind dog."
While Christie doesn't know a lot about Oakley's history, she figured out that she'd had puppies at one point — and they'd probably been taken away from Oakley before she was ready.
Sam Christie
"We played a recording of puppies whining, just to see what her reaction would be, and she reacted so strongly by whining and then getting up and running around looking for them, and then panting," Christie said. "It was really sad. We felt terrible that we had stressed her out."
When Christie brought Oakley home, the golden retriever displayed signs of separation anxiety. Oakley followed Christie everywhere she went, and she got anxious when Christie and her boyfriend left her alone.
"She hates when we leave the house," Christie said. "She even gets upset if I go into the bathroom and close the door and leave her behind."
Surprisingly, Oakley didn't pay much attention to Atlas and the other adult cats living with Christie and her boyfriend. "I think they pretty much pretend that each other doesn't exist," Christie said.
Then Christie brought home two neonatal kittens, Blueberry (Blue for short) and Huckleberry, from the Idaho Humane Society, and everything changed.
"They were kept in a separate room," Christie said. "My cat Atlas was allowed in there, and he loved them and he played with them and groomed them, but Oakley is over 70 pounds, so she's not allowed in there. But she'd whine at the door and pant and get stressed out whenever I went in."
Christie didn't know how to interpret Oakley's interest in the kittens. "I wasn't sure if she was jealous of the attention they were getting, if she just missed me, or worse, if she wanted to eat them," she said.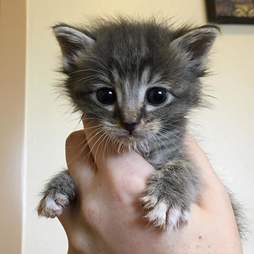 Blue, one of Christie's foster kittens

| Sam Christie
So Christie erred on the side of caution, and didn't let Oakley spend time with the kittens when they were very small. She did, however, allow Oakley to have an occasional quick sniff of them — but Oakley always went crazy with excitement, and Christie kept Oakley secured on a leash.
"I could tell that she always wanted to lick their butts, which is such a mommy thing to do," Christie said. "But she was a little too rough because she was just so enthusiastic."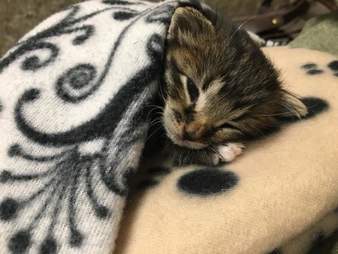 Huckleberry, Blue's brother

| Sam Christie
Then tragedy struck. Huckleberry got really sick, and the vet diagnosed him with a life-threatening disease called panleukopenia, which is the feline version of parvovirus.
"The vets recommended euthanasia because he was so sick and so little," Christie said. "They recommended that we'd euthanize Blue as well, just because they thought he was going to get sick, and panleukopenia has a 90 percent mortality rate in little kittens."
Blue snuggling with Atlas

| Sam Christie
While Huckleberry sadly lost his battle to panleukopenia, Christie didn't want to lose Blue as well. So she stocked up on medical supplies, got advice from vets and kept a close eye on Blue. Sure enough, Blue started to show signs of panleukopenia, but Christie was prepared — and she worked hard to save his life.
"It was a very intense week trying to get him to survive, but he ended up pulling through," Christie said. "He was so emaciated from being sick for so long, but he started to bounce back, and he's just the bravest, most life-loving little guy. It's like he knows how close he got to not making it. He loves everyone and everything, and he enjoys every moment."
Sam Christie
Once Blue was a little bigger, he started to explore the house. Oakley continued to get hyper around Blue, so Christie always kept Oakley on a leash. But little by little, Oakley calmed down, and Christie eventually decided it was safe to let them interact.
"He [Blue] just had no fear of her," Christie said. "He'd run right up to her and grab her ear and hang from her face, biting her and playing. And Oakley would just ... be like, 'Yes, finally! I want this thing on me. I want it touching me!'"
Oakley and Blue spending time together

| Sam Christie
"She loves every minute of it," Christie added. "It's like she's so relieved and happy that she gets to interact with him, and she's become a much happier, more peaceful dog since he's been around."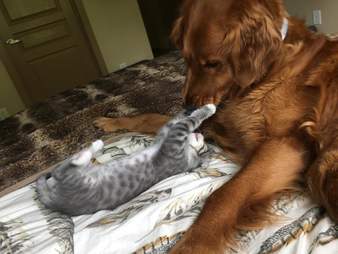 Sam Christie
Christie thinks that Oakley believes herself to be Blue's mom. Oakley grooms Blue, snuggles with him and keeps a close eye on him when he plays with Atlas.
Sam Christie
"Blue and Atlas wrestle constantly," Christie said. "They both love it, but sometimes Atlas gets in a good bite, and Blue will make a little yelp, and Oakley will run over and separate the two of them and make sure her baby is OK."
Oakley and Blue spend all day together now, and they even go on outings.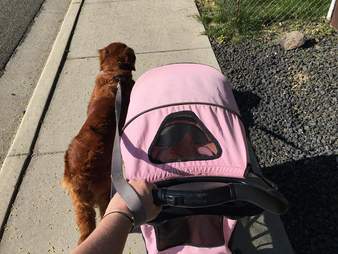 Oakley out for a walk, while Blue rides in a cat stroller behind him

| Sam Christie
"Lately, we have been taking Oakley for walks every day, and we've been bringing Blue along — he has a little backpack that he rides in," Christie said. "The two of them have come up and gotten ice cream with us and gone to farmer's markets. And it's funny because Blue is a really good sport in the backpack, but sometimes he'll let out a little frustrated cry … and Oakley will come back and check on him."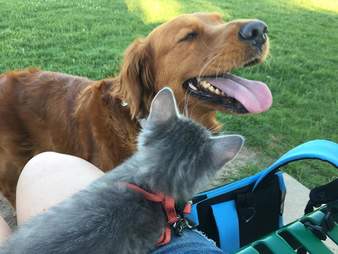 Sam Christie
While Christie had originally intended to foster Blue, she ultimately decided to adopt him. "Oakley would be absolutely devastated if Blue went away, so Blue is going to be a permanent member of the family, as of next week," Christie said.
Oakley will be pleased with this decision, and so will Blue.
Sam Christie
"When Blue came to us at 2 weeks old, needing to be bottle-fed, helpless and an orphan, I figured I would be his mom," Christie said. "But now that he and Oakley are best buddies, it seems like they need each other, more than he needs me, and when you have a bunch of rescues, it's really cool to see them have a bond like that."
To see more photos of Oakley, Blue and the other animals living with Christie and her boyfriend, you can follow Atlas the cat's
Instagram page
.
Thinking about adopting? Then meet Dodo Adoptbot, an interactive guide for new pet parents. Get started on
Facebook Messenger
or text HOME to 38349.