Girl Takes Same Photo With Her Dog Every Month As He Grows Up
"I don't know what I'll do with such a big dog!"
When Naty Flores first met her dog Marshall, he was small enough to fit in the palm of her hand. But almost immediately, the fluffy little puppy started growing.
Flores knew Marshall, an Alaskan malamute, was destined to be an intelligent, loyal and energetic dog — but would grow to be quite large. Malamutes can grow to be nearly 100 pounds, something that was hard to believe looking at the tiny puppy by her side.
Naty Flores
So she decided to document Marshall's amazing transformation from puppy to adult dog.
"When he got here, he was a beautiful little furball," Flores told The Dodo. "I thought about taking a picture of his growth, as the Alaskan malamute is a breed that grows a lot."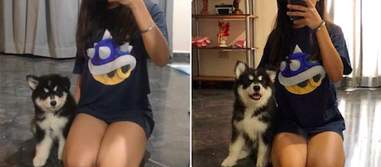 Naty Flores
Flores started taking a picture with Marshall every month during his first year with her. And to make sure she could see exactly how he changed, she decided to keep everything else in the photo the same, from the backdrop to her clothing and their pose.
Naty Flores
As Marshall's body grew, Flores began to see his personality develop, too. Flores watched as he became the playful, loving dog he was destined to be.
"He knows many tricks and understands a lot of things. He only needs to talk in order to look like a human," Flores said. "Regarding Marshall's personality, he is a bit nervous. He does not like when unknown people approach him, he always goes out with his yellow handkerchief indicating that he is a nervous dog."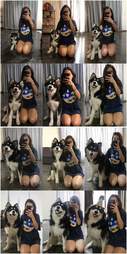 Naty Flores
Now, a little over a year later, Marshall tips the scale at over 88 pounds. And Flores still can't believe how he's filled out — even with photographic proof of how it happened.
"I was really surprised by how much he grew up," Flores said. "As they tell me, they don't stop growing until they are 1 year 8 months old. ​​I don't know what I'll do with such a big dog!"
Naty Flores
All the snapshots taken during Marshall's puppyhood have also had an unintended consequence: Marshall is now a total model.
"He likes to take pictures and he is very photogenic — even better than me," Flores said. "I don't know what I did to deserve such a cute dog."