Little Girl Has Sweetest Reaction To Her Surprise 'Valentine'
She couldn't believe he was really home ❤️️🐕
It had been a very long time since a Boston terrier named Tankers felt love — but everything changed for him on Valentine's Day.
Tankers had once had a home in southern California — or rather, he had a house, which he wasn't allowed inside of. It was common for locals in the neighborhood to hear Tankers sitting outside just crying and crying.
"He went from being an indoor dog to an outdoor dog. No one wanted him, so they just dumped him outside," Kelly Reeves, cofounder and president of Paw Prints in the Sand Animal Rescue, told The Dodo. "A friend of mine reached out to me to see if we could take him into our rescue."
Thankfully, Tankers' owners agreed to give him up. But the time the 2-year-old dog had spent being unwanted had obviously left a mark on him. This is Tankers when he first arrived at the rescue organization: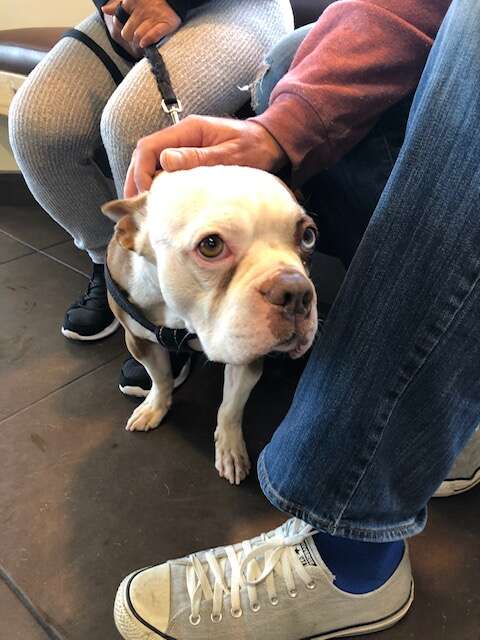 "He was pretty scared, but warmed up quickly," Reeves said. "I think he realized he was going on to a happier life."
Tankers was being fostered while waiting for the right family. Meanwhile, the Gordon family was looking for the exact right dog.
"We lost our dog of 12 years in October and we had been searching, searching and searching since," Kat Gordon told The Dodo.
The Gordon family is composed of six — and the youngest of the four kids is a little girl named Drew, who was very much involved in the process of searching for a dog, especially since she'd be growing up with whichever canine companion they chose. And Drew, an animal lover, is also very intuitive.
So when the family saw Tankers listed on Petfinder, both Kat and Drew were drawn to him.
"It said he was good with kids, good with all animals. It said that when he hears the shower turn on, he runs and jumps in the shower," Gordon said. "The shower thing just killed me. I thought that that kind of quirky personality would definitely fit in with our family."
Gordon decided to put in an application for Tankers right then — but she knew the process would take a while.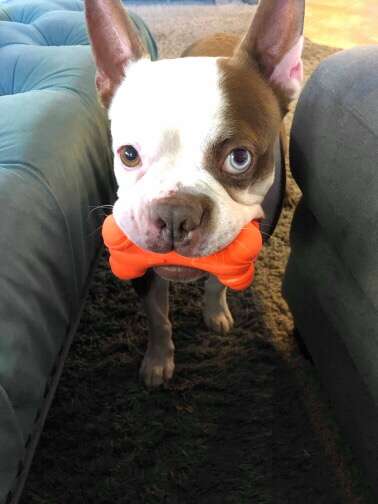 In the meantime, the family kept their eyes open. Drew met all kinds of dogs, even little puppies — but nothing felt quite right. "She would go, 'No, I don't think that's the one,'" Gordon said.
One day, the family learned that Tankers would be at an adoption event, and so they decided it would be a great time to go meet him. Drew and Tankers were instantly drawn to each other.
"We couldn't leave," Gordon said. "She was in tears."
Eventually they had to pull themselves away and continue to wait. But then, on February 13, the wait was over — and Kat Gordon got some good news. The Gordons had been approved to adopt Tankers. And on Valentine's Day, the foster mom called and said they could come pick him up.
The family decided to surprise Drew, so they kept the whole process as hush-hush as possible — and, boy, was she surprised.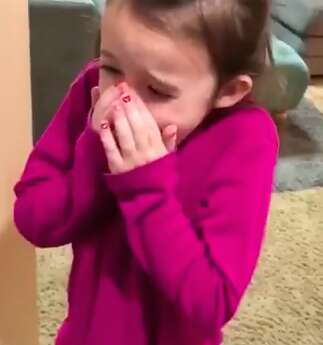 This is what happened when Drew's dad brought Tankers home that night:
When Drew realized that the "Valentine's Day gift" her mom mentioned was Tankers, she was completely overwhelmed — and couldn't stop her tears ... which soon transformed to a lot of kisses for the new member of the Gordon family.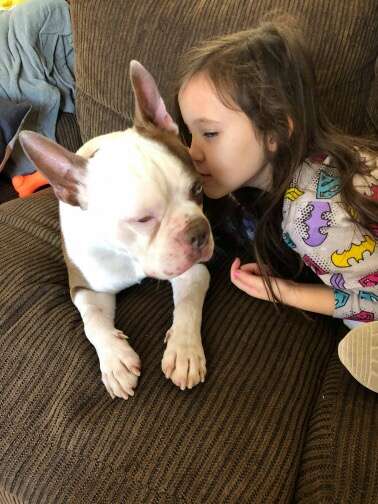 And the tears and kisses also turned to laughter: In the past five days, Drew and Tankers have proven they were meant for each other.
Their bond has grown stronger and stronger in each passing moment.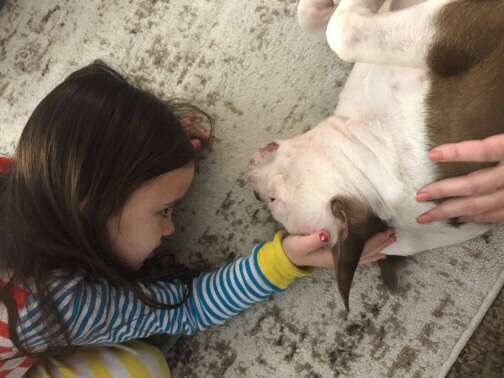 The friendship has warmed the hearts of the whole Gordon family, as well as of the woman who helped save Tankers in the first place.
"I can't stop watching that video!" Reeves said, about the moment Drew realizes Tankers is finally home.