Little Girl Sweetly Sings Her New Rescue Puppy To Sleep
"And THIS is why you should adopt a rescue dog."
Just over a month ago, this tiny puppy named Oakley was just another hard-luck dog in the world, desperate to find a forever home to call his own.
But, oh, how quickly things can change for the better when folks choose to adopt, not shop.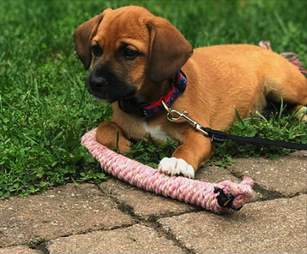 American Lab Rescue
Last week, Lauren Malone and her family opened their hearts and home to Oakley — adopting him through American Lab Rescue (ALR), a group that pulls dogs from overcrowded shelters to give them a second chance. Making this connection between adopters and pets who need them most is what their work is all about.
"Although Oakley will be missed, we know he will be living the most amazing life," ALR wrote online. "We are sure Oakley will get lots of play time, lots of hugs and kisses, and lots of naps."
And they couldn't have been more correct.
Not long after bringing Oakley home, Malone shared this touching video of her daughter cradling the pup and singing him to sleep. "And THIS is why you should adopt a rescue dog," she wrote.
Oakley had found his place.
It's just been a few days now since Oakley moved into his new home, but he's already part of the family.
"We're all doing great," Malone told The Dodo.