Little Girl Who Suddenly Went Blind Was So Scared — Until She Met This Rescue Dog
"I'd hear Gabby say, 'Hannah, you're my best friend and you love me no matter what.'"
When Lisa Bustani's 11-year-old daughter, Gabby, suddenly lost nearly all of her vision in July due to a rare genetic eye condition, doctors urged her to start looking for a service dog.
"She was outside playing in the yard on the Fourth of July, and next thing we knew she couldn't see," Lisa told The Dodo. "It all happened so fast. The disease has caused blindness throughout seven generations of our family, but Gabby has been the youngest one."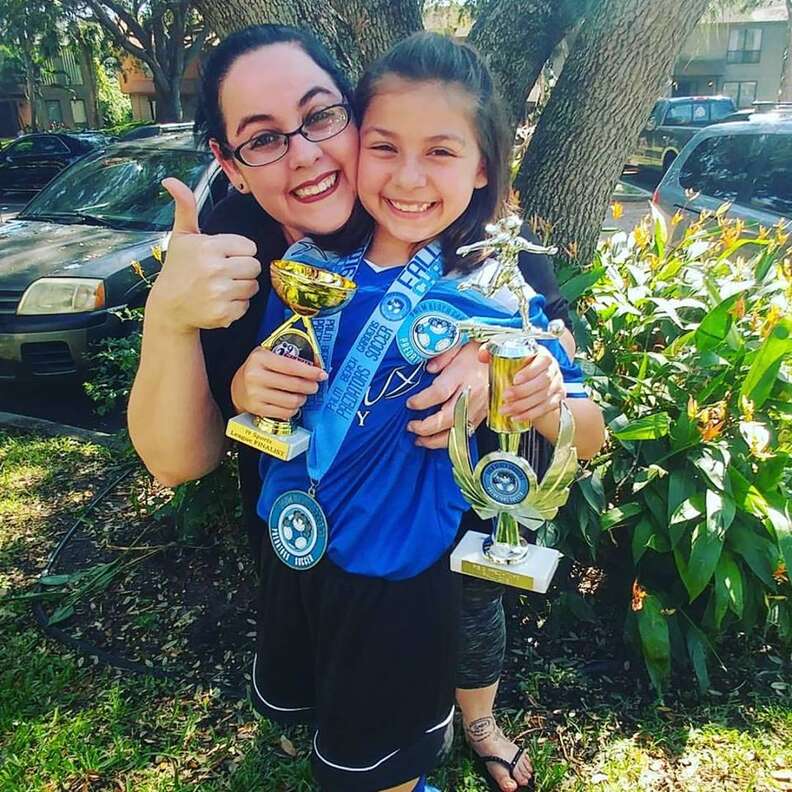 An avid soccer player who had received a scholarship to join a competitive league just days before her vision loss, Gabby is now having to learn how to walk with a cane, read Braille and write with adaptive equipment. She faces painful migraines and vertigo from the pressure behind her eyes, causing her to fall down frequently. With the drastic life changes the vision loss has brought, Gabby is also struggling with anxiety, and many of her friends have stopped visiting her because they "don't know how to react," Lisa said.
But when Gabby met Hannah, a 1-year-old Saint Bernard up for adoption through With Love for the Animals, earlier this month, she found the most devoted friend of all — and the feeling was mutual.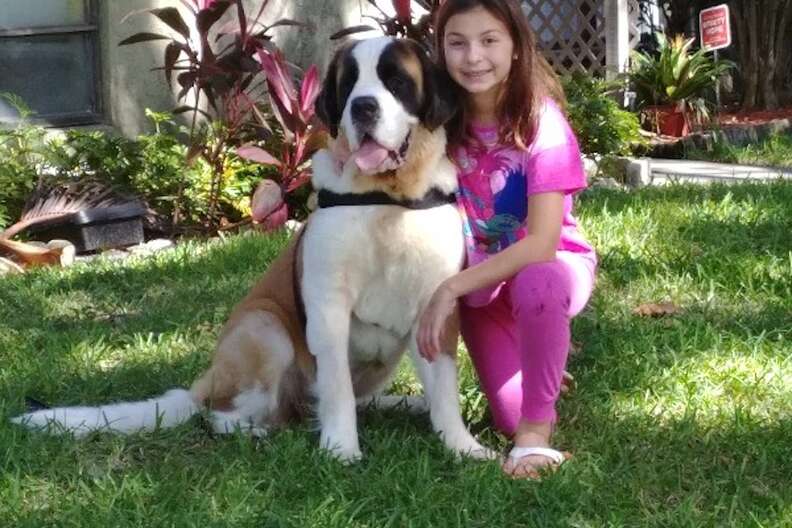 "Their bond was immediate and unbreakable," Lisa said. "As soon as Gabby walked over to Hannah, she rolled over showing her belly like she was waiting for a hug. Gabby hugged her and that was it. It's like both of them knew they needed each other."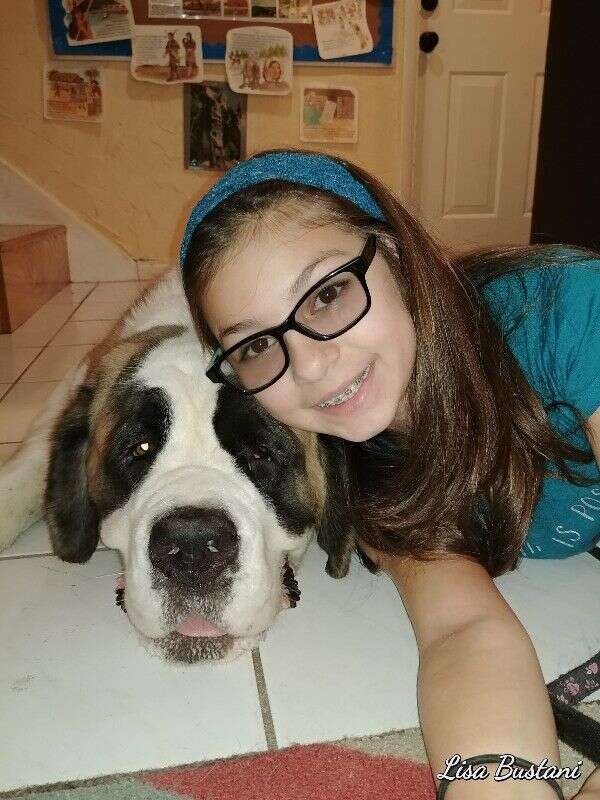 Previously rescued from an owner who kept her on a chain outside, Hannah settled right into the Bustani household and doesn't leave Gabby's side. Even without any professional training, Hannah can tell when Gabby starts getting dizzy and will stand in front of her or in between her legs to prevent her from falling.
"She's naturally guiding Gabby every step of the way, even on the stairs," Lisa said. "She stays right by her side."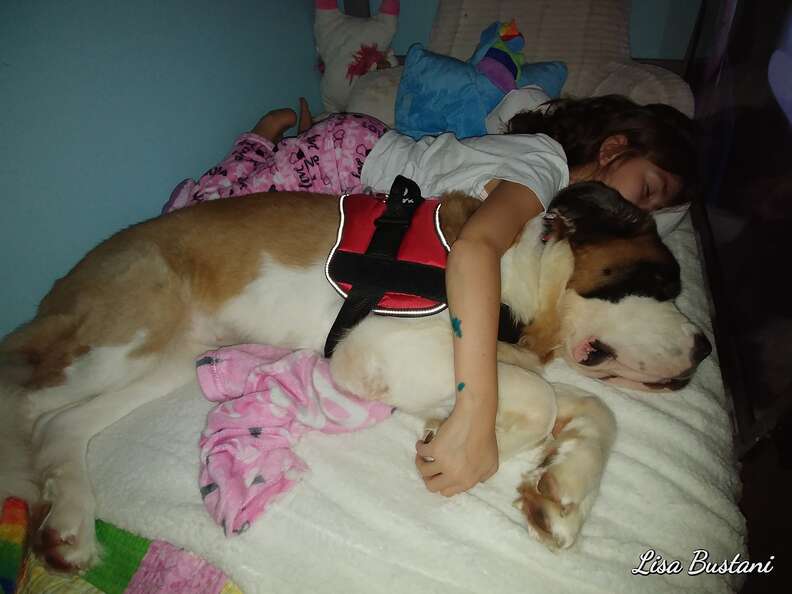 Seeing that Hannah was a great service dog candidate, Lisa got in touch with a professional trainer who could teach Hannah various tasks like physical support, retrieving items and guiding. The trainer has agreed to start the training while Gabby is in recovery from a recent eye surgery over the next six to eight weeks — but the family needs help raising funds to cover the cost.
"The trainer has been very generous and offered the service at less than half the normal cost," Lisa added. "With just having to pay up front for Gabby's surgery, we need the help so she can start leading a life as close to normal as possible."
In addition to the support Hannah will give to Gabby, she's also being trained to detect seizures to help Gabby's older brother, who has a seizure disorder. In a week since starting a GoFundMe campaign, the Bustani family has raised just over $1,600 of their $7,000 goal.
"Gabby was in the hospital and was scared, and little by little, her friends started dropping off," Lisa said. "When we were home and she'd get upset about it and start crying, Hannah would be right there and I'd hear Gabby say, 'Hannah, you're my best friend and you love me no matter what.' The tears stopped flowing and Gabby's smile came back because Hannah was there. Hannah has changed everything for our girl."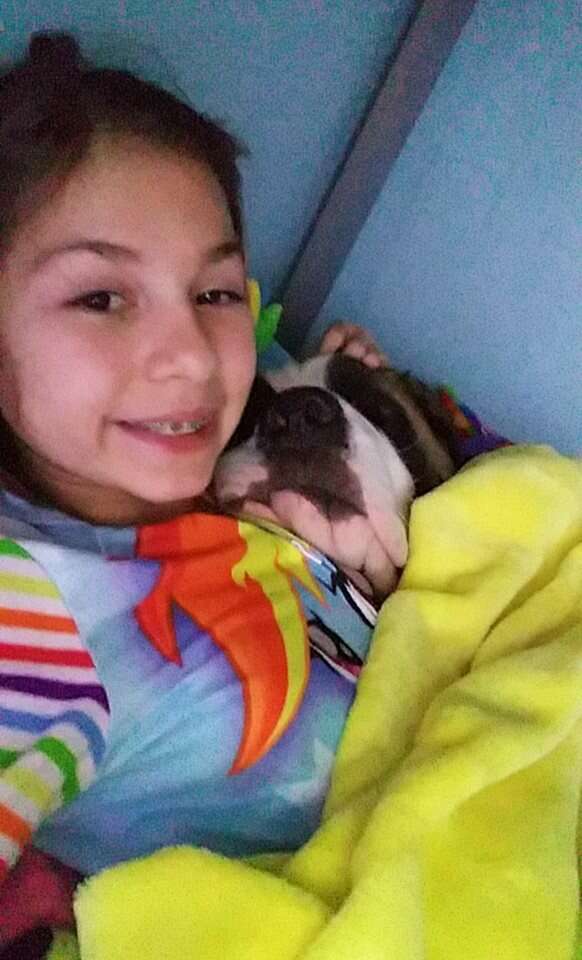 With her newfound friend by her side, Gabby has also discovered a huge passion for animals, and is already telling her mom that she wants to volunteer at local animal shelters when she's recovered from her surgery. And despite the trying times she's experienced, Gabby is keeping her spirits up knowing her family and Hannah are there for her.
"The night before her surgery, we were staying at the Ronald McDonald House and she was drawing pictures for the other kids there," Lisa said. "She told us 'I'm healthy, and it's OK if I can't see because God has other plans for me.' Despite everything, she's still the same happy, joyful child. Hannah coming into our lives has been nothing short of a blessing. She's been a healer for all of us."
To help the Bustani family cover the costs of Hannah's service dog training, you can
make a donation
.