Girl Had No Pics Of Lost Puppy For Poster, So She Drew Him — And It Worked
She offered chocolates as a reward.
When 7-year-old Sol's new puppy, named Morgan, went missing from her home in Mexico City recently, she didn't just get sad.
She got creative.
Mora Martha
Sol's family adopted Morgan last May, and they quickly became best friends. Sadly though, Morgan disappeared one day earlier this month, and Sol was desperate to find him. After her searches around town failed to turn up any clues, she decided to make posters in hopes someone else might spot him.
"She cried when I told her Morgan was missing," Sol's mother, Mora, told The Dodo. "She started making the posters that night."
Unfortunately, Sol did not have any photos of the dog to include in her posters. So, she drew a picture of him instead.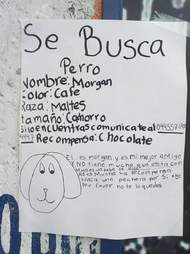 Mora Martha
In the poster, Sol describes Morgan as her "best friend" and kindly asks for his safe return. Her family does not have much money, but she still offers a sweet reward to whoever might find him: chocolate.
"She bought it with her own money that she saved," Mora said.
Although the likeness in Sol's drawing was quite photorealistic, it made all the difference.
Mora Martha
Not long after Sol pasted up her posters, a photo of one of them found its way onto social media — and soon the sweet, simple drawing of the girl's missing dog took the internet by storm. In a matter of days, it had been liked and shared thousands of times.
"We never thought it would become viral," Mora said. "As parents, we gave Sol the tools to help find him, but we thought we would never get him back. Sol had faith."
And Sol's faith paid off.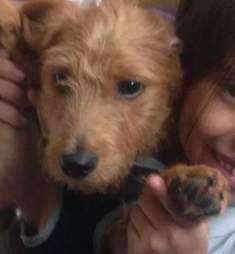 Mora Martha
Thanks to all the attention Sol's poster had gotten, people in the community were keeping an eye out for Morgan. Then, sure enough, one woman called to say that she thought she had found him and offered to meet with his family to confirm it.
"When we went to the point where we agreed, Sol saw the dog and shouted to him, 'Morgan!'" Mora said. "The dog jumped out of the woman's arms and went running to Sol. The lady realized that it was the dog we were looking for."
Sol was ecstatic, but did not forget the deal. She handed the woman her chocolate reward.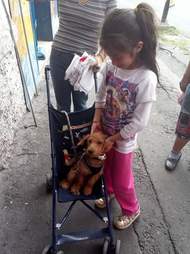 Mora Martha
With Morgan now back where he belongs, in Sol's loving company, the little girl went around town and took down all the posters she'd put up — posters which, at the time, hadn't inspired much hope that he'd be found. But it was Sol's optimism and dedication to her best friend that made it so.
"She is a great little person with a lot of love," Mora said. "And that's what showed."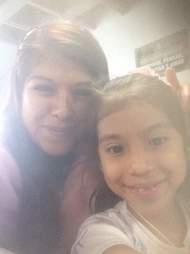 Mora Martha