Little Girl And Her Dog Recreate Astronaut's Famous NASA Portrait
She got a response from the astronaut himself 👏
The very best role models in life are the ones who teach us to reach for the stars, and to appreciate all the goodness and love found much closer to home. For one little girl named Maggie, nobody fits the bill better than NASA astronaut Leland Melvin.
A few years back, when it came time to sit for his official portrait, Melvin invited along his two dogs, Jake and Scout. And sure enough, that tender image of them together quickly went viral.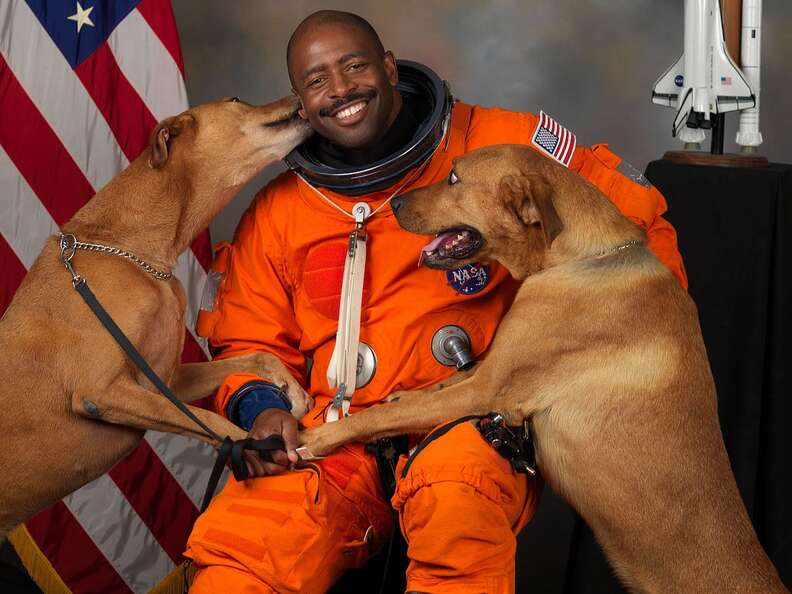 "Adopting Jake and Scout taught me to go with the flow and enjoy the unexpected," Melvin wrote later — especially high praise coming from someone who's been to space.
Maggie, a 4-year-old from Virginia, was among those inspired by Melvin's contributions to science, and his dedication to his pups. So much so, in fact, that she decided to honor him in costume, recreating Melvin's famous photo with her own beloved dog.
"Me: What do you want to be for Halloween? My 4 y/o: That funny astronaut. Me: I got you, girl!" Maggie's dad, Andrew Miller, wrote on Twitter.
Just as Melvin's portrait with his dogs had gone viral, so too did Maggie's with hers.
And this time, it was the astronaut who was moved to respond:
There's no telling how many other youngsters and adults alike have been similarly inspired — but it's hard not to recognize that the greatest moments of aspiration are often accompanied by the thud-thud of a wagging tail close by.