German Shepherd Collapses On Top Of Mountain — And A Whole Team Comes To Save Her
Her dog brother made sure she was safe too.
Hana the German shepherd was out for a hike with her dad one day when suddenly the heat became too much for her, and she collapsed from heat exhaustion, unable to move at all. She and her dad were pretty far up Snow Lake Trail in Washington, and he was worried help wouldn't reach them in time — but luckily, he called the right people.
Washington State Animal Response Team (WASART) got the call about Hana and immediately sprang into action. They gathered together a small team of rescuers and all of the equipment they would need, drove to the bottom of the mountain and began the long hike up the trail. As they went, they passed several hikers who told them about the dog, her head resting on her dad's jacket, waiting for help to arrive. 
WASART
"Hiking the trail took about an hour," Michaela Eaves, WASART's public information officer, told The Dodo. "We work on conditioning for hikes so the pace was faster than your normal hike. She was about 3.5 miles up. Hana raised her head to acknowledge us when we arrived, but then lay her head back down and let us work."
WASART
As soon as they reached the top, the rescuers took Hana's temperature and cooled her down as much as possible with ice packs and a frozen Capri Sun packet donated by a passing hiker. Passersby had also been pouring cool water on Hana before the team arrived, wanting to help the poor overheated dog. Once she was cool enough, the team fitted Hana with a harness and a muzzle, then carefully loaded her onto a litter, a type of rescue stretcher with a wheel. 
WASART
Once Hana was secure, the team began the treacherous climb down, gently navigating the litter down the rocky path. The team members frequently took turns carrying the litter, in order to conserve strength and make sure everyone made it down the path safely.
As the team descended the mountain, Hana stayed still in the litter, and seemed to understand that all of the people surrounding her were there to help her.
WASART
"On the way down the trail, Hana watched the scenery go by but didn't try to get out of the litter," Eaves said. "She didn't seem to mind when we'd switch people managing the litter and we made sure she could always see her owner."
WASART
Halfway down the trail, some more volunteers joined the rescue effort, allowing fresh, rested arms to carry Hana for a while so the other team members could have a break.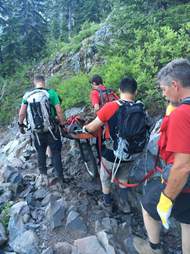 WASART
Finally, the team reached the bottom of the mountain and brought Hana out to her family's car, where the rest of her family was anxiously waiting for her — including her worried dog brother, Scooby.
WASART
"Half of her family had stayed at the trailhead for the entire hike," Eaves said. "They have an older dog who was not a good candidate for hiking, so he got to hang out while Hana and one of the owners hiked. Scooby had been alert when we arrived initially. He knew something was going on, and that his buddy Hana wasn't there. When we got back, Scooby paid close attention to who was in the litter and checked in while we moved Hana to the waiting car."
WASART
After she was safely in the car, her family thanked her rescuers profusely — then rushed her to an emergency vet to get checked out. The rescue team made sure to check in on Hana the next day and, while she was still at the vet, her family said she was doing well and was due to be released soon.
WASART
When out in the heat with your dog, it's important to make sure he has frequent access to water, so that he can stay hydrated and doesn't fall victim to heat exhaustion. Luckily, a whole team of people was on call to help Hana, and thanks to them, she's bound to make a speedy recovery.