Sick Puppies Were Abandoned All Alone In Empty Parking Garage
"When I opened the car door they were all huddled together on the back seat ... and feeling very, very sorry for themselves."
When the owner of a car storage facility came into work one day, he wasn't expecting anything out of the ordinary — and then he discovered six German shepherd mix puppies running around the compound together. The puppies were confused, sick and in desperate need of help, and the owner immediately sprang into action, contacting the RSPCA for help. 
"The owner of the compound confined the puppies in a car until I could get there," Nina Small, an inspector with the RSPCA, said in a press release. "When I opened the car door they were all huddled together on the back seat. They were in an awful state, being sick and feeling very, very sorry for themselves."
RSPCA
Small could see that the abandoned puppies needed help immediately, and so she scooped them all up and rushed them straight to the vet for treatment. They all had worms and lice, but luckily none of them had anything untreatable, and they were soon transferred to one of the RSPCA shelters, where they began getting a LOT of love and attention from the staffers. 
RSPCA
The little family of puppies was made up of three boys and three girls, and staffers decided to name them Tommy, Liam, Bradley, Hannah, Rosie and Jade. The 13-week-old puppies began to feel better almost as soon as they arrived at the shelter … 
RSPCA
… and within a matter of days, all six had already been reserved by potential families.
"There is going to be a happy ending for these puppies but given the condition they were found in I am very concerned for their mum's welfare too," Small said. "I want to hear from anyone who knows where we might find her, or who saw anything that might help my investigation into how these puppies came to be dumped in this state."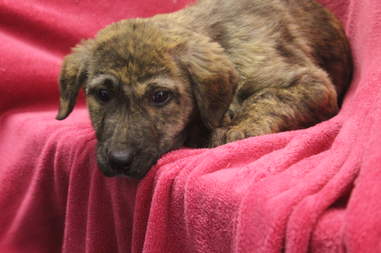 RSPCA
Everyone involved in the puppies' rescue is thrilled that they're safe and healthy, and will be heading off to loving homes soon. But they are also extremely invested in making sure no other puppies are dumped as cruelly as they were ever again.
RSPCA
"Anyone with information should call the RSPCA inspector appeal line on 0300 123 8018 and ask to leave a message for me," Small said.