Shy Dog Finally Finds A Home After 10 Years In Shelter
"It goes without saying that we will all miss Floyd … but of course nothing compares to a home."
After 10 years, the dog shelter staff thought would never get adopted is finally going home.
Long-haired German shepherd Floyd has become like a member of the staff over his tenure at Freshfields Animal Rescue in Liverpool, England. Floyd watches over everyone — animal and human alike. He's even a mentor to young dogs having difficulty adjusting to shelter life.
"He is fantastic with other dogs and has shared his kennel with lots of dogs over the years," Debbie Hughes, grants and PR coordinator at Freshfields, told The Dodo. "He has helped many dogs settle in to rescue life, which has helped them find their home eventually."
Floyd has seen numerous kennel-mates come and go over the years, unsure if he would ever find a family of his own.
Freshfields Animal Rescue
Things were not always easy for Floyd, whose happy demeanor hides a painful past. Before Floyd came to Freshfields, he lived in a house with eight children. Shut outside in the backyard all day, the kids would pull on his collar and use him for target practice, according to Hughes. After being constantly tormented, he began to show signs of aggression, and when he went in to be neutered, the family decided not to pick him up, Hughes said.
At Freshfields, Floyd was finally safe, but that didn't make the adjustment any smoother for him. "He made friends with the staff here quickly but he soon became protective of us," Hughes explained. "I think he had to accept us — he had been taken away from the only environment he'd ever known, even though it was a bad one."
Freshfields Animal Rescue
Still suffering from the experiences of his puppyhood, Floyd was scared to be touched, and slow to trust new people. He had never been walked on a leash before, but with care and patience, the staff and volunteer dog walkers helped Floyd become more comfortable.
Though Floyd grew to be an affectionate, playful dog, his trust issues made adoption tricky. "He stayed here for so long because it took time to introduce him to new people. Most people didn't want to take the time to get to know him, as it meant visiting many times and taking things slowly and gradually," Hughes said.
Lucky for Floyd, his long-time dog walker Louis had already started thinking about what it would be like to take him home one day.
Freshfields Animal Rescue
"Floyd was extremely protective of Louis, so much so that none of the staff, who he loved, could approach them when they were together," Hughes noted. "Louis would have loved to adopt Floyd earlier, but didn't know how it would go if he had to introduce him to his partner. He also has a cat and Floyd was not good with cats."
As Floyd mellowed over the years, Louis began to slowly bring his wife along on their walks. It was a slow process, but eventually Floyd became comfortable with the two of them. When Louis' cat sadly passed away, they knew it was time to introduce Floyd to his first real home.
"The day we drove Floyd to Louis' house we stood back and let Louis take him out of the van, he trotted off down the large garden and never looked back," Hughes said. "From then on, it was perfect. He loved it in the house, got on the sofa and welcomed Louis' wife when she came home from work. He has amazed all of us!"
"It goes without saying that we will all miss Floyd. He was always so happy here and enjoyed a good fuss and romp around our field with his doggy friends, but of course nothing compares to a home," Freshfields wrote in a Facebook post.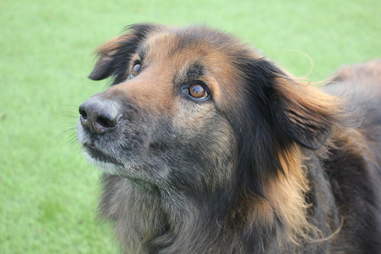 Freshfields Animal Rescue
It may have taken a decade, but Floyd finally found the right home. The dog who lived behind bars for years, scared to even sit on a couch, has even taken over his new dad's favorite armchair.
"We can't stress enough that rescue really is the best breed," Hughes added. "The love and companionship they bring, and the impact they make on the lives of their new families, is profound."
You can help Freshfields care for abused, abandoned or neglected animals by visiting
its donation page
.