Scared Homeless Dog Living In The Woods Learns How Much She Loves People
She had been protecting her friend for weeks — but now they're both the most loving, happy dogs.
Iris, a German shepherd, and Clover, a pit bull, have seen each other through the hardest of times.
Earlier this year, the pair was discovered by a dog rescuer in Fort Worth, Texas. According to locals, the pair had been homeless and living in the woods for several weeks, too scared to get close to anyone trying to help them.
It took some time and patience for Judy Obregon, founder of the local rescue The Abandoned Ones (TAO), to convince the dogs, who would become known as Iris and Clover, that they could trust her. At first, only Iris emerged from the forest, to assess whether the person offering some food was trustworthy.
"I said the same thing to her every day for her to know my voice and trust that one day her life would change," Obregon wrote on the organization's Facebook page at the time. "It's all so rewarding when we can change the fear they have into a smile."
​​​​​​​Then, Iris decided it was safe enough for Clover to come out, too.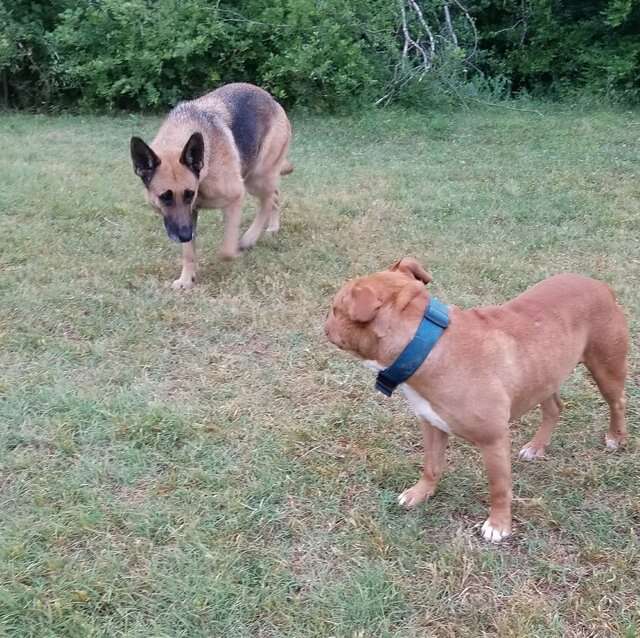 No one knows exactly how these dogs ended up in the woods — but they clearly had been protecting each other.
Since their rescue back in May, Iris and Clover have had the opportunity to expand their worlds. Once the dogs relaxed in the rescue's care, the team realized the dogs could be happily sent to different foster carers without compromising their emotional well-being. Iris also required more care than Clover and a calmer, more relaxing environment, whereas Clover wanted a foster home with a lot of excitement.
Both dogs have thrived in their foster homes, making new friends and discovering what a real home feels like.
Iris has opened up so much to her foster family — and has revealed herself as an individual who enjoys the simple pleasures in life.
"She enjoys being bathed, brushed, and even does little dances for you, says [her] foster mom," Obregon wrote this week. "Some would think, due to the fear she had, it would take months and months ... This is proof that's not the case with every stray."
Iris loves other dogs, as well as cats and kids.
Clover, too, has truly blossomed since his rescue, bonding closely with the other animals and kids at his foster home.
"Clover is actually my personal foster," Emily Walker, a volunteer with TAO, told The Dodo. "He is dog-, cat- and kid-friendly."
As much as Clover loves people, he is especially close with other dogs — perhaps his close friendship with Iris for those weeks in the woods had a lasting impression on him.
"He ... definitely needs another dog in his new home," Walker said.
Both Iris and Clover are literally out of the woods — but their journey isn't over until they find their forever homes.
If you live in Fort Worth, Texas, and are interested in adopting Iris or Clover, you can
fill out an application
. If you don't live nearby but want to help TAO save more dogs like Iris and Clover, you can
make a donation
.
Update:
This article has been updated with more information about why the dogs were sent to separate foster carers.