Dog Who Nearly Froze To Death Finds The Best Forever Home
"She seems to focus in on all the good she was now surrounded with."
The first thing Officer Barbara Jones of Richmond Animal Care and Control (RACC) saw when she responded to a call about an injured dog lying in some bushes was a blanket, which was covering the dog's body. The state had been experiencing unseasonably cold temperatures and it was near freezing the morning of December 12, 2017.
"When I pulled that blanket off and saw how swollen the dog's face was, I was shocked and surprised," Jones told The Dodo. Jones knew she had to get the injured and nearly frozen dog to Virginia Veterinary Center (VVC) right away.
WARNING: Disturbing Images Below
Officer Jones rushed Penelope to Virginia Veterinary Center immediately after picking her up.

| RACC
The dog, estimated to be a 3- or 4-year-old pit bull mix, was suffering from hypothermia and had multiple bite wounds all over her face. Some were fresh and some were old and infected. The dog's eyes were also infected and so swollen that the veterinarians weren't sure if she'd ever be able to see again, let alone survive the infections that were ravaging her nearly emaciated body.
While no one can say exactly what happened to the dog, who was named Penelope, her wounds were consistent with the type of wounds that can result from dogfighting.
Rescuers quickly sedated her so her wounds could be treated. Surgery revealed a fractures and holes in her sinus. Her surgeon, Dr. Eduardo Mercurio, was able to treat the wounds around Penelope's eyes and once the swelling subsided, she had vision in both of them.
Dr. Eduardo Mercurio preps Penelope for surgery.

| RACC
Penelope was then evaluated by Dr. Sam Babbitt, who specializes in dentistry and oral surgery at VVC. He found numerous crushed teeth, saw her lower jaw was fractured and realized that the holes discovered in her first surgery had perforated the top of her mouth and nasal cavity. Dr. Babbitt surgically repaired Penelope's mouth and she continued to recover.
And, much to everyone's surprise, she not only recovered, but thrived.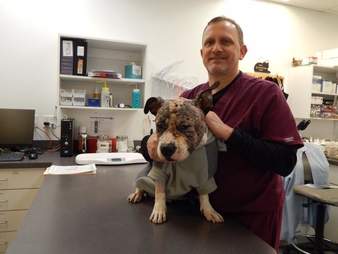 Dr. Sam Babbitt, who specializes in orthodontic surgery, repaired the damage to Penelope's mouth.

| RACC
Over the next few weeks, she grew stronger and stronger. Penelope even got to go for a trip out of the shelter to get ice cream with two RACC volunteers — and loved every minute of it.
"She seems to focus in on all the good she was now surrounded with," Amy McCracken, one of the volunteers, told The Dodo, "instead of withdrawing from humans [based on her past]."
Despite the cruelty inflicted on her, Penelope remained loving and open to people.

| RACC
Soon, Penelope was strong enough to start looking for a forever home.
Everyone at RACC was inspired by Penelope's will to live.

| Ashley Dobbin Calkins Photography
Kelli Rice and her daughter Addyson, who'd lost their own beloved dog of 16 years right before Christmas, had been following Penelope's story on Facebook for weeks. They quickly fell in love with Penelope, and realized she was the perfect dog to fill the void in their family. And on the first day of 2018, Penelope found her forever home with Rice and her daughter.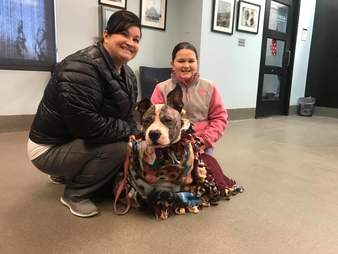 Kelli Rice and her daughter Addyson became Penelope's family on New Year's Day.

| RACC
Penelope has been in the Rice home for about three weeks now. She surprised Rice by being house-trained already; she also knows how to sit and give paw. And according to Addyson, "She loves belly rubs!"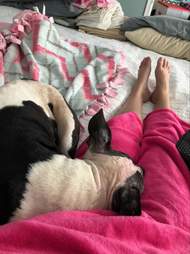 Rice says Penelope abandoned her doggy bed and slept with her from day one.

| Kelli Rice
While Penelope has come so far, she's not completely healed yet. She has gained weight and some of her lost fur is growing back, and she'll start heartworm treatment in February. Rice told The Dodo that while it's hard to think about what happened to Penelope, she feels her scars are part of her uniqueness. "She is the best dog ever," Rice said.
Penelope now

| Kelli Rice
To help the RACC save other dogs like Penelope, you can
make a donation here
.
If you know who may have hurt or abandoned Penelope, you can report it anonymously by calling the RACC at 804-646-5573 or sending a message through
its Facebook page
. Penelope was found on North 33rd Street in the Church Hill section of Richmond.