Shelter Dog Who Was Almost Put Down Lands A Very Important Job
She helps little kids talk to the cops when they're scared.
World, meet Lily.
Not only is she one of the sweetest and friendliest new employees at Florida's Marion County Sheriff's Office — being a dear to those in need is actually part of her job description.
And, as it turns out, she knows better than most the difference a gesture of kindness can make.
The 5-year-old pup, who's a charming blend of beagle and corgi, was introduced this week as the sheriff's newly certified therapy dog. In that role, Lily now works alongside her handler from the Department of Children and Families, helping to put victims — especially children — at ease so they'll be more comfortable opening up to investigators.
And she's clearly good at her job.
"We've seen an enormous difference since we began using Lily to help us with our more sensitive investigations," Sheriff Billy Woods said. "We've had children who have experienced horrific crimes open up to us because Lily made them feel comfortable. When Lily walks into a room, she brings a sense of joy and comfort with her, and we know she will make a tremendous difference in the lives of our crime victims in Marion County."
While Lily's already proven to be an integral part of the team, there was once a time where her future was uncertain.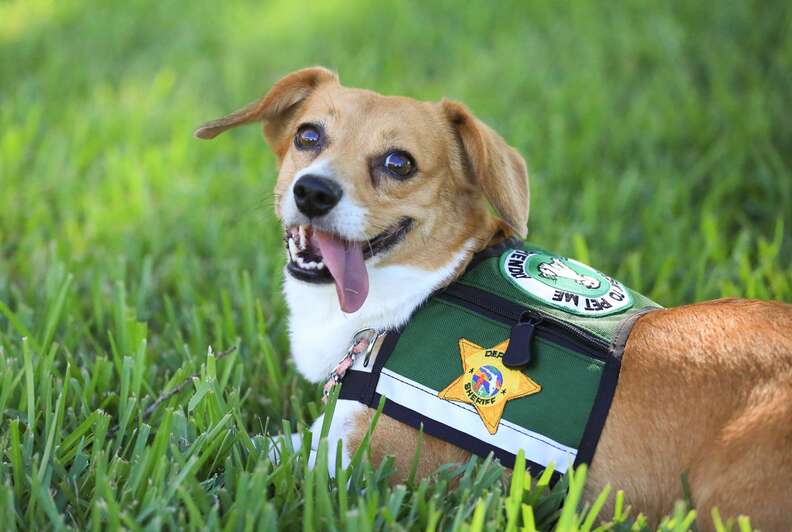 Before beginning her new position, Lily had faced euthanasia as a shelter dog. Her lucky break came when she was rescued to partake in Paws & Stripes College, an eight-week-long program that takes formerly unloved dogs from shelters and trains them for a variety of service jobs. According to organizers, more than 300 dogs have graduated and been saved through this program.
We're sure that Lily, and those who she helps each day, are happy she was given that chance.